We have a full 15-game MLB slate on tap tonight, and with that, we have some of the game's top arms taking their respective mounds. Let's get to my top-5.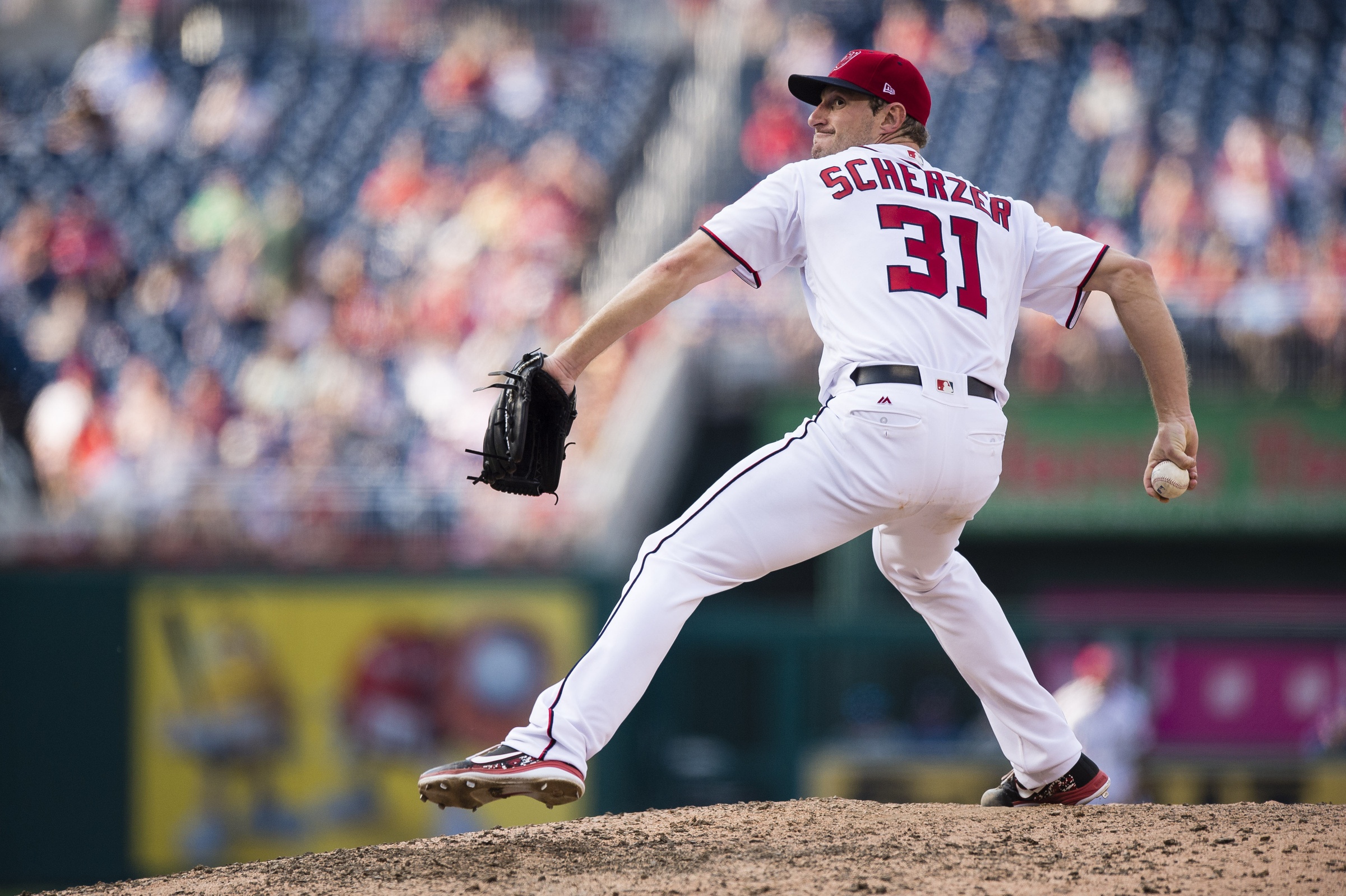 1. Max Scherzer –
WAS

@

NYM

– $12,900

Scherzer has been the top scoring DraftKings player in 2017. He is averaging a healthy 29.69 DKFP per start, which includes a current four-game stretch of scoring at least 30 DKFP. Scherzer has gone for at least 43 DKFP in three of those four starts, making him the hottest player on DraftKings at the moment. While the salary for Scherzer may seem high, he needs just 25.8 DKFP to payoff his price tag, which is well below his season average. He has also hit that mark in nine of his 13 starts, so if anything his salary is actually too cheap. In his only trip to New York this year, Scherzer pitched eight innings and recorded nine punchouts.
---
2. Luis Severino –
NYY

@

OAK

– $11,500

With all of the talk about the Yankees' offense, Severino has flown under the radar as one of the best young pitchers in baseball. He is one of the leaders in the American League with 10.04 strikeouts per nine innings, and he is also fifth in the AL with a 2.75 ERA. Severino is on a good run right now with an average of 28.34 DKFP over his last four outings. He should also benefit from a plus matchup tonight. Oakland is a much more favorable pitcher's park than Yankee Stadium, which is a positive for Severino. The Athletics are also 20th in baseball with a .318 wOBA against right-handed pitchers and are striking out in 24.6% of their plate appearances, which is the third highest rate against righties.
---
3. Alex Wood –
LAD

@

CIN

– $9,100

Wood is making his second consecutive start against the Reds. He suffered from some bad luck in his last start against them. He left the game with a 3-1 lead and two runners on base and the bullpen allowed both runners to score. Not only did Wood miss out on the chance for a win, but he also got tagged with a couple of extra earned runs. He pitched better than his 17.75 DKFP would indicate. His last start was the first start he made since coming off the DL with an elbow injury, and he was working on a pitch count. Pitch limits shouldn't be an issue for him tonight now that he has a start under his belt since retuning from injury. Alex Wood is leading all National League starting pitchers in both ERA and FIP this year.
---
4. Aaron Nola –
PHI

vs

ARI

– $6,300

The Diamondbacks' offense scores a lot of runs, but this is not an accurate representation of the strength of their offense. They play half of their games at Chase Field, which is ranked as the number one hitters' park in baseball this year. Most of the Arizona production has come courtesy of their field and doesn't have much to do with their talent. When going on the road, Arizona is ranked last in baseball with a .287 wOBA. They also strike out at a 25% clip, which is the 6th highest rate for road teams. While a one game sample isn't the be-all end-all, the Diamondbacks did just get shut down by Jordan Zimmermann, who is awful, while pitching on the road. Nola is a far more talented pitcher and shouldn't have much trouble scoring the 12.6 DKFP he requires to meet salary expectations. He is averaging 14.56 DKFP per game on the season with a 4.40 ERA, but a much lower 3.75 FIP.
---
5. Sean Manaea –
OAK

vs

NYY

– $7,300

Without a doubt, this is an extremely difficult matchup for Manaea; however, he is priced considerably lower than the level he is currently performing at. He is averaging 18.64 DKFP per game this year, which implies he should be priced around $9,000. Manaea only needs 14.6 DKFP to payoff his current salary, and he has scored at least 20 DKFP in four consecutive starts. One of those games came against this same Yankees team in New York. Manaea pitched seven shutout innings against the Yankees with eight strikeouts on his way to 32.75 DKFP. It is part of a stretch where Manaea has gone five consecutive starts without allowing more than two runs. For the season, he has a 3.67 ERA and striking out more than a batter per inning.
---
I am a promoter at DraftKings and am also an avid fan and user (my username is gehrenberg) and may sometimes play on my personal account in the games that I offer advice on. Although I have expressed my personal view on the games and strategies above, they do not necessarily reflect the view(s) of DraftKings and I may also deploy different players and strategies than what I recommend above.