Every team is in action on Friday, with only one day game: KC @ ChC. You can get your fill of Royals or Cubs in one of our "All-Day" contests, but they're not included in most of the biggest contests tomorrow, so they're not included here. Below are some players to target from every other game tomorrow, at every position and price range. Good luck.
Stockpile entries to the PGA Millionaire Maker @ the U.S. Open with a $5 MLB SUPERSat
or
Play for Cash and Enter the MLB $100K Moonshot – Only $3 Entry!
DRAFT NOW!!
Starting Pitchers
Studs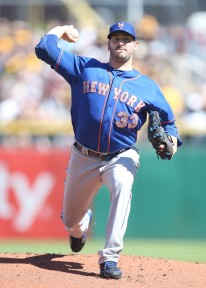 Matt Harvey vs. MIA ($10,600) – Harvey's ownership might be down after last outing, where he gave up seven runs in four innings, and his manager came out after the game and said he might be suffering from "dead arm." That will almost certainly scare off some owners, but his velocity in that outing was still in his normal dominant range in the high-90's, so there is no reason to believe this was anything other than a blip in an otherwise impressive season, especially since he threw a bullpen session this week and was declared good to go for his normal start. Expect the usual Harvey against the hapless Marlins, and hope you get more of a boost than usual if your competitors were scared off.
Trevor Bauer @ SEA ($8,100) – You have to love a matchup with Seattle for any of your pitchers, and Bauer has gone 7+ innings in each of his last three starts, averaging 7 K's per and giving up no more than one earned run. In case you're wondering, that's a three-start average of 27 fantasy points for only $8,100.
Values
Dan Haren @ NYM ($7,000) – Whatever you might think about Haren's "stuff," he is getting through innings and getting out batters. He has 13 or more fantasy points in all but one start this season, and the Mets aren't hitting anyone right now.
Miguel Gonzalez vs. TB ($6,700) – It was hard to pass up both John Lackey and Mike Bolsinger going against each other in what I imagine will work out to be a pitcher's duel, no matter how good the two offenses involved have been playing. But they ARE good offenses. Gonzalez has been hit or miss, but he has a good shot at the win against Nathan Karns tonight, and could easily rack up a half dozen or so K's against this lineup.
Catchers
Studs
Buster Posey vs. Mike Foltynewicz ($4,200) – With Gattis facing a lefty and McCann also drawing a tough matchup with Gray, Posey is the most expensive non-injured catcher on the board who I would consider using, even if he is actually sixth on the list.
Stephen Vogt vs. Chris Capuano ($4,000) – Sorry, Yankees fan, but I will be hammering this Capuano matchup throughout – actually, why am I apologizing to you? You know. Anyone with a track record of success against lefties on the Oakland roster is a lock for heavy consideration for your lineup tonight.
Values
Russell Martin @ Trevor May ($3,800) – Martin is hitting .326 with four home runs in his career against May, in 89 at-bats. Those four home runs are accompanied by seven more doubles, and a triple! I can't even imagine what random corner Martin must have drilled the ball into for that to happen, but clearly, he makes solid contact.
Carlos Ruiz vs. Chad Bettis ($3,600) – Ruiz has faced Bettis five times in his life, and has hit him four times, including one double. For those that aren't too quick with the math, that's an .800 batting average, which is pretty good. Small sample size, sure, but I am not sure Bettis wants it getting a lot bigger.
First Basemen
Studs
Prince Fielder vs. Steven Wright ($5,500) – Fielder is slugging over .800 with five HRs in his last ten games, re-asserting his position as one of the premier hitters in the game, raking at a .361 clip and just piling up extra base hits. And the Red Sox just seem to struggle every night lately, at least when they don't have a AAA call-up out there throwing for them.
Todd Frazier vs. Stephen Strasburg ($4,200) – With 14 home runs, he is one of the best sources of power out there right now – he's the kind of guy that everyone who owns him in a year-long league starts him in their DFS lineups. He's just been such a good value. And with seven home runs each in April and May, he doesn't seem to be slowing down any. That's one hell of a pace.
Values
Billy Butler vs. Chris Capuano ($3,700) – He's been scuffling a little lately, but he has always seemed to hit for better power against lefties, and could easily use a big scoring game from the A's to rack up some counting stats and get himself back on track.
Pedro Alvarez @ James Shields ($3,400) – James Shields has given up fifteen home runs so far this season. FIFTEEN! In ten games. He's given up more home runs than doubles. And that works for Alvarez, who has hit nine of them, including three in the last week-and-a-half. This season has already shown signs of improvement for Alvarez, with fewer strikeouts and more walks than in past campaigns, and now he is starting to drag his average north as well, which means he could be producing as much fantasy value as he is actual real-life value for his team.
Second Basemen
Studs
Jason Kipnis @ Taijuan Walker ($4,700) – Honestly, I am a bit surprised it took me this long to start picking on Walker. Between the Indians and the A's, I might have all the hitters I need. And yes, Kipnis is going to be one of them. Sometimes I wonder if the prices of the top guys at certain positions (C, 2B, SS) are depressed by the level of players behind them on the list. Kipnis has had double-digit fantasy points in each of his last three – and since he averages exactly 10.0 per outing, he clearly does that as often as not.
Jose Altuve vs. Carlos Rodon ($4,400) – Altuve feasts on lefites, especially ones who aren't good.
Values
Delino Deshields vs. Steven Wright ($3,800) – I just can't see this one ending up a 2-1 contest. 8-1, maybe, but low-scoring just isn't the vibe I am getting from Wright vs. Gallardo.
Matt Duffy vs. Mike Foltynewicz ($3,200) – Duffy is 4-13 since being officially named the starter at third base (.308), even better than the .290 clip he maintained while only playing in a spot role all season. I feel like this price can only go up from here, especially as this entire offense starts to show signs of life.
Third Basemen
Studs
Josh Donaldson @ Trevor May ($5,600) – He has hit five home runs in his last ten games, and eight this month. He is hitting over .300 for all of May, and he is only picking up that pace lately. A DFS stud in every sense of the word.
Jimmy Paredes vs. Nathan Karns ($4,300) – Maybe not the consistency or upside of Donaldson, but that's why he's a lot cheaper, right? And the price he's sitting at now is higher than it was a month ago, and higher still than it was to kick off the season, all of which goes to show you the kind of production he's been having. And it's not as if he's slowing down, either, with two multi-hit games in just the O's last series against Houston.
Values
Yunel Escobar @ Anthony DeSclafani ($3,500) – There is no doubt his SS eligibility increases his usage rate, so using him at third might be dangerous, but there is no arguing with the fact that he is a solid option. He is hitting over .300 and averaging 7 fantasy points a day, now through almost 170 at-bats, with upside that gets him into double-digits at least once a week. For this price, that's consistency + upside in my book, which is all you're ever looking for.
Brock Holt @ Yovani Gallardo ($3,300) – He should get more playing time tonight as the Sox continue to deal with injuries, and the way he has been playing compared to the regular starters, it's a wonder he hasn't locked down a full-time position yet. One of the lone bright spots on this squad when he is out there.
Shortstops
Studs
Ian Desmond @ Anthony DeSclafani ($4,400) – With five doubles in his last six games, Desmond is flashing the kind of power you need to be a successful baseball player, driving the ball to the opposite field with authority. And while he's still not a huge home run threat or anything like that, that ability to hammer the ball on a line with consistency translates to DFS anyway, especially when it convinces your manager to move you up to the 2-hole in your lineup, a spot Desmond is not looking to relinquish any time soon.
Jose Reyes @ Trevor May ($4,200) – Reyes is a name that often creates some mixed feelings. He's good, but maybe he's been overrated in the past. Maybe you've been burned by him in a seasonal league. But if you keep your expectations in check, he can be a very useful DFS option in this kind of mid-tier price range. He's hit safely in five straight, with a double in each of the last three – take advantage of the health and production while it's there, I say.
Values
Brandon Crawfdord vs. Mike Folrynewicz ($3,800) – Hitting .300 with six home runs, slugging .500 all season long, and now playing in a new and improved offense, it's no wonder he's already cracked 30 RBI. It is a little surprising he still costs this little, though.
Marcus Semien vs. Chris Capuano ($3,800) – He has had a hit in each of the last two nights, so hopefully he will start to resemble the player he was for the first month of the season, and what better time to do it than while facing Capuano? He is a threat to run on the bases, and has flashed signs of at least passable power, so as long as he can keep getting on base, he should be enough of an offensive weapon to stay on the field despite his truly atrocious defense.
Outfielders
Studs
Bryce Harper @ Anthony DeSclafani ($5,200) – Yeah, I know, it gets boring always picking the same guys. But they get the high averages for a reason – they do it night in and night out, just like DFS contests. The only question is whether you can afford him, right? It's never like you couldn't use him.
George Springer vs. Carlos Rodon ($4,900) –
Andre McCutchen vs. James Shields ($4,500) – I almost feel like I haven't recommended enough Pirates yet – anyone facing Shields with even a hint of power (and yes, seven HRs qualifies) is a viable option. I have taken to recommending McCutchen's outfield partner more often than him due to the fact that Marte is continually being priced lower, but they are both very appealing options in this one.
Starling Marte vs. James Shields ($4,200) – And so, why not play both? At the rate Shields is going, you're almost bound to get a bomb out of one of these guys; if seven home runs counts as a threat, nine certainly does too. And don't forget, there has only been one game so far this year that Shields didn't give up at least one home run (with a high of four in one game and a total of 11 in his last five outings).
Values
Nori Aoki vs. Mike Foltynewicz ($3,800) – With five straight multi-hit games (13 hits, including two for extra bases over that span), he is just adding to an already impressive track record of success. He's hitting .482 over the past ten days, but that's not a fluke, just a hot streak – he's hitting .326 on the year. He's slugging close to .600 lately, but over .400 for the year. He's got as many steals as he does extra base hits (11). He can help you and the Giants in a lot of different ways.
Adam Eaton @ Lance McCullers ($3,800) – Is this the first time I suggested someone facing McCullers? Sorry about that. Yeah, Adam Eaton. McCullers has looked relatively good in his first two starts in the big leagues, but he just doesn't have the breaking stuff or the power to look like an eventual ace, so you have to think that in his first few weeks in the majors, at least one misstep is coming. This could be his last start above AA for a while if he doesn't come through now. No pressure.
Angel Pagan vs. Mike Foltynewicz ($3,700) – Pagan isn't flashy. He has no home runs and only 11 RBI. He doesn't have huge upside. But he is solid, hitting .315 for the year, including four hits in the last two days. He isn't going to come through every time, but he is worth adding for some cheap, dependable points, especially in a bigger 50/50 or similar kind of contest.
Nick Swisher @ Taijuan Walker ($3,300) – He's playing a little bit better lately, but you still only want to consider using him in the very best of matchups. Well, this is it.
Good luck!