Happy Monday! It's a sweet spot nine-game slate to start the week off right, including a Clayton Kershaw start. But that may not be the only way to go, so let's get the other guys to target and go with it, baby!
Pitchers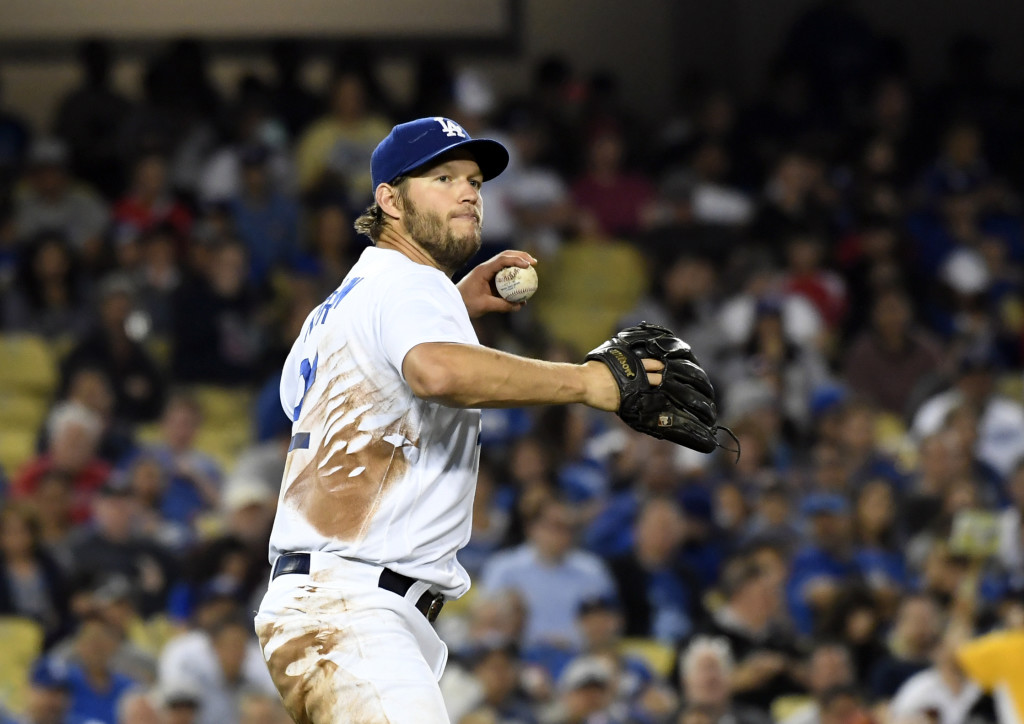 Studs
Clayton Kershaw – LAD vs. CIN – $14,000 – Yes, he's expensive, but he's been worth everything you can spend on him over his last five starts, pitching 40 innings, 25 hits/ONE walk and 58 strikeouts, for a 13.1 K/9 IP rate, 18% swinging strike rate and 1.59 SIERA. Every. Single. Penny.
Johnny Cueto – SF vs. SD – $12,600 – The Padres have the worst wOBA over the last 14 days, with a .253 mark and 24.1% K-rate. Cueto has the best non-Kershaw SIERA on the slate, with a 3.05 number and solid 8.2 K/9 and 11% swinging strike rate.
Values
Taijuan Walker – SEA vs. OAK – $8,100 – Walker had a tough outing his last time out, and his velocity was down. But his other start since his neck injury, the game against the Rays, he whiffed nine. Oakland has to come into pitcher-friendly Seattle without Josh Reddick. The A's are 26th against RHP even with Reddick. Lastly, Walker is a slight favorite (-126) in a seven run projected total.
"He can be a solid

SP2

even if Cueto out-pitches him"
Drew Pomeranz – SD @ SF – $8,500 – Pomeranz has a tough road to get a win, but can be a solid SP2 even if Cueto out-pitches him. Drew sports a 3.34 SIERA with a 11 K/9 and 13% swinging strike rate. The Giants are tough, but middle of the pack against LHP, 19th in ISO with a .135 mark.
---
---
Batters
Studs
Anthony Rizzo (1B) – CHC @ STL – $4,600 – STL SP Adam Wainwright has a .313 wOBA against LH bats, and Rizzo is rocking a .395/.281 wOBA/ISO split against RHP. The Cubbies have a 4.0 implied run total tonight against the Cardinals.
Evan Longoria (3B) – TB @ MIA – $4,600 – MIA SP Wei-Yin Chen has a .342 wOBA against RH bats and Longoria is in a strong line of RH bats that will be taking aim with a .367 wOBA and .224 ISO against LHP.
Giancarlo Stanton (OF) – MIA vs. TB – $4,700 – OK, he's tourney only at this salary given his current struggles, but he will break out (13% walk rate over last week) and will likely double-homer when he does. TB SP Matt Moore gives up 1.45 HR/9 IP and a .351 wOBA against RH bats. Stanton still has a .497/.525 wOBA/ISO split vs. LHP and that only gets better at home.
Corey Seager (SS) – LAD vs. CIN – $4,100 – Brandon Finnegan carries a reverse split (.343 wOBA) in his limited run as Reds SP, and Seager's done well against LHP, with a .360 wOBA. The Dodgers have a strong 4.4 implied team total and Finnegan gives up 1.69 HR/9 IP.
Matt Carpenter (3B) – STL vs. CHC – $4,300 – Carp keeps raking, going on 14 months now, with a ridiculous 206 expected power rating (100 is average) over his last 100 at-bats. He also is .383/.251 wOBA/ISO against RHP and Cubs SP John Lackey has a .321 wOBA against LH bats.
Albert Pujols (1B) – LAA @ TEX – $4,500 – Derek Holland struggles against RH bats (.350 wOBA), the Angels have an implied 4.8 runs scored tonight and Pujols has a .463 SLG/.231 ISO against LHP.
Rougned Odor (2B) – TEX vs. LAA – $4,000 – Odor has a .353 wOBA and .243 ISO against RHP and LAA SP Nick Tropeano has been living on the edge of a blowout, with a 4.73 SIERA against a 3.30 ERA, thanks to an 85% strand rate. He's also giving up a .351 wOBA against LH bats, putting the top of the order Odor in a great position tonight.
Mike Trout (OF) – LAA @ TEX – $5,400 – Same opposing SP situation as Pujols and run total, Trout has been consistent and is the top-top hitter to target, given the game situation, his splits (.415 wOBA vs LHP) and his recent hitting (177 hard hit factor more than Harper, Cruz).
Values
Trayce Thompson (OF) LAD vs. CIN – $3,300 – Stacking the cheap Dodgers bats against Finnegan will be a popular option, especially when someone hitting the ball as well recently as Thompson (165/163 expected power/hard hit splits over last seven games) is $3.3K in a favorable handed split (.411 wOBA/.315 ISO).
Kiké Hernandez (OF) LAD vs. CIN – $3,000 – Hernandez has been up and down, but his splits against LHP have been solid (872 OPS, .480 wOBA, .309 ISO) and Finnegan gives up all those long balls as mentioned above with Seager.
Franklin Gutierrez (OF) SEA vs. OAK – $2,600 – Rich Hill is tough in terms of long ball (0.4 HR/9 IP), but the splits enjoyed by Gutierrez is hard to ignore, at home, at $2.6K. Gutierrez has a .367/.254 ISO against LHP and has consistently made hard contact this season (42% for the season).
Steve Pearce (1B/2B) – TB @ MIA – $3,400 – LHP against the Rays, as mentioned for Longoria above, and Pearce is another very solid target, eligible at a great position (2B) and mashing LHP for power (.362 wOBA/.252 ISO/1.380 OPS).
"DET SP Mike Pelfrey is a good target for bats . . ."
Ryan Howard (1B) – PHL @ DET– $3,500 – DET SP Mike Pelfrey is a good target for bats, with a .382 wOBA against LH bats. Howard still can hit for authority, with a 207 expected power this season.
Byung-ho Park (1B) – MIN vs. KC – $3,500 – Park has elite power (163 expected power for the season) and KC SP Ian Kennedy has a bit of a reverse split (.333 wOBA vs. RH bats) and Park has a .372 wOBA/.312 ISO split against RHP so far in his early MLB career.