With every team in action Friday night, you've got plenty of good options to consider. Be careful of possible rain in Pittsburgh, Detroit and Miami, especially when you're deciding on pitchers, where even a delay could seriously impact his value. Here are a few guys you can focus on – at every position and price range – as you begin to make your final decisions. Good luck!
Enter a MLB $1M Midsummer Classic SUPERSat – Only $3 Entry >> DRAFT NOW!!
Starting Pitchers
Studs
Max Scherzer @ PHI ($14,000) – I mean, obviously, right? The real question here is, will NOT drafting him end up costing me any chance at a fantasy win (considering his last two outings were worth 60 and 53 fantasy points)? The answer lies in how confident you are that you can choose a cheaper pitcher and still manage to find the same production. It's not going to be easy.
Francisco Liriano vs. ATL ($10,000) – Liriano is coming off a rough outing at Washington, but Atlanta doesn't have Bryce Harper. And in the start before, he had gone eight innings with only two hits and no runs allowed against the White Sox. He could definitely end up closer to that end of the spectrum against the Braves, and with their propensity for striking out, he could start to pile up fantasy points in a hurry.
Values
John Lackey vs. ChC ($7,800) – He's not the guy you're getting to replace Scherzer's production. But with at least seven innings and the win in four of his last five starts, to go along with an average of just under six K's per start, he could be a good complement.
Trevor May @ MIL ($6,300) – In three of his last four games, he has held Boston, Kansas City and the cubs to one or zero runs, while going at least six innings. If he can pitch even close to that level, you have to like his shot at the W against Lohse.
Catchers
Studs
Brian McCann @ Velasquez ($4,300) – He is hitting .328 and slugging .525 in June, so he has clearly strung together a few quality weeks. That still doesn't really predict what he will do tonight, of course, but when you combine it with some recent struggles for Velasquez, it's easy to be confident.
Russell Martin vs. Martinez ($4,200) – Nick Martinez has pitched relatively well lately, but this will be his stiffest competition in a few weeks. The Blue Jays could run him from the mound early, and when that kind of thing happens, Martin is usually involved.
Values
Wilson Ramos @ Harang ($3,800) – Hitting almost .300 and slugging well over .500 for the past couple of weeks, that has translated into four of his last eight going for double digit fantasy points.
Yadier Molina vs. Arrieta ($3,300) – He's hit safely in nine straight, bringing his average for the year up to .298. He has multiple hits in five of those nine, and has recorded two home runs and two doubles over the same stretch.
First Basemen
Studs
Albert Pujols vs. Walker ($4,800) – It's tough to say someone with 23 home runs on the year is going through a power surge lately, but I don't know what else to call five home runs in his last nine games. He's facing Taijuan Walker, who has pitched much better recently, but who still owns an ERA over 7.00 on the road so far this season.
Mark Teixeira @ Velasquez ($4,700) – He might not be the most feared hitter in baseball anymore, but that doesn't mean you should write him off. He had three hits on Wednesday, and has jacked his average for the year up to .259 on the back of a solid June. There are a lot more singles than there used to be, but even singles can be very useful for fantasy purposes when you're hitting at the heart of a good offense.
Values
Evan Gattis vs. Eovaldi ($3,800) – If Houston had a better collection of hitters, I would say this looks like it could shake out to be a very high-scoring game based on nothing but the pitching matchup. So, when a good hitter does show up on Houston's roster, you might as well at least consider taking advantage. Gattis is hit or miss (pardon the pun) but he doesn't need to make contact all that often to create fantasy value for your team.
Second Basemen
Studs
Ben Zobrist vs. Volquez ($4,400) – He has 15+ fantasy points in six of his last ten games, with only one goose-egg mixed in.
Dee Gordon vs. Anderson ($4,400) – He has hit safely in seven straight, with three more steals over that small stretch of games. He is currently sitting third in the majors in terms of batting average, just a couple of points behind Kipnis and Goldschmidt. His ability to get on base and to burn once he gets there makes up for his lack of power, and, if anything, is even easier to predict than when the extra base hits are coming from a big slugger.
Values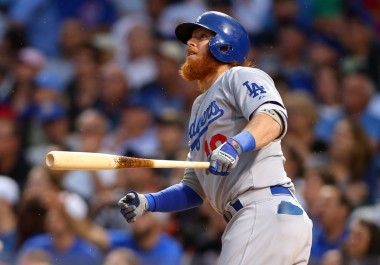 Justin Turner @ MIA ($4,000) – When a guy is slugging over .800 for two weeks, and has hit double digits in fantasy points more often than not recently, he is a "value" no matter what they're charging for him. So, yeah, his price has gone up, but not fast enough to remove the value, or high enough to turn him into a stud, so there is no place to stick him but here. But I'd feel like I was doing a disservice if I didn;'t at least mention him.
Kolten Wong vs. Arrieta ($3,800) – Wong had started to look like he was cooling off after a hot start, but he now has four hits in his last two, including a home run and a double. Let's hope the last couple of weeks were just the kind of small slump all players go through, and that what we've seen most recently, or what we saw in the first part of the season, are the real Kolten Wong (he is still hitting a respectable .282/.337/.454 for the year).
Third Basemen
Studs
*Miguel Cabrera vs. Quintana ($5,300) – The only reason you don't look at his .582 slugging % and OPS well over 1.000 against lefties and talk about how dominating he is in these matchups is because, well, he does the same thing against righties. The guy is a machine.
Adrian Beltre @ Buehrle ($4,100) – You know Texas fans have got to love watching this guy fight to get back on the field for his team when they need him, but as a fantasy owner, you also have to be concerned that the injury could be limiting his production. But he managed a hit last night, and he has consistently hit for a better average and more power against lefties his entire career. If there is a good night to test drive him in your lineup, it could be tonight.
Values
Evan Longoria vs. Porcello ($3,800) – Frankly, I am shocked it took me this long to get to a Tampa Bay Ray with Porcello on the mound facing them for the Red Sox. But if I was going to wait, Longoria is as good a place to start as any – his slugging numbers are down from prior seasons, but he is still producing some value on a consistent basis and could hit the ball hard against Porcello and his 5.61 ERA (at least five earned runs allowed in four of his last six).
D.J. LeMahieu @ Hudson ($3,600) – You just have to love finding a relatively cheap option and seeing that he is hitting well over.300 on the year and even better than that lately. Huge upside is nice (and is missing in this pick), but the biggest fear you have when you're picking someone who isn't a "stud" is that you're going to end up getting nothing at all out of him, and the stat that assuages that fear fastest is definitely a respectable batting average.
Shortstops
Studs
Carlos Correa vs. Eovaldi ($4,900) – It's hard to overstate what he has done so far. I am just going to keep writing about him until I am confident every single possible fantasy owner is aware of what's been going on down in Houston. This kid now has 17 games in the majors, and he is slashing .284/.312/.527. He's got ten extra base hits and twelve RBI. But he also has four steals and ten runs scored. He is the definition of a five-tool player, and that kind of production and value on the field has no choice but to translate into fantasy value as well.
Alcides Escobar @ Hahn ($4,000) – Amazingly, Escobar might even be hotter than Correa right now. The matchup might not be quite as good, but it is not one that scares you, especially with Escobar hitting .428/.505/.547 over his last 41 at bats (18-for-41).
Values
Yunel Escobar @ Harang ($3,700) – Over the past two weeks, his fantasy scoring average has been up almost two whole points from his season average, which is something that barely factors into a players price (two weeks is a SMALL sample size). But it could still indicate who is playing well right now, and Escobar is one of those guys.
Jung Ho Kang vs. Perez ($3,600) – Kang has been killing lefties so far in his rookie campaign, but he has been solid against everyone. And if there is a right-handed pitcher you're going to trust him against, why not make it Perez who, while he has pitched better lately, still is not able to go out and dominate hitters to make it deep into a game.
Outfielders
Studs
Jose Bautista vs. Martinez ($5,800) – Martinez is the kind of pitcher, so far this year, who can look great against mediocre or bad offenses. But he has yet to prove that he can really take and shut down a quality lineup like Toronto's, and hitters like Bautista are the reason. The very first time through this lineup will be a stiff test, never mind the second and third times through.
Mike Trout vs. Walker ($5,100) – Walker on the road gives up some offense. It's almost written as fact, at least so far this year. And if you're looking at the scores on a ticker and see the Angels with a bunch of runs, you can be pretty well assured that you would have been happy with Trout in your lineup.
Andrew McCutchen vs. Perez ($5,000) – McCutchen is the first place you look when you want a Pirates hitter, and often the last as well. Tonight they have a good matchup, but that hardly matters with a hitter who is slashing .329/.396/.519 for the month of June.
Starling Marte vs. Perez ($4,800) – When the Pirates have a good matchup, McCutchen might be your first thought, but these two outfielders are the first players you're going to consider, and rightfully so. At different times this season, each one of these guys has been the most productive players on the team, and right now, that's McCutchen, but that doesn't mean Marte has stopped being useful – he is still hitting .289 so far in June.
Values
Yoenis Cespedes vs. Quintana ($4,400) – There are two reasons why you are seeing some higher-than-normal price tags in the outfield "value" slot today. One, the way guys like Cespedes are hitting, their price tags certainly could be higher, representing value to be had. And two, there are a LOT of quality outfield choices today. This seems to be where the best matchups and the hottest hot streaks all lie, and as tempting as the most expensive guys are, moving just a little down the line could get you similar production and leave more meat on the bone to spend on other positions.
Jason Heyward vs. Arrieta ($4,200) – Heyward is perhaps an even better example of this idea than Cespedes. He has three home runs in his last four games. He is hitting .278, up from just .251 at the beginning of the month, and .217 at the end of April. He is slugging .846 over the past week, and he has driven in seven runs and scored five more over that stretch. It's hard to know why you wouldn't want him in your lineup, especially with a favorable matchup against Arrieta.
Kevin Kiermaier vs. Porcello ($3,800) – Over the past week and a half, he is averaging fully three fantasy points per game more than he has over the course of the season. Raising your slugging % .100 points will do that for you.
Eduardo Nunez @ Lohse ($3,600) – He has four hits in his last three games, including a HR and a double. He has also hit safely in ten out of his last thirteen, and has a good matchup with Lohse, who typically allows plenty of contact. He's as safe a choice for at least some fantasy points as you'll find for this price tag tonight.
Good luck!