Thursday's main slate is a small one, with just four games, but it's an interesting little set. We have a bunch of southpaws on the mound tonight, so there are numerous right-handed bats that'll be seeing a platoon advantage. The best place for last-minute info, other than DK Live, of course, is Twitter. Find me there, @RyNoonan. Let' dig in.
Pitcher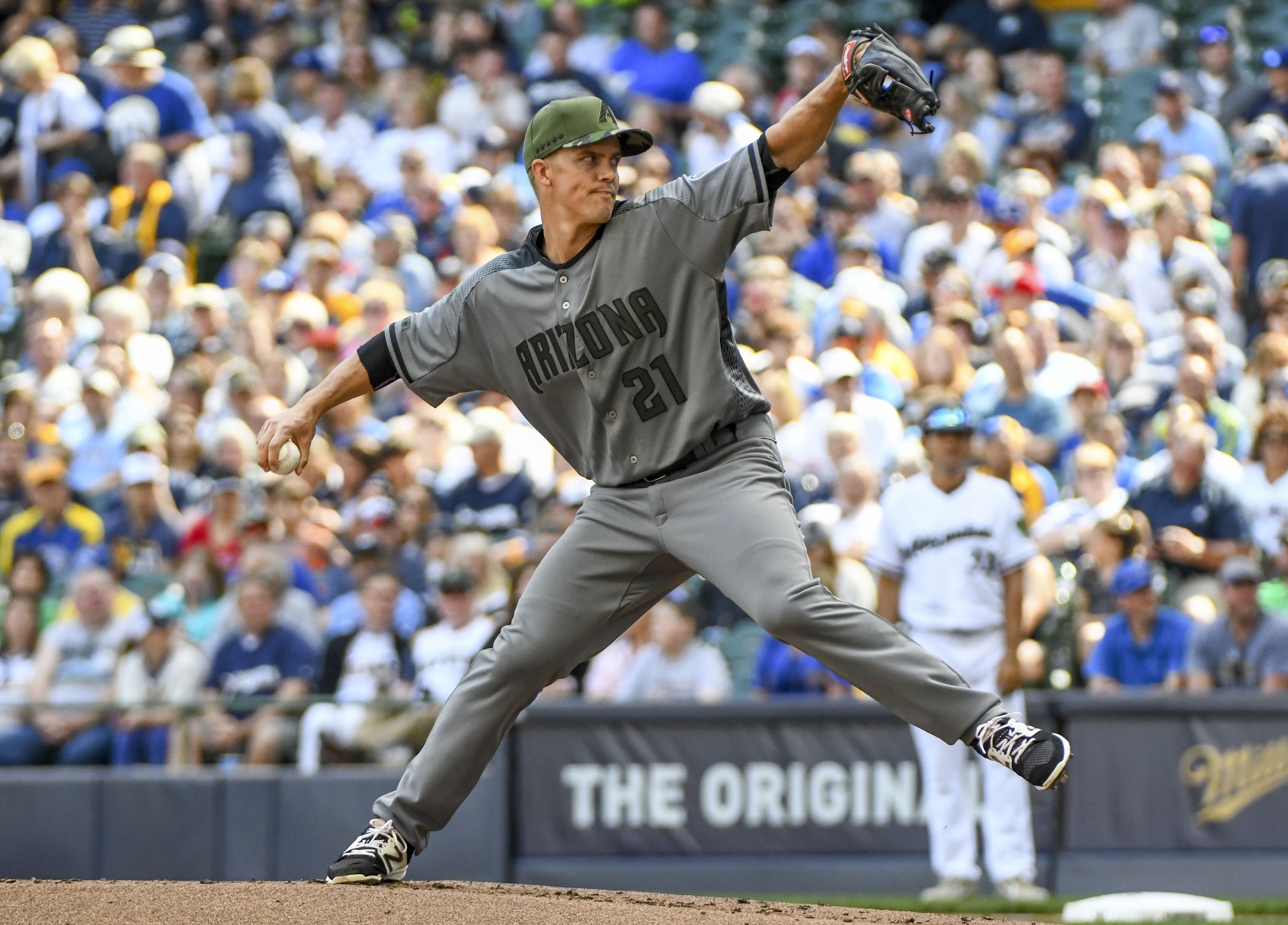 Stud
Zack Greinke – ARI vs. MIA – $12,700 – After a rocky first season in Arizona, we've seen Zack Greinke return to form in 2017. In fact, if he keeps up this pace he'll have one of his best seasons ever. His massive spike in strikeout rate is why he's in play at this price point. His current 10.5 K/9 matches his career best mark. This game is in Miami as well, and that sizable park shift makes Greinke an easy play in cash games.
Other Options – Eduardo Rodriguez ($8,900)
Value
Alex Meyer – LAA vs. MIN – $6,900 – The secondary options at starting pitcher are tough on this slate, but a case can be made for Alex Meyer. A former top prospect who'll be facing a Twins team that drafted him, Meyer has made himself viable in DFS because of his 10.8 K/9 to start the season. The problem here is that he's walking nearly just as many as he's striking out. That high pitch count limits his upside on most days and could be an issue here since the Twins take a lot of pitches (11.1% walk rate vs. RHP), but Ks are king and that puts Meyer on the board tonight.
---
Catcher
Stud
Gary Sanchez – NYY vs. TORs – $4,300 – If you're willing to spend up, Gary Sanchez is the far-and-away best play at the catcher position on Thursday night in my opinion. Hitting second on the road, he's in play for both cash games and tournaments against flyball-heavy Marco Estrada.
Value
Jeff Mathis – ARI vs. MIA – $2,000 – If Jeff Mathis gets the start on Thursday he'll likely be very popular. The appeal of a minimum salary starter and the flexibility that it provides to your lineup is huge. The Diamondbacks are facing lefty Jeff Locke, and Mathis has a .361 wOBA against lefties over the past three seasons.
---
First Base
Stud
Paul Goldschmidt – ARI vs. MIA – $5,500 – Paul Goldschmidt against a lefty is still a thing and will forever be a thing. It's just a matter of roster construction and whether or not you can fit him in your lineups tonight. He enters play with a .416 wOBA against lefties dating back to the start of the 2015 season, which is a big sample size of awesomeness.
Other Options – Hanley Ramirez ($4,400)
Value
Albert Pujols – LAA vs. MIN – $4,200 – The weight of the Angels' offense has fallen squarely onto the shoulders of a past-his-prime Albert Pujols, something that won't bode well for L.A. over the next few months. For now, though, Pujols is a homer shy of 600 for his career, and soft-tossing lefty Adalberto Mejia could serve it up tonight.
Other Options – Trey Mancini ($3,500)
---
Second Base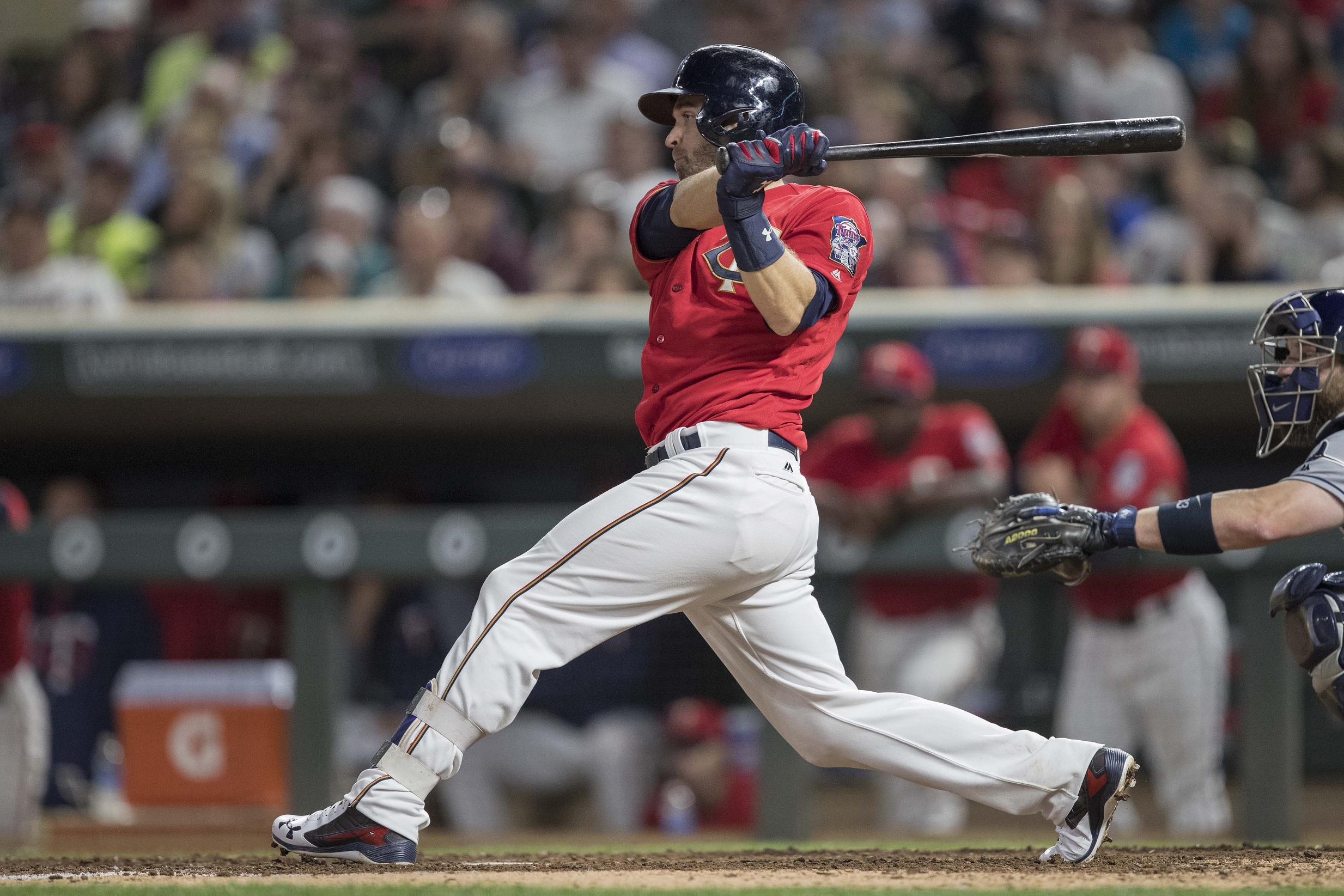 Stud
Brian Dozier – MIN vs. LAA – $4,700 – Our options at second base are few and far between tonight. Easily my best top tier play, Brian Dozier is typically a sneaky tournament play against right-handed pitching. He's so good against lefties and everyone knows it, which usually drives up his ownership on most slates. He's also an above-average hitter with power against right-handers as well, so don't shy away from him tonight simply because he doesn't have the R/L platoon advantage.
Value
Starlin Castro – NYY vs. TOR – $3,600 – I think Starlin Castro will soak up the majority of the ownership at second base, for a few reasons. I like him because he's below $4,000 and hitting cleanup for an explosive offense on the road in a hitter's park. Others will gravitate towards his BvP numbers against Marco Estrada, which have him hitting .406 over 32 career at-bats. Regardless of your "why," he's in play for me.
---
Third Base
Stud
Josh Donaldson – TOR vs. NYY – $4,700 – It's been a lackluster start for Josh Donaldson since returning from the DL, but it's only a matter of time before he starts mashing again. He's had minimal success against CC Sabathia over the years, so perhaps that fact combined with his slow start will keep his ownership down versus where we typically see it against lefty starters.
Value
Manny Machado – BAL vs. BOS – $3,900 – We haven't seen the statistical output yet in 2017 that we've come to expect from Manny Machado, and for the most part he's just been unlucky. Over the past two weeks though, Machado has just been bad. His hard-hit rate is down and he's hitting a higher than usual amount of weak ground balls. I just can't get over his price here, at $3,900 against left-hander Eduardo Rodriguez.
---
Shortstop
Stud
Xander Bogaerts – BOS vs. BAL – $4,800 – It was only a matter of time before Xander Bogaerts started hitting the ball over the fence. After going 6+ weeks without a home run despite posting his typically hard-hit rates and batted ball profile, Bogaerts has left the yard a few times of late and is looking locked in at the plate. He's pretty expensive tonight, but he's clearly the top option at the position.
Value
Andrelton Simmons – LAA vs. MIN – $3,900 – In a perfect world, Andrelton Simmons would be about $300-$500 cheaper tonight, but I think he's worth a look if you're not spending up to get Xander Bogaerts. Simmons has been decent of late and has shown more power in his career when facing lefties, as he will on Thursday against Adalberto Meija.
---
Outfield
Stud
Mookie Betts – BOS vs. BAL – $5,300 – The day ends in 'y,' so obviously Mookie Betts is a good play tonight. He grades out as my top hitter on the slate in cash games, leading off on the road with the highest implied-team total on the slate. As is the case with a lot of the top tier talent tonight, it's a matter of roster construction to determine their fit in your lineup tonight.
Other Options – Aaron Judge ($5,200)
Value
Kevin Pillar – TOR vs. NYY – $3,500 – There is a few strong value plays in the outfield tonight, but the edge goes to Kevin Pillar, who'll likely be hitting leadoff for the Blue Jays tonight against CC Sabathia. That spot in the lineup slightly increases his chances to get an extra at-bat, and he's nearly 100 points better in both wOBA and ISO when facing a left-handed pitcher.
Other Options – Chris Young ($3,500), Max Kepler ($3,600)
---
I am a promoter at DraftKings and am also an avid fan and user (my username is RyanFix) and may sometimes play on my personal account in the games that I offer advice on. Although I have expressed my personal view on the games and strategies above, they do not necessarily reflect the view(s) of DraftKings and I may also deploy different players and strategies than what I recommend above.