With the Braves and Cubs playing at 4:05, you'll need to get in on an All-Day contest to use them – but every other team in the majors is available in the evening contests, so you'll have plenty of choices to make. Here are some names to consider at every position and price range as you build your lineups. And if you miss the 7 o'clock cutoff tomorrow, don't worry – there are four games at 10:00, making the late contests more interesting than usual as well. Good luck!
Enter the MLB $160K Moonshot – Only $3 Entry >> DRAFT NOW!!
Pitchers
Studs
Chris Sale @ SEA ($13,200) – You take Sale tonight because you're scared of him. You know plenty of others are considering taking him, and if one of them does, and he drops 40 points, you're going to be kicking yourself for not just sucking it up and taking a couple more cheap hitters. Seattle has almost a 22% K%, and they're facing a guy who has at least six strikeouts basically every time out there, with consistent double-digit K potential.
Masahiro Tanaka vs. CLE ($9,800) – Tanaka is coming off a complete game domination of the Blue Jays. He gave up five hits and one run, struck out eight, and got the win. If can pitch half that well against the Indians lineup, he should be a lock for 20+ fantasy points.
Values
Jimmy Nelson @ WAS ($8,200) – Sometimes you look at at pitcher, and the only stat of his that is consistent is the strikeouts. Winning, losing, giving up hits or not – for some reason the strikeouts usually stay relatively stable through all of it. Well, Nelson has been racking up six or seven K's per start for a while now, and while Washington is certainly capable of getting to him for a few runs, they also have a K% nearing 20%.
Chris Bassit vs. TB ($6,900) – It's not a great matchup, true – but that fact is built into this price. Bassist has eight starts now for Oakland, and he has yet to give up more than three runs, and he has gone more than six innings in six straight (after being on a short leash in his first two starts, and leaving in the 5th both times). For $6,900, you're getting a guy with a 19-ppg fantasy scoring average over his past four starts and double-digit points in all eight of his outings. He flashed 10-K 30+ fantasy upside against Houston last week – output very rarely seen from players at this price.
Catchers
Stud
Buster Posey @ Locke ($4,200) – He has cost more at certain points in the season, for good reason – he was hitting better then. But with d'Arnaud in Colorado as the only other catcher priced as a stud, for me, it's either Posey or I am going cheap (d'Arnaud might be in the right ballpark, but he has really be struggling to hit consistently of late, and $4,900 is just too rich for me). And the fact remains that even when Posey is not going great, he remains one of the most consistent catcher options at the plate, AND he has pretty much the most upside. He doesn't have enough appearances against Locke to form any kind of real opinion on the matchup, but in the four at-bats he does have, he has two hits and two RBI, which certainly doesn't make you think any less of his chances to perform well in this one.
Values
Jonathan Lucroy @ Gonzales ($2,900) – Fresh off a two-day break (he had the night off Wednesday with no game yesterday), he should be feeling refreshed, hopefully. And that could lead to continued success against Gonzalez, against whom he has three hits and three walks in eight plate appearances (.750 OBP), with a couple of RBI.
Chris Iannetta vs. Price ($2,600) – An inconsistent bat in a bad matchup is certainly one way to get some separation from your opponents with a low-ownership % play. In this case, there is reason for optimism, as Iannetta consistently has hit lefties better for his entire career, and has gone 7-for-18 (.389) against this particular lefty, with a double and a home run.
First Basemen
Studs
Chris Davis vs. Milone ($5,000) – There are enough guys on the Orioles with good career numbers against Milone to expect big numbers tonight. And, of course, a high scoring game elevates everyone's ceiling. And none is higher than Davis' – he's 4-for-11 against Milone for his career (.364), with a double and two home runs.
Mitch Moreland @ Verlander ($4,100) – Not only is Moreland hitting .357 over his last ten games, he's also hitting .400 against Verlander over his lifetime (6-for-15). And of those six hits, four of them were doubles, so clearly the potential is here for some good production, especially if this turns into a high-scoring game, certainly possible with these offenses.
Values
Adam Lind @ Gonzalez ($3,800) – He's usually a few hundred bucks more expensive than this, and he's coming off a 3-hit game against the Marlins. It's the matchup that usually causes the price to drop in that kind of situation, which makes sense. But while this matchup is not great on paper, in reality, Lind is hitting .364 against Gio in eleven at-bats. But I will not argue with the discount.
Victor Martinez vs. Lewis ($3,400) – Coming off a road series against an NL team, Martinez has had a bunch of rest lately, which you think could only help the aging DH. Over the past few weeks, he has been emerging from the slump that plagued him coming out of the All-Star break, and this matchup has got to provide you with some extra confidence when you're plugging him into your lineup – he is 9-for-17 with three doubles for his career against Lewis (that's a .529 average and a slugging % over .700).
Second Basemen
Studs
Dee Gordon vs. Eickhoff ($5,300) – The Marlins tend to not have too many hitting options you want to trust, which is unfortunate when they are facing a pitcher – like Jerad Eickhoff – making his first-even major league appearance. But if you're going to trust a Miami hitter, why not Gordon? At the top of the order, he should benefit if other guys hit, but lately, he's sown the ability to do plenty of damage on his own, with no help at all. He is averaging 14.8 fantasy points per game over his last ten games, hitting .423 with four extra base hits (double, two triples, home run) and seven RBI over that stretch. Add to that his four walks, six steals and ten runs scored, and you're looking at the most productive player in fantasy of late. If you don't go with a top pitching option, this is a really good place to spend the money you saved.
Ben Zobrist @ Owens ($4,400) – Zobrist eats up left-handed pitchers (.952 OPS this year), and has been on fire lately, slashing .463/.528/.603 over his last ten starts (for a double-digit fantasy scoring average). It's enough to make me consider him in every lineup I build for tonight's action.
Values
Matt Duffy @ Locke ($3,800) – He's hit safely in four straight and eight of nine, not surprising for a guy who has maintained a .300 average all season long. He has 20+ point upside, because he can occasionally hit for power, but he is a consistent source of 5-10 points a night. That's not bad production for this price, so it feels almost like the upside is thrown in for nothing.
Odubel Herrera @ Flores ($3,600) – Hitting .343 with three doubles in his last ten games, his fantasy scoring average is suddenly up to around 9 over that stretch. The matchup shouldn't be enough to scare you off him – go in another direction only because there is someone you like more.
Third Basemen
Studs
Manny Machado vs. Milone ($4,500) – He's hitting .455 against Milone in eleven plate appearances (5-for-11), and he's doing it with some pop – out of those five hits, two went for extra bases (a double and a HR).
Trevor Plouffe @ Chen ($4,000) – Plouffe has been averaging seven or so fantasy points all season, despite a batting average hovering around .250. But against Chen, he has outperformed that number, hitting just over .300. You have to love that increase in efficiency and consistency, but he's also seeing an uptick in upside in this particular matchup (two doubles and a home run in 14 plate appearances).
Values
Adrian Beltre @ Verlander ($3,700) – There are a few guys on the Rangers with good numbers against Verlander in just a few at-bats. But when you have just a few at-bats against him, it means you've only been facing him recently, which means you have only ever faced a somewhat diminished Verlander. Belter, though, has all the experience in the world against him, going back years. And in his 44 career plate appearances against Verlander, even though for many of them he was on of the most dominating pitcher in the league, Beltre has 13 hits (.310 average), a pair of walks, a couple of doubles and five RBI. And if that was mostly against dominant Verlander, his chances of doing something tonight have got to be even better against diminished Verlander.
Aramis Ramirez vs. Bumgarner ($3,400) – If anyone is going to his against Bumgarner tonight, you'd expect it to be Ramirez. Not only is he hitting .380/.407/.500 over the past ten days, he's also got a solid history in this particular matchup, hitting .333 in 18 at-bats against Bumgarner, with three doubles and a home run.
Shortstops
Studs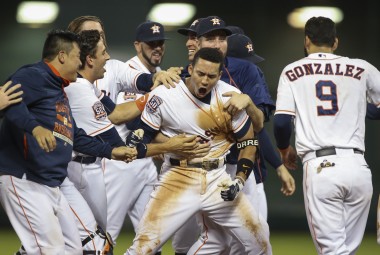 Carlos Correa vs. Anderson ($4,900) – Anderson isn't exactly a great matchup, and historically, no one on the Astros has ever really put up even better-than-average numbers against him. But he's never faced off against this guy, who just keeps it up. He's not slowing down, which is starting to get ridiculous. He might already be the best short stop in baseball, and he has been a catalyst for this Houston team. Individual stats, team accomplishments – it's the name of the game, right? He kept it up last night with a game-winning single in the thirteenth inning to put the Astros to ten games over .500 and first place in the AL West.
Jose Reyes vs. Colon ($4,700) – He's 5-for-9 against Colon all-time (.556) and he is hitting .342 over his last ten games, with four doubles and a home run, finally turning it around and performing for his new team in Colorado.
Values
Yunel Escobar vs. Nelson ($3,800) – He's kept up that batting average right around .300 all season long, and he's done it by consistently hitting .300 for every stretch of the season, broken down by weeks, months, pre-All Star game vs. post, etc. In other words, there haven't been wild ups and down, and for this price, I am very ok with someone giving me consistency, especially someone with just enough power (19 doubles and nine home runs) to flash occasional 20 point upside.
Asdrubal Cabrera @ Bassitt ($3,300) – Cabrera is continuing to hit at a very rapid clip, even if he is not hitting for a ton of power. Four multi-hit games in his last eight still gives him plenty of upside for this price (he was in double digits in all four of those games).
Outfielders
Studs
Carlos Gonzalez vs. Colon ($5,400) – A power-hitting outfielder in Colorado – how surprising. But I mention him here because he has five home runs in his last ten games, including two in his last four. He also has a home run in only five career at-bats against Colon, a pitcher who has now given up 19 long-balls on the season, a much higher rate than he typically had in years past.
J.D. Martinez vs. Lewis ($4,600) – When you see Martinez with really good numbers in a particular matchup, at some point it's got to stop surprising you. The guy has basically been on fire for his whole career, so he's bound to have piled up some good numbers against lots of different pitchers. And Colby Lewis is not exception – 2-for-3 might be a small sample size, but when the two hits were a double and a home run, it's safe to say J.D. will feel comfortable at the plate in this one.
Ryan Braun ($4,300) – He has had double-digit fantasy points in three of four, and five of eight. He's hitting well over .300 over that span, with three home runs – exhibiting both consistency and upside. Not bad for this price.
Values
Nori Aoki @ Locke ($3,900) – Aoki returned to action last night and he looked healthy, not only recording a hit, but a steal as well. He's been on base four times in nine plate appearances against Locke, and on a night where I think the Giants offense as a whole should do good things, just being on base creates built-in upside.
Marlon Byrd @ Locke ($3,600) – Look at the Giants for your cheap OF options, apparently. Byrd has been scuffling lately, but if there is a matchup on the horizon that is going to help him snap out of it, it's this one: he not only has a .357 average against Locke, he also has a double and a pair of home runs, good for a .857 slugging %.
Andre Ethier @ Fiers ($2,800) – Not a name you hear much or consider much anymore, he is still getting regular at-bats, and this matchup with Fiers has proven productive in the past (4-for-6 with a walk, a double and a triple in seven plate appearances). When you look a bit closer, you see that Ethier has also been hitting .400 and slugging .700 over the past couple weeks, which only makes you feel more comfortable getting him in your lineup tonight.
Good luck!