WATCH: PIVOT PLAY: DANNY DUFFY
---
Friday brings us a 13-game main slate with lots of strong pitching options. It should be a great evening for both cash games and tournaments, so let's unpack it here. Find me there @RyNoonan. Let' dig in.
Pitcher
Stud
Clayton Kershaw – LAD vs. COL – $13,500 – When deciding what to do with your two starting pitching spots, you have to wrestle with the Clayton Kershaw question. He's always in play, but it's a matter of price point and how deep the pitching pool is on the slate. The depth at the position on Friday, and the lack of a dirt cheap SP2 option makes him slightly difficult to fit on Friday, but he's the top option on the slate
Other Options – Dallas Keuchel ($9,600), Noah Syndergaard ($11,400)
Value
Julio Teheran – ATL vs. SD – $8,500 – Julio Teheran will likely be a popular play on Friday night, pitching at home against the Padres. While the Padres have an improving offense, their 23.5% strikeout rate raises the expected floor for Teheran, and his ability to dominate right-handed bats can keep Wil Myers and company in check.
Other Options – Aaron Sanchez ($8,200)
---
WATCH: BREAKING DOWN JULIO TEHRAN'S MATCHUP vs THE PADRES
---
Catcher
Stud
Salvador Perez – KC vs. LAA – $3,400 – The Royals have the slate's highest implied-team total at 5 runs and will likely be facing an assortment of Angels' relief pitchers on Friday night. LA's starter, J.C. Ramirez, is a bullpen arm and likely won't work deep into this game and the Angels have one of the league's worst bullpens waiting behind him. I'll fire up the Royals.
Value
Travis d'Arnaud – NYM vs. MIA – $3,000 – Thursday night's hero might get tonight off, but if Travis d'Arnaud is in the lineup he's in play against Edison Volquez. Per usual, I advise that you wait for lineups to come out and see if there's a cheap punt catcher who's hitting higher in the lineup than we would typically expect.
---
First Base
Stud
Matt Carpenter – STL vs. NYY – $4,200 – A pull-heavy left-handed bat in Yankee Stadium, Matt Carpenter is in a great spot on Friday. He has a .390 wOBA and .244 ISO against right-handed pitching over the past few seasons, and Masahiro Tanaka has gotten off to a rocky start in 2017. Even at his best, he's susceptible to left-handed power.
Other Options – Freddie Freeman ($4,600), Edwin Encarnacion ($4,600)
Value
Danny Valencia – SEA vs. TEX – $3,400 – The Rangers are starting left-hander Martin Perez against the Mariners and their row of left-handed pitching destroyers. Valencia is the bargain play here, with a .381 wOBA over the past 3 seasons when facing left-handed pitching. $3,400 is cheap for this much upside.
Other Options – Eric Hosmer ($4,000), Eric Thames ($4,000)
---
Second Base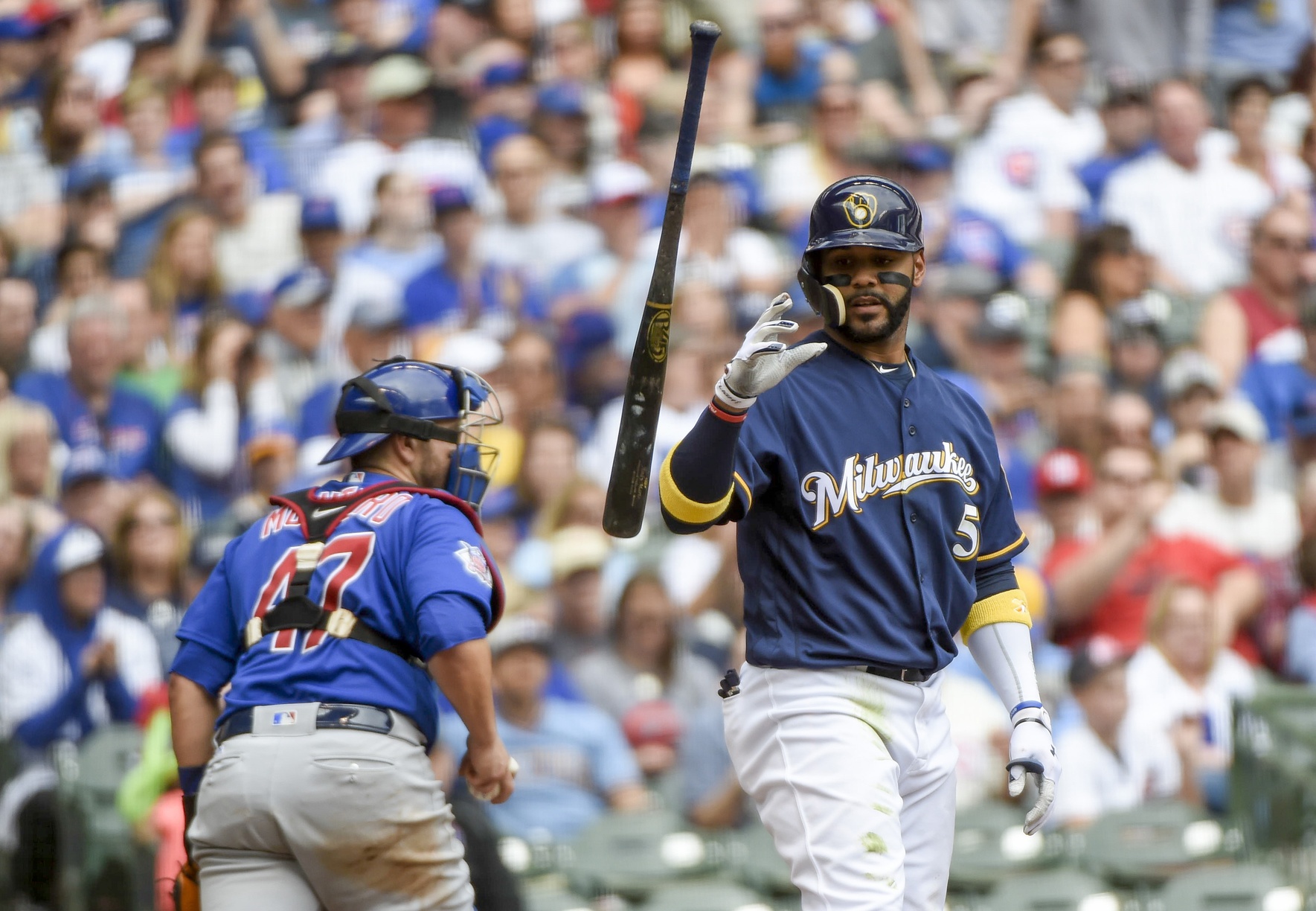 Stud
Jonathan Villar – MIL vs. CIN – $4,700 – Jonathan Villar and his Brewers' teammates are one of the best teams to target when they're facing a pitcher that doesn't miss many bats. Their massive 26% strikeout rate as a team isn't a concern today against Reds' starter Scott Feldman. Villar and his .352 wOBA against right-handed pitching are in a great spot and Villar is in play for both cash and tournaments.
Other Options – Brad Miller ($3,900)
Value
Steven Pearce – TOR vs. BAL – $3,400 – Eligible at both first and second base, Steven Pearce has a career .371 wOBA and .257 ISO against left-handed pitching, making him an outstanding value play if he's in the lineup against Wade Miley. The positional eligibility gives you the ability to be flexible with your lineup as well, and he'll likely hit near the top of the order on Friday.
---
Third Base
Stud
Miguel Sano – MIN vs. CWS – $4,200 – The subtle change that Miguel Sano has made during the off-season by lowering his hands, has led to a strong start to the 2017 season. Sano is someone that I avoid when he's facing an above-average strikeout pitcher, but that's not the case tonight against White Sox spot starter Dylan Covey.
Value
Mike Moustakas – KC vs. LAA – $3,200 – How many Royals is too many? Let's find out! The 'Moose' has been hitting second for the Royals and is a great cash game play at third base on Friday.
Other Options – Matt Davidson ($3,100)
---
Shortstop
Stud
Francisco Lindor – CLE vs. DET – $4,700 – The Indians' offense is loaded and they'll be in play most nights, regardless of the pitcher on the mound for their opponent. Tigers' left-hander Daniel Norris will have his hands full on Friday, and Lindor is a key cog in the middle of that lineup. As a switch-hitter, he's safer than most plays because he's not susceptible to handedness splits.
Value
Aledmys Diaz – STL vs. NYY – $4,000 – Aledmys Diaz is less likely to take advantage of the short porch in right field, but his massive .250 ISO against right-handed pitching will play anywhere. Pairing him with Matt Carpenter makes a lot of sense and will likely be an under-owned approach on Friday night.
---
Outfield
Stud
Nelson Cruz – SEA vs. TEX – $4,400 – Nelson Cruz is a lock for me against average left-handed pitching, and Martin Perez falls into that category. His .331 ISO is just ridiculous, and he'd be in play if he were $5,400 so I'll fire up all the Cruz for $4,400.
Other Options – Mike Trout ($5,200), Yoenis Cespedes ($4,600)
Value
Michael Conforto – NYM vs. MIA – $3,400 – I really like this spot for Michael Conforto if he's hitting leadoff like he did last time the Mets faced a right-handed pitcher. Of course, there's a chance that he doesn't play but last night's extra inning affair will probably lead to a day off for someone.
Other Options – Mitch Haniger ($3,600), Avisail Garcia ($3,900)
---
I am a promoter at DraftKings and am also an avid fan and user (my username is RyanFix) and may sometimes play on my personal account in the games that I offer advice on. Although I have expressed my personal view on the games and strategies above, they do not necessarily reflect the view(s) of DraftKings and I may also deploy different players and strategies than what I recommend above.