Rankings below are based on a mixture of expected output and DraftKings MLB salaries for that day. The ordering is not based on highest projected fantasy totals, but rather by value of each pitcher.
Take home your share of $120K in the Payoff Pitch — Draft Now!
Cream of the Crop
Chris Sale vs. Cleveland Indians ($13100) – The Indians have a lot of left-handed regulars and Sale has been lights out to lefties. He has strikeout potential and usually goes about 7 innings in his starts. He has 46 strikeouts over his last four appearances, so he is dialed in right now. He has averaged under 2 runs per game and given up less than 6 baserunners per start. He is very expensive today, but a line of 7 innings, 5 hits/walks, 2 runs and 12 Ks is probable. That would give him 35+ fantasy points and make him the top scorer on the day.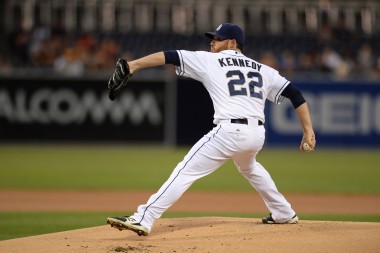 Ian Kennedy vs. Colorado Rockies ($8900) – Kennedy has been on fire lately. In his last three starts, he has gone just over 6 innings per start with just under 10 strikeouts. He has only given up about a hit/walk per inning and a little over a run on average. He is at home in one of the best pitcher's parks in the majors and faces a team who does not hit as well away from Coors field. The Rockies do have some lefties that scare me (CarGo), but Kennedy has been really good in last few. $8900 is not too bad a price for a guy who has averaged about 30 fantasy points per start over the last two weeks and plays in a low total game at home.
Middle of the Pack
Michael Pineda vs. Baltimore Orioles ($8400) – After a few rough outings, Pineda righted the ship in a big way last time out and threw up 27 fantasy points. He has a pretty solid matchup here with the Orioles who have a strikeout rate against right-handed pitching. When Pineda is right, he gets about 7 innings of work in with about a strikeout per inning and limits the other team to two runs or less. He has only been going about 6 lately, but he has kept the strikeout numbers high, which is a good sign against a high strikeout team like the one he faces today. He should have a nice floor with those Ks which makes him a solid cash game option that has some GPP upside.
Mike Fiers vs. Oakland A's ($10000) – The kid has been really good lately, but may struggle to reach upside at this lofty price. He's been getting around 20 per game and would be an excellent start for around $8000-8500, but with that 50 fantasy point no hitter two back, he will draw a lot of attention even with his inflated price. Oakland's offense has struggled, so I think he can pitch well. He has strikeout upside and should limit the damage while going about 7. My problem is he is likely to finish with about 20-25 points which is good for a cash play, but is not going to win you a tournament.
Max Scherzer vs. New York Mets ($12400) – Scherzer has not been the same guy he was to start the season. He is not likely to get lit up, but he also has not been shutting people down lately. At the price point he is at today, you really need him to go out and throw a gem. He has been knocked around for 17 hits, 6 runs, and 3 homeruns over his last two starts and has only returned over 22 fantasy points in one of his last ten. This is a big game in the NL East standings and these are the games they acquired Scherzer to win for them. I think he pitches well, but I'm not sure he is a solid value for the price.
Lance Lynn vs. Chicago Cubs ($9500) – Lynn had an ankle injury that moved this start back, so he's not 100% which is the first red flag. His price is huge at $9500, which is the second red flag. He faces a Chicago team that has mashed some homeruns recently against right0handed pitching as well which is red flag number three. I don't see him going deep in this one with that injury and I don't think he shuts out the Cubs. They Cubs do strikeout a lot, which would be the thing that could save him if he can dial it up and get a bunch of those. It's possible, but I am skeptical he can do enough to pay off the price tag with all the uncertainty around those red flags.
Patrick Corbin vs. San Francisco Giants ($8000) – I liked Corbin a lot today and was hoping he would be cheaper. I think he gets some run support opposite Mike Leake, so that is a plus. He has been pitching well, so that is a plus. San Fran does not hit lefties well so that is also a plus. That means he has a lot of things in his favor right now. He had 18 fantasy points last out in Coors and has gone around three points per thousand or more in 2 of his last 4 starts. The innings and pitches are up, the strikeouts are up and he looks good. If he was cheaper I would love him, but I think he can still be a good play at only $8000.
Mike Leake vs. Arizona Diamondbacks ($6500) – Leake is pretty cheap, which is his saving grace here. He has been OK, but pitches against a pretty solid lineup in a great hitter's park today. Leake has allowed a decent number of homers above average over his career and the Diamondbacks got some big mashers. Still he is likely to get about 6 innings with a few Ks and end up around 12-18 points which is not horrible for only $6500.
Trevor Bauer vs. Chicago White Sox ($7500) – Bauer has huge strikeout upside and also gets tagged for a lot of homeruns. That is why his game log alternates between 25+ point performances and negative numbers. That makes this strictly a tournament option for me. Chicago does not have a high scoring offense, although they also do not have a particularly high strikeout rate. Bauer has a low likelihood of a win going up against Sale too, so do not use him in cash. Still for a low owned tournament option, the strikeout potential against a weak lineup is enticing.
Justin Nicolino vs. Milwaukee Brewers ($5100) – Nicolino has four starts where he returned three points per thousand or more and three others where he was horrible. He faces a weak hitting Milwaukee team here and does not need much to make value. He is not a high strikeout guy, but he does limit the damage and pitch deep into the games. He's a GPP play, because with a low strikeout total he would struggle to reach value if he was chased early or gave up a bunch of runs. Still a guy who can get you 3-4 points per thousand at his cost could be a useful salary saver for a tournament if you needed to stack up some big bats.
Rick Porcello vs. Toronto Blue Jays ($6300) – I can't ever get Porcello right. He had a run of bad starts, followed by three gems in his last four games. He has a horrible matchup today though as he has been hittable to right-handed bats and faces arguably the best lineup in all of baseball right now. The Blue Jays mash from top to bottom and Porcello has been prone to the occasional blow up. He is cheap and people will chase those game logs, but the matchup is what scares me off of him here.
Drew Smyly vs. Detroit Tigers ($9000) – I know this is a revenge game for him and I know people will use him off his huge 37 fantasy point outing last time, but this is not a good price or a good spot for Smyly. The Tigers have a ton of right-handed bats and hit left-handed pitching well as a team. Unlike the Orioles who he dominated last out, this team does not strikeout a lot. If thy will hit more and strikeout less, then this is definitely not the spot to start paying up for a guy like Smyly.
Wei-Yin Chen vs. New York Yankees ($7400) – Chen has been very erratic this season and is coming off a rough outing. He gave up 9 hits and five runs including two homers against Tampa Bay last time out. Chen has struggled with right-handed bats and Tampa has a lot of them that hit left-handed pitching well. Alex Rodriguez is a guy to watch today as he is heating up and has been smashing lefties all year. Chen has struggled to return 2 points per thousand in his last three starts, so this is not much upside here and he is not even really safe for a cash game.
Felix Doubront vs. Houston Astros ($5400) – The Astros profile well against Doubront, which is not good. His price is low and he has been reaching double digits though, which is a good sign. The Astros are a very hit and miss kind of team. They strikeout a ton as well. If they are hitting homers, they can chase Doubront early. If not though, they can yield a great score to pitchers who can make them swing and miss. Doubront does have good strikeout stuff, so there is some upside if so. that makes him a sneaky play for some tournament upside here.
Rest of the Field
Mark Buehrle vs. Boston Red Sox ($6200) – Buehrle has not been good lately, but the red Sox also have not been good against left-handed pitching this year. I like the bats behind Buehrle and his chance for some run support. He does not dominant teams or go deep into games anymore, which is a concern. He also has not shown big upside recently, so he makes little sense for a tournament. He could return good value and be in line for the win though if you want a salary saver for a cash game. My only problem is, do you really think he is cash game safe at this point of his career?
Jeff Locke vs. Cincinnati Reds ($5000) – Locke is not a high strikeout guy so that caps his upside and does not give him a floor. When he is good, he goes seven and limits runs, when he is bad, with few strikeouts and gets chased early though he normally sees negative numbers. You can not take that risk on your roster, especially not for $5K.
Dan Haren vs. St. Louis Cardinals ($6400) – What are you hoping for out of Haren? He goes about 5 innings with maybe four strikeouts per start. That gets you 19 points. In his last four starts he has given up over a hit per inning and 14 total runs on his way to a bunch of single digit fantasy scores. He looks likely to do the same today, so $6400 is way too much to pay.
Anthony Desclafani vs. Pittsburgh Pirates ($6800) – Desclafani has not been pitching all that well. He is home in Cincy and faces a hot Pirates lineup. The Pirates have a bunch of solid hitters from both sides of the plate and should be able to get some runs off him here. He has not been pitching deep into games, so those runs and hits really hold down his score.
Jonathon Niese vs. Washington Nationals ($5700) – Niese has fallen off hard lately. In his last three starts he has struggled to average 6 innings with 8 hits, 3 walks, and 6 runs allowed per game. Those numbers are tough to overcome with innings and strikeouts. He has struggled with right-handed bats and that nationals team is filled with them from top to bottom. This looks like a really bad spot for Niese and I would stay far away from him on my rosters today.
Kyle Kendrick ($4000) – He is one of the worst starters in the league. He has a whole bunch of negative numbers in his gamelog. Forget thinking about his potential upside, when a guy has averaged a negative number over his last three starts, even zero is too much to pay.
Zach Davies vs. Miami Marlins ($4800) – Davies just did not look good in his debut. He walked a few, gave up some hits and was chased before the fifth with four runs to his name. He will not pitch deep and he likely will not shut anyone down, so He will also not produce a good score. No matter how cheap, it's not worth gambling on.
Randy Wolf vs. Tampa Bay Rays ($4500) – The Wolf hype came crashing down to earth when he got lit up for a -11 last time out. This might be even worse as the Rays hit left-handed pitching pretty well as a team. I don't have anything good to say here. Wolf is cheap, but he is also very likely to get lit up, so no price including $0 makes me want to play him.