I'm back with a look at today's starting pitchers, and it's top-heavy here once again. We have a plethora of starting pitching options tonight, almost too many, again. We have seven starters priced at $9,000 or above. Two of those starters, Johnny Cueto and Jason Hammel, pitch in a day game which takes them out of the majority of tonight's larger contests. We're still left with a multitude of aces to choose from, so it'll be an interesting night.
Rankings below are based on a mixture of expected output and DraftKings MLB salaries for that day. The ordering is not based on highest projected fantasy totals, but rather by value of each pitcher. To determine the best values in today's rankings, I run projections that include opponent's strength, betting situation, handedness, park factor, projected Game Score, power/finesse pitching tendencies along with ground-ball/fly-ball tendencies. We want to take everything into consideration when making our pitcher choices, because they're the backbone of the lineup. If you have any last-minute questions, please find me on Twitter, @RyNoonan.
Take home $1,500 tonight in the $10 single entry $20K Heater tonight!
Cream of the Crop
Felix Hernandez @ Houston Astros ($11,300)
With two of the best pitchers in the game going tonight (Felix and Clayton Kershaw), both with great matchups, a $1,500 difference in price is an easy tie-breaker. We've seen some instances where King Felix has worked in the zone more to induce ground balls (60%!) in exchange for the huge strike out totals, but they're still elite at 25.6%. The Astros (17th in wOBA vs. RHP) help his cause as well as one of the whiffiest (yup) teams in the league.
Clayton Kershaw @ San Diego Padres ($12,800)
Obviously there's a reason that Clayton Kershaw costs $12,800 tonight. It's a sensational matchup, in one of the league's best pitching parks and he's a huge favorite according to Vegas. The demise of Kershaw was greatly exaggerated, as he's been as good as ever of late. His walks are up slightly but it's not problematic, and we've actually seen an increase in his SwStk rate. He's a great play tonight, but working him in will be difficult.
Michael Pineda @ Baltimore Orioles ($8,900)
I'm betting on skill and positive batted ball regression here. Michael Pineda is a $9,500-$10,000 pitcher, and he'll come at a discount tonight. As good as he's been (3.33 ERA) his underlying stats feel like he's going to be even better as the season progresses. His FIP is just 2.40, and his BABIP is about 40 points higher than his career mark. We've seen a strong uptick in velocity since his March/April totals, and his SwStk rate validates his huge strikeout upside. The Orioles can slug with the best of them when they're right, but they also have a strong swing-and-miss team against RHP (23.3%).
Madison Bumgarner vs. Arizona Diamondbacks ($10,200)
Here's another stud, with a strong matchup in a run suppressing environment. As good as MadBum is, he hasn't those dominant scores that we've seen from $10k+ aces this season. He's been consistently in the 20's, but hasn't topped 30 DK points in his last six outings. I'm nitpicking, but we have to do that on a night with so many viable options. Arizona is a middle of the road club when it comes to hitting lefties, but their two best hitters (Goldschmidt and Pollock) have dominated lefties this season and throughout their career.
David Price vs. Cleveland Indians ($10,700)
David Price is priced out of cash games here in my opinion, but I bet his ownership levels are low, making him an interesting GPP option. He has the added 'benefit' of a slightly more difficult opponent in the Cleveland Indians. The Indians like to work the count, something they'll struggle to do against David Price since he's always in the zone. The Indians do hinder Price's huge strikeout upside though, as they've managed to strike out just 15.6% of the time when facing a left-handed pitcher.
Middle of the Pack
Johnny Cueto @ Chicago Cubs ($9,700)
As I mentioned at the top, Johnny Cueto is pitching in the early game game today so he won't be on the main slate. That's too bad because he'd be a great option tonight against the big swing-and-miss bats of the Cubs. They also have the ability to hit for power, but they'd increase Cueto's strike out upside with their 2.8% K-rate.
Danny Salazar @ Detroit Tigers ($9,400)
Any time you have an 11.89 K/9 you're an option, regardless of the opponent. That alone makes Danny Salazar a GPP play today. The Tigers have awoken from their two week slumber, and enter play with a .319 wOBA, good for the seventh best mark in baseball. Being AL Central foes, they've seen Salazar quite a bit, but that's not enough to deter me from rolling out a Salazar share or two today. If he can keep the ball in the park, he's hard to beat (2.66 xFIP).
Jordan Zimmermann @ Milwaukee Brewers ($8,100)
There isn't much upside involved when rostering Jordan Zimmermann but he's a fairly safe cash game play tonight. The Brewers get a positive park factor bump here as they return home, but they're still struggling against right-handed pitchers on the season. Zimmermann's upside is capped due to his limited strike out totals, but they Brewers whiff quite a bit (21.6%). Zimmermann is often over-priced, but this is a decent value if you're ok with a 25-point ceiling.
Jason Hammel vs. Cincinnati Reds ($9,000)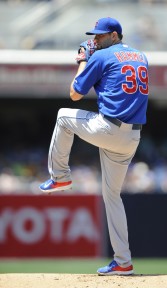 Jason Hammel is the only pitcher on today's slate with an ERA, FIP, and xFIP below 3.00. Pretty impressive especially given the names on the docket here. It just validates that he's been good and it's not a fluke. Add to the fact that he has an above average K-rate and below average walk rate and we have ourselves a legit $9K pitcher here. If you're playing the all day slate then you should get some Hammel exposure.
Alex Wood @ New York Mets ($8,600)
The Mets fare much better against left-handed pitching than they do when facing right-handed pitchers, but they're still not a team to fear. They're prone to strike out quite often, but the strikeouts seem to not be a part of Alex Wood's arsenal this season. An 8% drop in K's is HUGE, and it's backed up when you look at his drop in swinging strikes. I can't recommend paying up for him today, because we're deep enough into the season to feel that strikeouts have stabilized.
Jesse Chavez @ Los Angeles Angels ($7,300)
Since entering the Athletics rotation again after starting the season in the bullpen, Jesse Chavez has been excellent. His 2.76 FIP in nearly 65 innings is worth your attention, and it's finally playing out in his price tag. After rostering him for $5-$6K for a month plus, he's not up over $7,000 where he belongs. There's a big of 'ownage' here with some of the bigger bats in Anaheim having some success against him last season, but he's still a decent cash option today. Chavez has been tough on RHB's this season, limiting them to a .199 batting average and a .242 wOBA.
Hector Santiago vs. Oakland Athletics ($7,200)
This is an interesting spot for Hector Santiago tonight. He's clearly had some batted ball luck this season, both in terms of balls in play and in his homerun rate, but he's facing an A's team that really struggles against left-handed pitching. They're 27th in wOBA, and O.co Stadium is a solid place to pitch with the fly ball tendencies that Santiago possesses.
Drew Hutchison @ Boston Red Sox ($7,100)
The Red Sox have been infuriating to roster this season, but at the same time they're difficult to target when selecting your starting pitcher. The don't strike out much, and they take walks at an above average rate as well. This limits any starters upside, including Drew Hutchison here today.
Mike Fiers vs. Washington Nationals ($7,900)
Mike Fiers is like Danny Salazar-lite today. It's not a great matchup, but he has the strikeout upside that makes him a GPP option on a night like this. The Nationals benefit from the positive park shift here (.317 wOBA on the road vs. .311 at home), and they hit right-handed pitching well. Fiers is clearly not without risk, but the upside is appealing if you're looking to fire a single bullet in a GPP.
Jaime Garcia vs. Kansas City Royals ($8,200)
I write the same thing every day when talking about the starting pitcher who's facing the Royals; I advise that you stay away. There are times where an elite level ace would make sense to play, but that's not Jaime Garcia. They strike out just 13.9% of the time when facing a left-handed pitcher, completely minimizing any upside that we're looking for. Strikeouts are huge here, and Garcia doesn't have huge swing-and-miss stuff to begin with.
Chase Anderson @ San Francisco Giants ($6,100)
The consistently under-priced Chase Anderson gets a huge park shift bump tonight as he goes from one of the best run scoring environments in Arizona, to the worst in San Francisco. The problem is that the Giants are swinging it well up and down the lineup, and enter play with the fourth best wOBA this season against right-handers. The price is nice, but you're looking at a 20-point ceiling here due to the lack of K's.
Wandy Rodriguez vs. Minnesota Twins ($5,700)
The Twins are much better against left-handed pitchers than the are against right-handers, but Wandy has shown some reverse splits that could nullify a bit of that tonight. Wandy Rodriguez enters play with one of the lowest wOBA-against marks in the league when facing right-handed pitching. We haven't seen a ton of innings, or at least enough to bank on this trend yet, but it'll be enough to keep me off of the Twins bats that I'd typically target when they face a lefty.
Yordano Ventura @ St. Louis Cardinals ($7,600)
Losing Matt Holliday is a big blow to the Cardinals offense, one that'll be difficult to replace. On the season, the Cardinals are one of the better offenses in the league against right-handed pitching, a number that's sure to take a hit while Holliday is on the shelf. They could be worth targeting here but I don't trust the volatility that comes with rostering Yordano Ventura, and we haven't seen enough of the punch-out upside to make the selection worthwhile.
Bartolo Colon vs. Atlanta Braves ($8,000)
I'm not on Bartolo Colon tonight, not when we have some similar or even lower priced options that have more upside. The low walk rate is something that I value quite a bit, but the strikeouts aren't there like they once were, and the Braves are better than you think (14th wOBA). They also have one of the lower strikeout rates, making Big Fat Bartolo Colon an easy fade.
Ubaldo Jimenez vs. New York Yankees ($6,900)
The Yankees have been one of the league's best offenses when facing right-handed pitching, and no one will make you sweat more than Ubaldo Jimenez will when you roster him in DFS. He's so hit or miss; walks can be a problem at times, limiting the upside that he possesses, which is high when he's on. With so many options tonight, it's easy to stay away from Ubaldo.
Rest of the Field
Jeff Locke vs. Philadelphia Phillies ($6,000)
The starter who's facing the Phillies is usually one worth targeting, but the Phillies are much better against left-handed pitchers than they are against righties. This is more about Jeff Locke though, who's easy to ignore tonight despite his better-than-expected start to the season.
John Danks @ Tampa Bay Rays ($5,800)
After 'scattering' 10 hits in his complete game shutout of the Astros last week, the regression monster returned and had a field day with Danks last Saturday against Detroit. The Rays are 15th in wOBA against left-handed pitching, but they're 5th in ISO, so there's some upside here. Add to the fact that Danks has allowed a .411 wOBA to right-handed bats this season, and you have yourself a nice little Rays stack tonight.
Odrisamer Despaigne vs. Los Angeles Dodgers ($5,600)
There's no need to bother here, with zero strikeout upside against the league's top offense against right-handed pitching. Don't fear the park.
Brett Oberholtzer vs. Seattle Mariners ($5,200)
The Mariners are much better when facing a lefty, and Brett Oberholtzer doesn't have the ability to take advantage of their high strikeout tendencies.
Joe Kelly vs. Toronto Blue Jays ($5,000)
Joe Kelly is in a difficult spot tonight, and his reverse splits make it even more of a challenge. He's fared quite well against left-handed hitters, but right-handed bats have destroyed him. The Jays have the third-best wOBA in the league, and all of their RHB's are in play here.
Jose Urena vs. Colorado Rockies ($4,600)
You'd rather face the Rockies in Miami if you're Jose Urena, but he's still not someone who's worth your attention on a full slate.
Kyle Kendrick @ Miami Marlins ($4,400)
Something's got to give tonight. The Marlins have been terrible against right-handed pitching, but Kyle Kendrick has been equally terrible himself. His .464 wOBA-against is the worst mark in the league.
Matt Andriese vs. Chicago White Sox ($,4500)
Matt Andriese is back up from AAA to take on the White Sox today. So there's that. Again, we have a loaded slate so there's no reason to get cute down here.
Tommy Milone @ Texas Rangers ($4,200)
When the walk and strikeout rates are nearly the same, and both hovering around 4….that's not good.
Kevin Correia @ Pittsburgh Pirates ($4,000)
Kevin Correia is taking the ball for the Phillies tonight in Pittsburgh, making his first start of the season in one of the league's sneakiest hitting parks in the game. No need to go with Correia here.
Good luck!