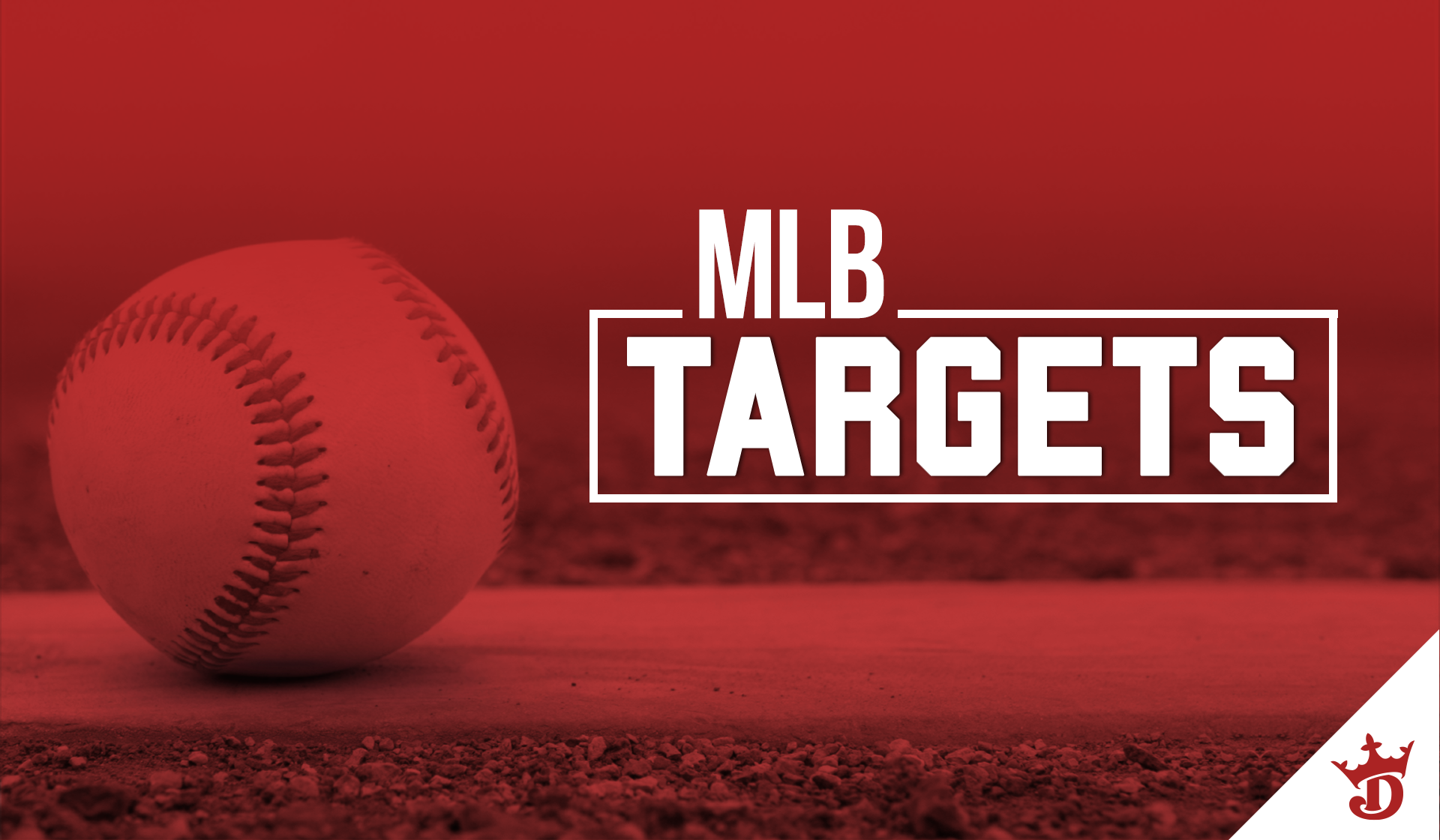 Major League Baseball has 10 games on tap for this Thursday, evenly split between the afternoon slate and five games available in the main fantasy baseball slate, which gets an early start at 6:35 p.m. ET. The Mariners and Yankees get things underway before divisional matchups featuring the Pirate taking on the Cardinals and the Astros hosting the Rangers. In the two late games, the Braves open their weekend set in Arizona and the Dodgers welcome in the Nationals for the first game of their four-game series.
There are many different lineup constructions to consider with those eight teams available on the board. As you dive into each matchup and find the best places to attack, stack, or fade, take a look at my top studs and values at each spot. It's also very important to be sure to double-check starting lineups and weather outlooks before the scheduled first pitch on the DK Live app or live.draftkings.com.
PITCHER
Stud
Mike Soroka,

ATL

at

ARI,

$9,000 —
While Mike Minor comes in with the best form on the slate, I actually like Mike Soroka a little bit better since the Rangers' matchup with the Astros is definitely a formidable one. Soroka has been excellent in his four starts since being called up, going 3-1 and compiling a 1.14
ERA
and 1.01
WHIP
while picking up 27 strikeouts in 23 2/3 innings. Soroka has produced at least 24
DKFP
in each of his three most recent starts allowing just a total of two earned runs and going 3-0. His matchup with Arizona is much lower risk than Minor's with the Astros. His one loss did come against Arizona, but he allowed one run on four hits in five innings with six strikeouts and 16.5
DKFP.
The Diamondbacks rank in the middle of the pack in almost all major statistical categories which doesn't make them a great matchup but does make them a better matchup than the Astros, who lead the Majors with an .889 home
OPS
and have scored 43 runs over their past six games with a robust .999
OPS
as a team over that stretch.
Other Options — Rich Hill ($9,700), Mike Minor ($9,400)
Value
Luke Weaver,

ARI

vs.

ATL,

$8,000 —
On the other side of the Braves-Diamondbacks matchup, Weaver comes in with some very nice momentum as well. Weaver was one of the key returning parts in the Paul Goldschmidt ($4,300) trade, but after a rocky start to his time in Arizona, he has become one of the Diamondbacks' most reliable starters. Weaver has gone 3-0 in his past four starts with a 1.99
ERA
and 29 strikeouts in just 22 2/3 innings. He beat the Braves during that stretch with five shutout innings on April 18, when he struck out a season-high nine and posted 30.3
DKFP.
Weaver has over 25
DKFP
in three of his past four starts, and he'll look to carry over his road success to a strong outing at Chase Field this Thursday.
Other Options — Joe Musgrove ($7,300), Wade Miley ($6,800)
---
CATCHER
Stud
Yadier Molina,

STL

vs.

PIT,

$4,200 —
Molina and the Cardinals dropped two of three to the Phillies at home to start the week and will look to bounce back Thursday as they welcome in Joe Musgrove ($7,300) and the Pirates. Molina has continued to raise his batting average over the past week, going 7-for-20 (.350) with two doubles, a home run and four
RBI.
He's up to .275 on the season with three homers, 10
RBI
and a solid .722
OPS.
Molina is especially worth a look whenever the Cards are at home, since all of his home runs have come at Busch Stadium this season, where he is 24-for-68 (.353) with a .931
OPS.
Other Options — Gary Sánchez ($5,300), Tom Murphy ($3,800)
Value
Yan Gomes,

WAS

at

LAD,

$2,900 —
The Nationals have been so banged up lately that they had to hit Gomes as their cleanup hitter on Wednesday. He ended up going 0-for-4 with four strikeouts, but his placement in the No. 4 spot shows the Nationals expect much more from him. He is hitting only .253 with a .697
OPS
on the season, but he has continued his career-long trend of hitting lefties well. In a small sample size so far this season, Gomes is 5-for-11 (.455) against southpaws with four walks, a home run and a 1.352
OPS.
Gomes hasn't faced Dodgers' scheduled starter Rich Hill ($9,700) in his career, but he's an extremely affordable way to get a middle-of-the-order bat with very favorable splits.
Other Options — Austin Barnes ($3,600), Robinson Chirinos ($3,500)
---
FIRST BASE
Edwin Encarnación,

SEA

at

NYY,

$5,100 —
Encnarnación has homered in each of the Mariners' past two games at Yankee Stadium and four times in his past five games. He's up to 12 homers on the year with a healthy .925
OPS.
He comes into his matchup with
J.A.
Happ ($8,100) riding a six-game hitting streak, during which he has gone 7-for-20 (.350) and averaged 13.8
DKFP
per contest.
Other Options — Freddie Freeman ($4,600), Paul Goldschmidt ($4,300)
Value
Ryon Healy,

SEA

at

NYY,

$3,700 —
Healy has also been heating up and is coming off a massive 33
DKFP
on Wednesday when he went 4-for-5 with three doubles and a home run. He has gone 13-for-35 (.371) over his past 10 games with six doubles, that home run and a 1.039
OPS.
Healy has typically hit lefties well in his career, and he has gone 3-for-5 against Happ in the past. While that is a small sample size, it's worth noting since all three of those hits have been home runs resulting in six
RBI
and a 3.067
OPS.
Other Options — Matt Carpenter ($4,000), David Freese ($3,300)
---
SECOND BASE
Stud
DJ LeMahieu,

NYY

vs.

SEA,

$4,500 —
The Yankees signed LeMahieu as an insurance policy this offseason and have cashed in that policy all season long due to their myriad of injuries. LeMahieu has exceeded expectations and is hitting .339 on the season after going 18-for-37 (.486) during his current 10-game hitting streak with four doubles, nine
RBI
and a pair of stolen bases helping him average 11.4
DKFP
per game. On top of that, he is 5-for-12 with a double in his career against Mariners' starter Mike Leake ($6,000)
Other Options — Ozzie Albies ($4,800), Jose Altuve ($4,300)
Value
Adam Frazier,

PIT

at

STL,

$3,400 —
Frazier was out of the lineup Wednesday but typically leads off for the Pirates, especially against right-handed pitchers. He didn't get the whole game off, though, entering as part of a double-switch and going 1-for-3. He has now hit safely in five straight and eight of his past 10 games while going 11-for-44 (.250) with a double, triple and seven runs scored giving him 6.8
DKFP
per contest. Frazier is 3-for-9 with a double and a homer against Michael Wacha ($7,600), who has gotten knocked around this season with a 1.63
WHIP
and 5.17
ERA.
Other Options — Kiké Hernández ($3,800), Brian Dozier ($3,200)
---
THIRD BASE
Stud
Justin Turner,

LAD

vs.

WAS,

$4,200 —
Turner has been heating up for the Dodgers after a slow start and has hit safely in 10 of his past 11 games, going 18-for-46 (.391) with two doubles, five homers, 10
RBI
and a 1.189
OPS
while averaging 12.6
DKFP
over that stretch. After hitting just one home run in April, he hit four in his past two games against the Braves. Turner should be in a good spot to stay hot as he goes up against Patrick Corbin ($9,200), who he knows well from Corbin's time in Arizona. Turner has gone 12-for-29 (.414) against the lefty with three doubles, two homers and a 1.224 career
OPS.
Other Options — Alex Bregman ($4,800), Logan Forsythe ($4,100)
Value
Howie Kendrick,

WAS

at

LAD,

$3,900 —
Former-Dodger Kendrick has been a key part of the Nationals' lineup lately due to their rampant injury issues. He didn't start Wednesday but has been hitting in the heart of the lineup and producing solid numbers. On the season, he's hitting .320 with five homers and a .942
OPS.
A lot of that success has come against lefties like Hill, who he has gone 7-for-19 (.368) against. Kendrick is a solid play under $4K at the hot corner in a possible revenge game for the 13-year vet.
Other Options — Yuli Gurriel ($3,100), Colin Moran ($3,000)
---
SHORTSTOP
Stud
Elvis Andrus,

TEX

at

HOU,

$4,900 —
Andrus has hit safely in 11 of his past 12 games, going 17-for-54 (.315) with three doubles, two homers and four stolen bases. His power and speed combo have helped him average 11.3
DKFP
over that stretch and produce at least 12
DKFP
in four of his past nine. Andrus has hit lefties well all season, going 11-for-31 (.355) with a .960
OPS
and actually has a better batting average and
OPS
on the road than he has at home. Andrus gets a nice matchup against Wade Miley ($6,800) in what could turn into a high-scoring game in Houston.
Other Options — Paul DeJong ($5,600), Gleyber Torres ($4,400)
Value
Carlos Correa,

HOU

vs.

TEX,

$4,200 —
There aren't many low-cost options at
SS,
but Correa is affordably priced given his recent production. He has been able to pull his average up to .297 by going 14-for-38 (.368) over his past 10 games with two doubles and four homers during that stretch. He is bouncing back nicely from a down year last year and establishing himself again as one of the best bats at the position. He excels against lefties and has a pair of doubles in eight previous at-bats against Minor.
Other Options — Tim Beckham ($3,800), Wilmer Difo ($2,900)
---
OUTFIELD
Stud
George Springer, HOU vs.

TEX,

$5,000 —
Springer has also helped the Astros back to their customary top spot in the AL West. He has already hit 12 homers on the season and three already in the month of May. He's 9-for-24 (.375) this month with four extra-base hits and a 1.244
OPS.
He hasn't taken Minor deep in the past, but he has gone 6-for-17 (.353), so there's no reason to avoid the matchup. Springer and the rest of the Astros are a little riskier than normal because of Minor's recent form, but they are also more affordable as a result.
Other Options — José Martínez ($4,500), Ronald Acuña Jr. ($4,200)
Value
Braden Bishop,

SEA

at

NYY,

$2,800 —
When the Mariners sent Mallex Smith to the minors to work out his swing mechanics, Bishop was brought up to provide outfield depth. He has played sporadically but mostly gets starts against left-handed pitchers like Happ. Bishop is 1-for-8 against lefties in the Majors but had success against southpaws in Triple-A. He went 10-for-28 with the Tacoma Rainiers against lefties with four doubles and a .867
OPS.
The 25-year-old has a little bit of pop and could be a great sub-$3K say to get a piece of a productive lineup if he gets the start against Happ Thursday.
Other Options — Victor Robles ($3,800), Josh Reddick ($3,400)
---
Put your knowledge to the test. Sign up for DraftKings and experience the game inside the game.
---
I am a promoter at DraftKings and am also an avid fan and user (my username is Z.Thompson) and may sometimes play on my personal account in the games that I offer advice on. Although I have expressed my personal view on the games and strategies above, they do not necessarily reflect the view(s) of DraftKings and I may also deploy different players and strategies than what I recommend above. I am not an employee of DraftKings and do not have access to any non-public information.