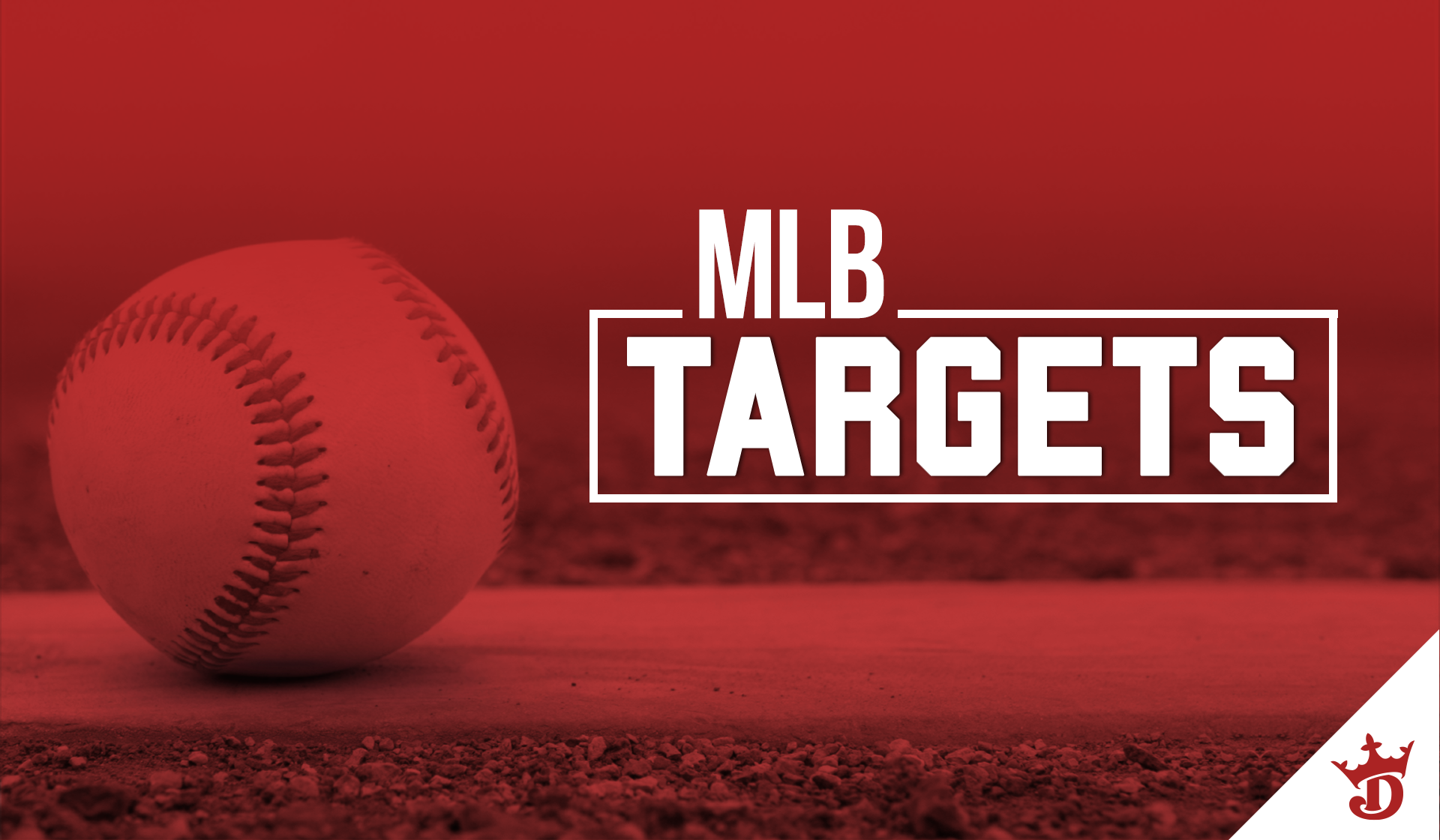 We've got another 14-game featured slate on DraftKings this evening. I'll repeat that. Fourteen games. Not 15 games, as the Cubs will take on the Reds this afternoon at Wrigley. Now, I'm not sure if you're like me, but have you ever wondered why exactly Chicago can't play home games at night on a Friday? I looked into it — possibly researching that longer than I did tonight's actual slate — and discovered it's due to a city ordinance banning non-playoff contests on Friday evenings. Apparently local restaurant owners decided 30 years ago that baseball played past 7 p.m. was bad for their bottom line, which seems dumb.
Anyway, you can thank deep dish pizza for depriving us Kyle Hendricks on the main slate. Not that we're at all short on high-end pitching options. Let's get into it.
---
PITCHER
Stud
Chris Sale,

BOS

at

HOU,

$11,200 –
I'm incredibly curious how the ownership plays out between Sale, Blake Snell ($11,400) and Robbie Ray ($10,900) tonight. On the one hand, Houston possesses the league's top wRC+ against left-handed pitching with a mark of 145; while both Cleveland and San Francisco rank inside the bottom six of that category. On the other hand, Sale has struck out 50.0% of the batters he's faced across four outings in the month of May. That's 51 strikeouts in just 26 1/3 innings. I can't even wrap my mind around that. The fact the Astros were shut out last night at the hands of Lucas Giolito probably gets some recency bias going, but the possible return of George Springer ($5,400) could scare some people away. However it turns out, I'm not ignoring Sale's rediscovered dominance.
Other Options:
Noah Syndergaard ($10,100), Walker Buehler ($9,900)
Value
Trent Thornton,

TOR

vs.

SD,

$7,600 –
Thornton has struggled with two things throughout his rookie campaign: left-handed batters and walks. San Diego might be the perfect remedy for both. So far in May, the Padres not only own the National League's highest strikeout rate (27.2%), but they pair that with the
NL'
s lowest BB/K ratio at 0.24. This is an aggressive club that's managed a walk in only 6.5% of its plate appearances dating back to May 1. As for the
LHB
s, no one aside from the Marlins has had fewer left-handed at-bats against right-handed pitching than San Diego's mark of 317. Those lefties also sport an underwhelming .126
ISO
within the split. Thornton won't find a spot better suited to negating his weaknesses.
Other Options: Joey Lucchesi ($8,900), Jeff Hoffman ($6,800)
---
CATCHER
Stud
Yasmani Grandal,

MIL

vs.

PHI,

$4,500 –
While it sometimes seems like Grandal is the only Brewers player who doesn't hit better at Miller Park, there's a lot to like in tonight's matchup with Jerad Eickhoff ($8,200). Simply put: Eickhoff has a long history of being unable to get left-handed batters out. Going back to the start of 2017, the Phillies' right-hander possesses an ugly 5.11
FIP
within the split; the result of surrendering a .379 wOBA to
LHB
s across that span. You want Grandal in the left side of the batter's box and you want Grandal facing a pitcher like Eickhoff.
Other Options:
Gary Sanchez ($5,400), Jason Castro ($4,200)
Value
Christian Vazquez,

BOS

at

HOU,

$3,800 –
Though his offensive success still seemingly has come out of nowhere, it's important to note Vazquez remains an awful hitter in right-on-right situations, as evidenced by an underwhelming 77 wRC+ so far in 2019. However, he's been phenomenal against left-handed pitchers like Wade Miley ($7,700). In 45 plate appearances within the split, Vazquez has slashed .375/.422/.700 with a .325
ISO.
He's unlikely to do much damage if he's unable to tag Miley in one of his first two at-bats, but that's about all you can ask for below $4K at catcher.
Other Option: Carson Kelly ($3,700)
---
FIRST BASE
Stud
Pete Alonso,

NYM

vs.

DET,

$5,300 –
Would anyone care to know what a batted ball profile conducive to hitting home runs looks like? This season against left-handed pitching, Alonso owns a 56.5% fly ball rate, a 52.2% pull rate and a 60.9% hard contract rate. Yeah, that's pretty much the formula for someone maintaining the insanity that is a .488
ISO
versus southpaws. Now, Gregory Soto ($6,300) only threw 47 pitches in his most recent start back on May 15. It's unclear what his leash is this evening. Still, even if Alonso only gets one crack, he'll take the rest of his plate appearances opposite a Detroit bullpen with a 5.50
FIP.
Other Options:
Freddie Freeman ($5,200), Luke Voit ($4,800)
Value
Mark Canha,

OAK

vs.

SEA,

$4,200 –
Elevation has not been Wade LeBlanc's ($7,400) friend so far in 2019. While the veteran lefty's overall HR/FB ratio of 18.2% is already pretty ugly, that stats don't get better as we go down the line. LeBlanc's allowed 4.05 home runs per nine to the 70
RHB
s he's faced through four starts, the result of owning the fourth-highest barrels per plate appearance mark among the 179 pitchers with at least 70 batted ball events (10.9%). Canha, who sports a .343
ISO,
possesses the third-highest fly ball rate of any player with 80-plus PAs (57.7%). LeBlanc might be in some trouble.
Other Options: David Freese ($3,800), Ji-Man Choi ($3,700)
---
SECOND BASE
Stud
Brandon Lowe, TB at

CLE,

$4,800 –
Shane Bieber ($10,400) might not be a pitcher everyone wants to pick on. Coming off a 15-strikeout performance against the lowly Orioles, Bieber has taken some serious steps in his sophomore campaign to improve; namely, significantly cutting down his zone rate and inducing more swings on bad pitches. Still, in a Michael Pineda-esque way, he's been susceptible to the long ball when in the zone, surrendering 1.53 home runs per nine through 10 outings. There's also the matter of his .383 wOBA to
LHB
s in 2018. Lowe is always a strikeout risk, but he possesses major pop. Plus, when facing
RHP
s away from Tropicana this season, the 24-year-old is slashing .367/.400/.700 with a .333
ISO.
High upside at expected low ownership is the name of the game.
Other Option:
Mike Moustakas ($4,800)
Value
Ozzie Albies,

ATL

at

STL,

$3,800 –
Look, I won't sugarcoat it: Albies has regressed in 2019. The man has just a lone extra-base hit going back to May 10 and his .291 wOBA against right-handed pitching is cringe-worthy. Still, he falls under my
DFS
rule that any left-handed batter with a pulse is viable when facing Miles Mikolas ($7,300). Mikolas has surrendered 2.59 home runs per nine to
LHB
s so far this season, along with a whopping .393 wOBA. If you must pay down at 2B, you could do a whole lot worse than Albies.
Other Option: Jurickson Profar ($3,900)
---
THIRD BASE
Stud
Justin Turner,

LAD

at

PIT,

$4,300 –
By this point, we all know Turner's come alive in May. He's posted a .305
ISO
to go along with a minuscule 7.2% strikeout rate. Perfect. We also are fully aware Turner is quite adept at hitting left-handed pitching, something made clear by a 179 wRC+ within the split last season. Steven Brault ($6,500) is left-handed and will be on the mound for a majority of the Pirates' innings this evening. Brault has allowed righties to compile an eye-popping .453 wOBA against him so far in 2019. I expect Turner to take full advantage of the opportunity.
Other Options:
Nolan Arenado ($5,600), Matt Chapman ($4,300)
Value
Todd Frazier,

NYM

vs.

DET,

$3,600 –
I'll be honest, there's not a whole lot of positive things to say about Frazier in a vacuum. This play is all about situation. With a rash of injuries leaving the Mets' roster in shambles, Frazier was called upon to hit third yesterday for New York — about as high-leverage a
DFS
spot as there is. If that happens again, considering the opposition is a Double-A pitcher and one of the league's worst bullpens, you'll have to just close your eyes and give Frazier a chance. The Mets' implied team total is almost five runs. Someone not named Alonso is going to have to do something.
Other Options: Rio Ruiz ($3,800), David Fletcher ($3,600)
---
SHORTSTOP
Stud
Jorge Polanco,

MIN

vs.

CWS,

$4,900 –
Might as well keep riding the hot hand. Polanco has been near unstoppable when opposed by a right-handed pitcher in 2019. The 25-year-old is slashing .345/.418/.655 with a .433 wOBA in his first 165 plate appearances of the season. He's been the breakout star of the American League, and he finds himself in another great matchup this evening against Reynaldo Lopez ($7,100). The White Sox
RHP
owns a .391 wOBA when facing
LHB
s so far this season. Additionally, he's surrendered 2.00 home runs per nine within the split.
Other Options:
Trevor Story ($5,600), Brendan Rodgers ($4,400)
Value
Lourdes Gurriel,

TOR

vs.

SD,

$3,400 –
This is a total dart throw, but Gurriel was recalled by the Blue Jays on Thursday night — along with new top prospect Cavan Biggio ($3,100) — and his price point is super low. The Cuban native was horrendous at the
MLB
level in 2019, but he did have some success against left-handed pitching last season. In 75 plate appearances within the split, Gurriel hit .310 with a .351 wOBA. I don't know where he'll be in the lineup — I don't even know where he'll be playing on the field — but Gurriel is a salary-saving option on this slate.
Other Option: Amed Rosario ($3,900)
---
OUTFIELD
Stud
Eddie Rosario,

MIN

vs.

CWS,

$4,800 –
At this point of the season, I've yet to see a Twins stack I didn't like. While the aforementioned Polanco has been leading the way, Rosario also has posted some huge numbers in 2019. In fact, he's managed to bump his
ISO
from .191 last year up to .255, all while lowering his strikeout rate to 14.1%. Also, with a 56.2% swing rate, Rosario is the aggressive archetype so many
DFS
owners crave.
Other Options:
Mike Trout ($5,800), Trey Mancini ($5,400)
Value
Chad Pinder,

OAK

vs.

SEA,

$3,800 –
Pinder's doing what he always has done in 2019; hit left-handed pitching. In 54 plate appearances, the 27-year-old sports a robust .260
ISO
and a hard contact rate of 48.8%. Plus, at 6.20, no team in
MLB
owns a higher
ERA
than the Mariners in the month of May. They've struggled immensely to limit opposing offenses as of late, and I see no reason why that changes Friday night.
Other Options: Stephen Piscotty ($3,700), Tyler Austin ($3,700)
---
Put your knowledge to the test. Sign up for DraftKings and experience the game inside the game.
---
I am a promoter at DraftKings and am also an avid fan and user (my username is theglt13) and may sometimes play on my personal account in the games that I offer advice on. Although I have expressed my personal view on the games and strategies above, they do not necessarily reflect the view(s) of DraftKings and I may also deploy different players and strategies than what I recommend above. I am not an employee of DraftKings and do not have access to any non-public information.