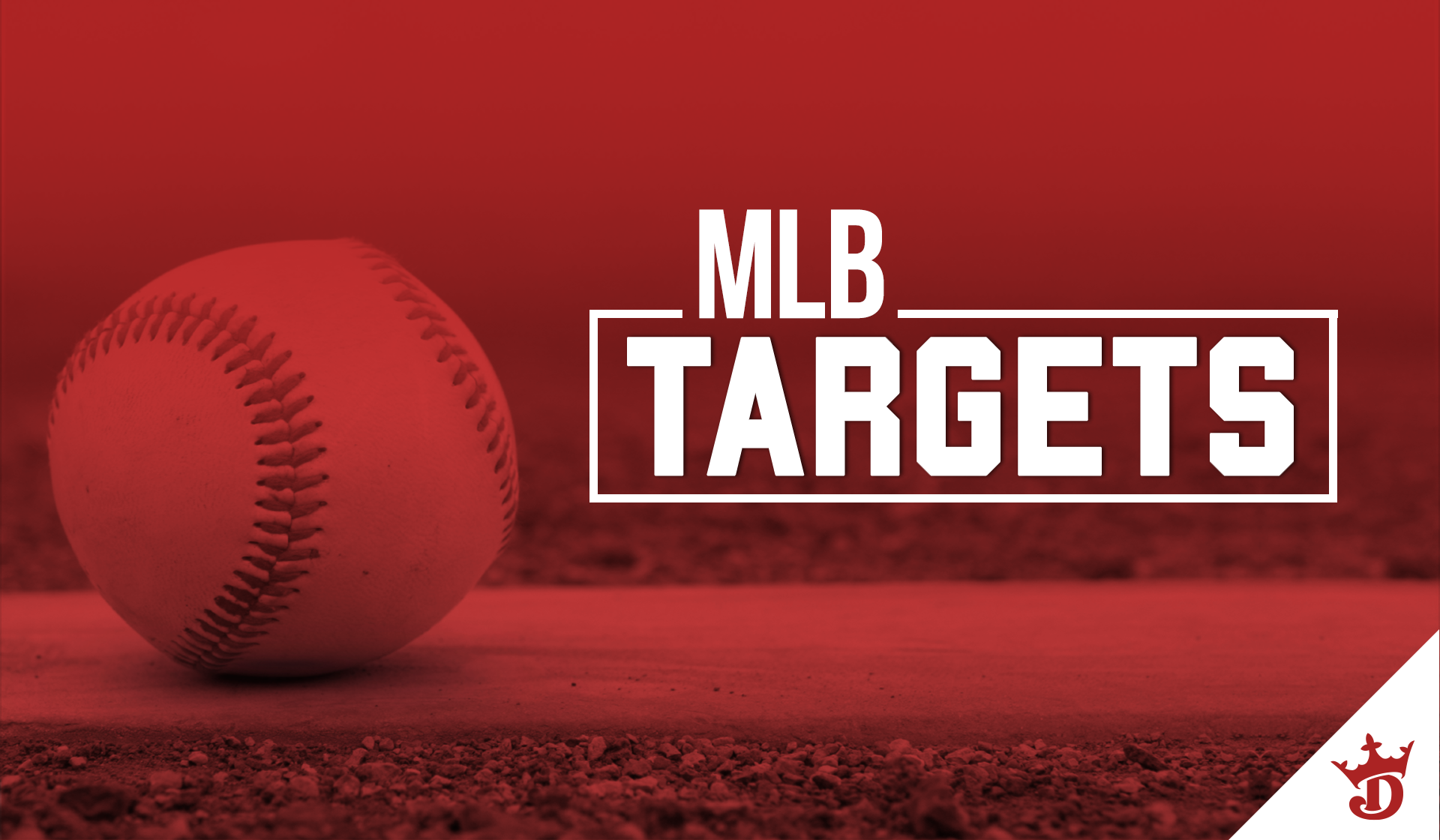 Today we have a 12-game slate with lots of options for offense and some weirdly price pitchers on the mound. We have no true ace to pay for and a lot of guy with as much downside as upside, so looking into ownership projections is going to be a key part of the slate. The best offenses are in great spots, so you'll have to look for ways to be different at the cheaper surrounding pieces. This article tries to highlight a couple spots worth considering.
PITCHER
Stud
Mike Soroka,

ATL

vs.

NYM,

$10,500 —
This is a rough slate for the high-priced pitchers and we don't have a true ace available, so it's important to consider matchups. Soroka doesn't have the ceiling somebody like Jose Berrios ($10,300) has, but his floor is considerably higher, and the Mets have the lowest team wRC+ of the upper-tier matchups. If you have the cash to spend, Soroka is your most well-rounded option.
Other Options — Jose Berrios ($10,300)
Value
Miles Mikolas,

STL

vs.

MIA,

$6,400 —
It can be uncomfortable to take a pitcher against a team that just had success against him in his most recent start, but there's cause to think the success the Marlins found in that outing was more luck than not. Mikolas allowed plenty of hits, and usually does, but an abnormal amount of groundballs allowed baserunners, and we should expect that to turn around. The Marlins are still a weak team and this price bakes in the downside.
Other Options — Jhoulys Chacin ($6,900)
---
CATCHER
Stud
Yasmani Grandal,

MIL

at

SD,

$4,700 —
There really are four options at the top of the catcher position and while each has their upside, Grandal has the best combination of skill and matchup to succeed. He's averaging 11.2
DKFP
over his past 34 plate appearances and faces a pitcher that has strikeout stuff but also gives up a lot of home runs. He's a staple in my favorite stack.
Other Options — Mitch Garver ($5,500)
Value
Martin Maldonado, KC at

SEA,

$2,100 —
Catcher is one of the few positions we truly can punt in
MLB,
and I love doing so with somebody like Maldonado. He actually has been finding his ceiling more frequently as of late, with two 10+
DKFP
performances in his past five games. At just above minimum price in a matchup that gives him another shot at double-digit fantasy points, he's a terrific punt spot.
Other Options — Danny Jansen ($2,400)
---
FIRST BASE
Freddie Freeman,

ATL

vs.

NYM,

$5,200 —
The Braves are in a sneaky good spot up against Zack Wheeler ($9,200), who has plenty of upside but has given up 10 home runs in his past six games. Freeman should be a prime target for upside at presumably lower ownership as the
LHB
has a platoon advantage and big power upside as evidenced by his .333/.440/.667 slash line over the past 10 contests.
Other Options — Cody Bellinger ($5,700), Pete Alonso ($5,300)
Value
Cheslor Cuthbert, KC at

SEA,

$3,400 —
The Royals as a team have been really bad, but Cuthbert has been someone worth targeting at a consistently low price. Facing a
LHP
gives him as much power upside as anyone in his price range, and with nine hits and six
RBI
in the past 10 games, his floor is great for the price.
Other Options — Rowdy Tellez ($3,400)
---
SECOND BASE
Stud
Tommy La Stella,

LAA

at

TOR,

$4,700 —
A drop in production is expected for La Stella after a scorching hot start to the season, but he's been able to maintain consistent contact and power levels even without the home runs. His slash line of .293/.236/.561 shows the improvements have been real, and he gets a matchup with the worst opposing pitcher on the slate, making him the top option at his position.
Other Options — Mike Moustakas ($5,200)
Value
Jason Kipnis,

CLE

at

TEX,

$2,700 —
It's fair to say Lance Lynn ($9,500) has been great this year, but he always has had problems with
LHB
s, and we can leverage that with the cheap Indians lefties like Kipnis. This is more of a punt play with upside than anything, but Kipnis always heats up during the summer. When he gets a good park to help his power, we should consider having exposure.
Other Options — Starlin Castro ($2,800)
---
THIRD BASE
Stud
Anthony Rendon,

WAS

vs.

PHI,

$5,000 —
This is a tough position with the majority of the expensive options either hitting at a platoon disadvantage or facing a solid pitcher. I'm going to side with Rendon based on his strong plate skills and success at home, as he has averaged 12.8
DKFP
in Washington with 10 of his 16 home runs coming in front of the home crowd.
Other Options — Mike Moustakas ($5,200), Alex Bregman ($4,900)
Value
Travis Shaw,

MIL

at

SD,

$3,000 —
Saying Shaw has had a difficult start to 2019 is an understatement, but there's reason to think better times are ahead. This past 10 games have seen his strikeouts drop and his walks rise (eight walks and 11 strikeouts) with a jump in all categories. He gets a great matchup for upside and is a solid source of salary relief.
Other Options — Hanser Alberto ($3,200)
---
SHORT STOP
Stud
Francisco Lindor,

CLE

at

TEX,

$5,200 —
After missing the majority of April, Lindor has come back and been every bit as good as advertised. He's got 9.7
DKFP
per game with a .299/.365/.525 slash line with 11 home runs and nine stolen bases, which speaks to his superb floor in every contest. He gets a large park upgrade playing in Arlington and is a top consideration on this slate.
Other Options — Trea Turner ($5,400)
Value
Miguel Rojas,

MIA

at

STL,

$3,200 —
The Marlins will face a pitcher that gives up plenty of contact and while that can be noisy, it does spell out opportunity. Rojas has been consistent all year. He doesn't have any home runs, but he does have five stolen bases, which are important for someone his price. With plenty of chance to get one base and swipe a bag, he's a decent cheap option if you don't spend at shortstop.
Other Options — Orlando Arcia ($3,400)
---
OUTFIELD
Stud
Christian Yelich,

MIL

at

SD,

$5,800 —
There is no one in the league with more home runs over the past calendar year, and no one averaging more
DKFP
per game in 2019 than Yelich. He's been even better of late with 16.1 fantasy points per game, which is some superhuman shenanigans. He faces a very home run prone pitcher and should be a large part of your game plan.
Other Options — Mike Trout ($5,600)
Value
Jake Bauers,

CLE

at

TEX,

$3,500 —
Bauers hit for the cycle in a game recently and has three home runs on 10 hits in the past 40 at-bats, making his price far too low for someone with his upside. He should be hitting towards the back of the batting order, which is a bummer, but the price helps in those concerns and he's a solid option despite the limited opportunity.
Other Options — Chris Taylor ($3,500)
---
Put your knowledge to the test. Sign up for DraftKings and experience the game inside the game.
---
I am a promoter at DraftKings and am also an avid fan and user (my username is Multichem) and may sometimes play on my personal account in the games that I offer advice on. Although I have expressed my personal view on the games and strategies above, they do not necessarily reflect the view(s) of DraftKings and I may also deploy different players and strategies than what I recommend above. I am not an employee of DraftKings and do not have access to any non-public information.