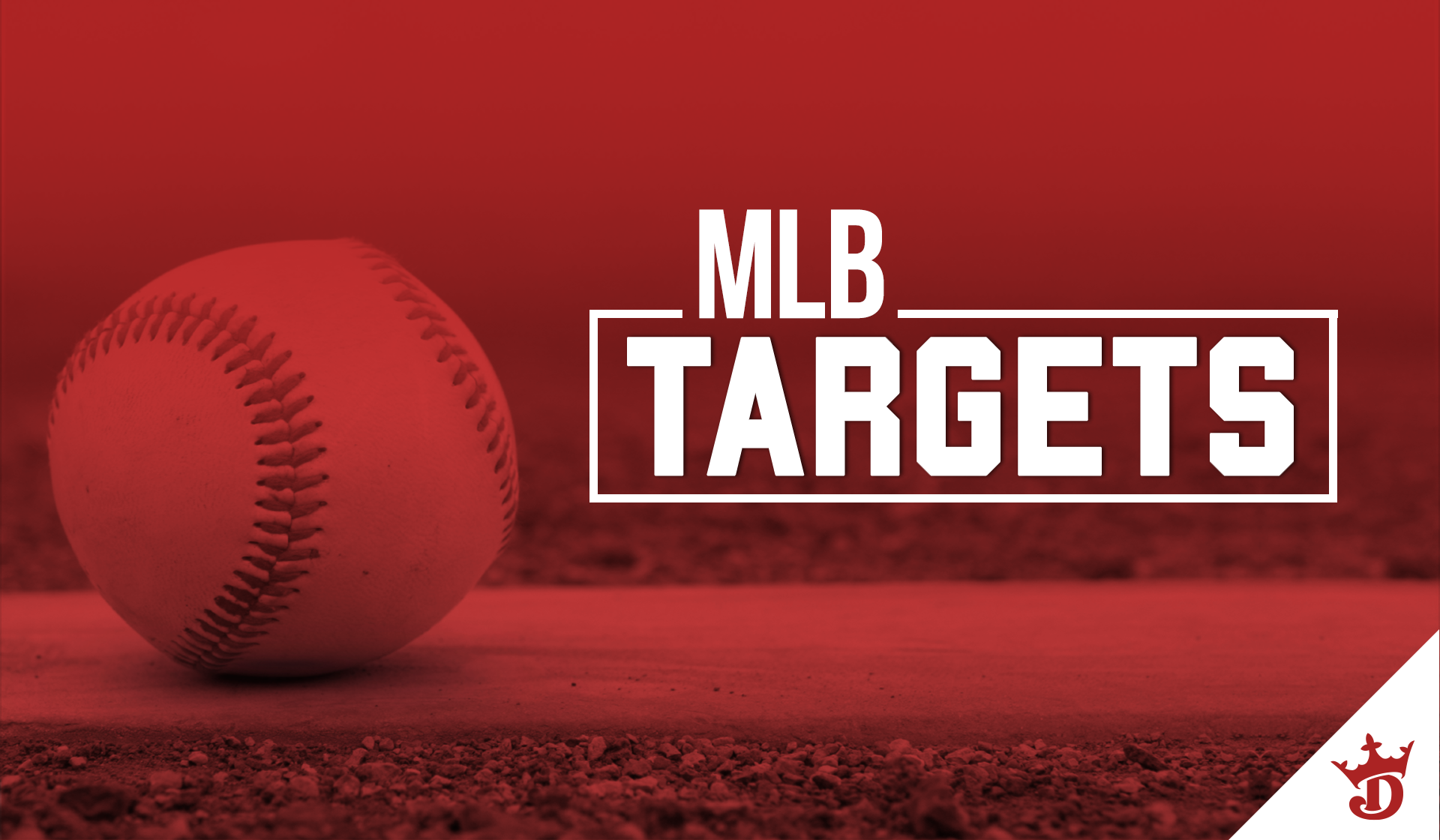 Before you go out and get wild on a Saturday night, don't forget to set your lineups for this eight-game baseball slate! We have a couple of weather concerns for the Royals/Twins and Rangers/Reds but this article will feature players as if all games will play. As always, you can follow me on the ol' Twitter machine @SBuchanan24.
---
PITCHER
Stud
Jake Odorizzi,

MIN

vs.

KC,

$10,900 —
I'm really hoping they can play this game tonight as I'm very interested in playing Odorizzi. He's been pitching out of his mind this season and enters this game with a dazzling .206 wOBA and a 4.03 xFIP at home. I feel like at some point he's going to come crashing down to Earth, but I don't think it will be at the hands of this Royals team that sports a .309 wOBA and a .160
ISO
against righties. Odorizzi has a good chance of grabbing some strikeouts in this game as well, as the Royals sport a 22.2 K%. Of course, make sure the weather looks better than it is this morning, but he would be a great option if it clears up.
Other Option — Frankie Montas ($9,900)
Value
Sean Newcomb,

ATL

vs.

PHI,

$7,700 —
Well, we don't have many choices you'll be excited about when it comes to an
SP2.
In fact, this slate is downright ugly when it comes to a cheaper pitching option. If you're looking to drop down a bit, Newcomb is likely your best option. The Phillies have been good against lefties at home, but on the road they've seen a few of their numbers drop. In these matchups they're posting only a .306 wOBA, but a strong .196
ISO.
I don't expect Newcomb to go deep into this game but, again, your options are extremely limited in this salary range.
Other Option — German Marquez ($8,100)
---
CATCHER
Stud
Gary Sanchez,

NYY

vs.

CWS,

$5,200 —
Reynaldo Lopez ($5,000) stinks. He can throw heat, but it doesn't really matter when that heat is being parked over the fence every time he pitches. Righties are smashing him, lefties are smashing him, it doesn't really matter. Against righties, Lopez is allowing a .377 wOBA with a 4.96 xFIP and 10 of his 18 home runs allowed. The Yankees are very much in play today.
Other Option — Chris Iannetta ($4,400)
Value
Austin Hedges, SD vs.

COL,

$2,800 —
Do I like Hedges going up against Marquez? Not really, but on a slate where "value" pitching is almost scarce, I think punting at catcher to alleviate some of the salary burdens the top-tier pitchers is necessary. It's not very often you'll get a starting catcher playing at Coors this cheap, let alone $2,800. You could get absolutely nothing from him, to be honest, but this feels like an easy position to punt. Anything he gives you today would be a bonus. To be fair, he did just score 14
DKFP
last night.
Other Option — J.T. Realmuto ($4,100)
---
FIRST BASE
Stud
Freddie Freeman,

ATL

vs.

PHI,

$5,200 —
When Freeman is raking at the plate, he's not someone you want to miss out on. Over his past five games, Freeman is averaging 13.6
DKFP
with two home runs and seven
RBI.
Tonight he'll face Aaron Nola ($8,500) who on the road against lefties has a .499 wOBA with a 4.84 xFIP with four of his 11 home runs allowed.
Other Option — Peter Alonso ($5,000)
Value
Ronald Guzman,

TEX

vs.

CIN,

$3,800 —
If they can get this game in, I love this game for the lefties on the Rangers. Guzman is usually a forgotten man in the Texas lineup, but he boasts some really impressive power numbers against righties. On the year he has a .338 wOBA and a .326
ISO
with four of his six home runs against righties on the road. He'll face Tanner Roark ($7,000), who at home against lefties sports a .387 wOBA with a 6.26 xFIP and three of his five home runs allowed.
Other Option — Ryan McMahon ($3,900)
---
SECOND BASE
Stud
Jeff McNeil,

NYM

vs.

STL,

$4,100 —
Second base is another position I think you can pay down at to fit some of the high-priced pitchers in. McNeil is likely the highest I'll go at $4,100 against Michael Wacha ($5,500). While Wacha only has a .315 wOBA against lefties, he does have a 4.96 xFIP and a 41.3% hard-hit rate allowed. McNeil hits leadoff and gets on base at a solid .403 clip.
Other Option — Ozzie Albies ($4,400)
Value
Brendan Rodgers,

COL

vs.

SD,

$3,700 —
Rodgers is another cheap way to grab some exposure to Coors Field if you choose to do so. When he starts, Rodgers has primarily hit seventh, which usually excludes him from Rockies stacks. Eric Lauer ($6,000) has a .338 wOBA and a 4.30 xFIP with four of his nine home runs allowed to righties on the road.
Other Option– Rougned Odor ($3,900)
---
THIRD BASE
Stud
Nolan Arenado,

COL

vs.

SD,

$5,500 —
Stop me if you've heard this before but you should play Arenado at Coors against a lefty. Once you're done being floored, I can inform you that he has a .502 wOBA with a .333
ISO
in these matchups at Coors this season. Yeah, that's it. I'm not writing any more about this.
Other Option — Manny Machado ($4,400)
Value
Eugenio Suarez,

CIN

vs.

TEX,

$3,900 —
Suarez hasn't been the unstoppable force we've come to know and love about lefties but at this price point, he'll do just fine for our roster. Against lefties, he currently sports a .368 wOBA and a .250
ISO.
Luckily this game is at home, where his numbers really jump in this matchup, posting a .451 wOBA and a .286
ISO.
Mike Minor ($9,700) has been stellar this season, but has allowed five of his nine home runs to righties on the road.
Other Option — Matt Carpenter ($3,700)
---
SHORTSTOP
Stud
Jorge Polanco,

MIN

vs.

KC,

$5,000 —
Shortstop is loaded at the top, with three players priced at $5K or above. I like the cheapest of the bunch with Polanco facing Glenn Sparkman ($4,500). Against righties, Polanco has a .430 wOBA with a .283
ISO
and nine of his 10 home runs. As for the Sparkman, he has a .358 wOBA and a 5.73 xFIP against lefties.
Other Option — Fernando Tatis Jr. ($5,400)
Value
Didi Gregorius,

NYY

vs.

CWS,

$4,200 —
I'm not really feeling any of the cheaper shortstops, so Gregorius would be the lowest I'd go at this position. As I mentioned earlier, I think the Yankees as a whole are a great option today against Lopez. When facing lefties, he's allowing a .385 wOBA with a putrid 6.54 xFIP and eight of his 18 home runs on the year.
Other Option — Jean Segura ($4,100)
---
OUTFIELD
Stud
Max Kepler,

MIN

vs.

KC,

$5,200 —
I love this spot for Kepler, who looks like he's back to smashing after stumbling a bit near the end of May. Over his past five games, he's averaging 10
DKFP
and draws a favorable matchup against the Sparkman. As I mentioned with Polanco, Sparkman has some really poor numbers against lefties. As for Kepler, he has a .375 wOBA, a .298
ISO
and 13 of his 16 home runs on the season.
Other Options — Joc Pederson ($4,700), Eddie Rosario ($5,000)
Value
Alex Verdugo,

LAD

vs.CHC, $3,700 —
I like this spot for Verdugo, who draws a matchup against Yu Darvish ($7,200). On the season, Darvish is allowing a .353 wOBA with a 4.60 xFIP to left-handed bats. If you're looking to save a bit of salary at the outfield position, Verdugo is a fantastic option.
Other Options — Carlos Gomez ($3,700), Carlos Gonzalez ($2,700)
---
Put your knowledge to the test. Sign up for DraftKings and experience the game inside the game.
---
I am a promoter at DraftKings and am also an avid fan and user (my username is Steveazors) and may sometimes play on my personal account in the games that I offer advice on. Although I have expressed my personal view on the games and strategies above, they do not necessarily reflect the view(s) of DraftKings and I may also deploy different players and strategies than what I recommend above. I am not an employee of DraftKings and do not have access to any non-public information.