After all 30 Major League Baseball teams were in action last night, this Wednesday features 11 games under the lights with the other four contests taking place this afternoon in getaway games. From the 22 teams in action tonight, there is no shortage of options with many teams back to their Opening Day starters for their fourth start of the season. If you choose to build around an ace like Clayton Kershaw or Madison Bumgarner, you will need to find a way to balance their hefty salaries. To help you find solid production at cheaper prices, I give you my top two SP under $8K, and my top three hitters under $3.5K every Monday, Wednesday, and Friday here in the bargain bin. Here are my top bargain finds for Wednesday:
Pitchers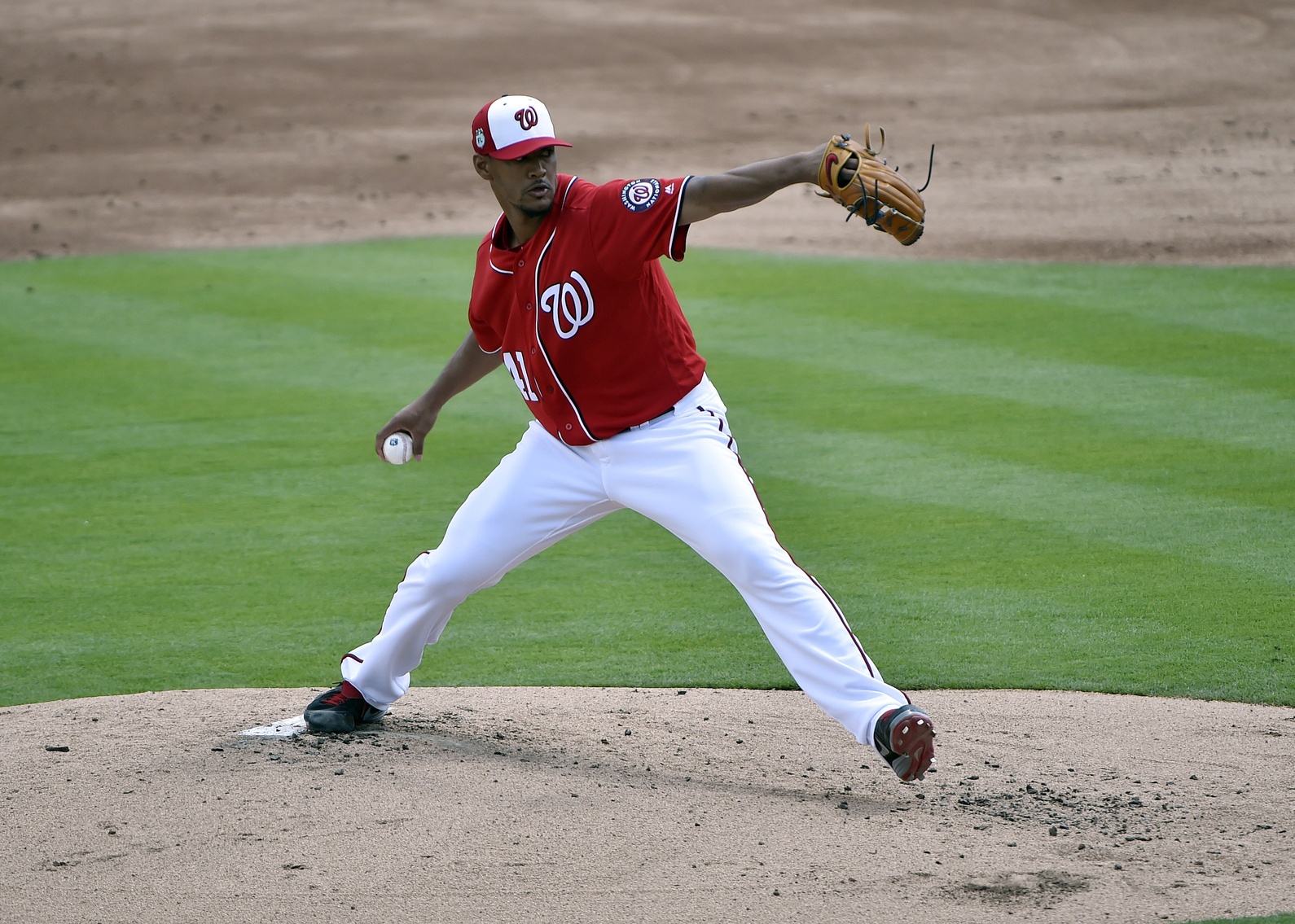 Joe Ross – SP –
WAS

@

ATL

– $7,400

Ross has loads of talent for an option available so cheaply in a good matchup tonight, but one of the reasons he's inexpensive is that this will be his first MLB start of the season. He did have a tune-up start at Triple-A and allowed just one run in seven innings last week. Last year, Ross impressed with a 3.43 ERA in 19 starts striking out 93 batters in 105 innings and going 7-5.

Even in his first start of the year, Ross makes sense not only because he looked good last year and in Triple-A, but also because he gets a great matchup against the Braves. With Matt Kemp out, the Atlanta lineup is Freddie Freeman and a bunch of light-hitters. The Nats' coaching staff may not let him throw a ton of pitches in this outing, but he should be in a good place to get a win with six or seven quality innings.
Jordan Zimmermann – SP –
DET

@ TB – $6,500

A much more veteran option to look to tonight is the Tigers' Jordan Zimmermann who is 1-1 with one good start and one bad start so far this season. He got knocked around for five runs in 4.2 innings against the Twins his last time out after looking strong against Boston in his season debut allowing one hit in six innings. Zimmermann only has six strikeouts in his 10.2 innings, but he should be able to improve that rate tonight.

No team in the Major Leagues has struck out more than the Rays who have piled up 160 strikeouts in just 15 games. While Zimmermann still isn't going to pile up a ton of K's, he should pick up enough to make him a good value. Last year, he was much better on the road (4-2, 2.63 ERA) than at home (5-5, 7.00 ERA), and he did go 1-0 against Tampa. Tonight at the Trop, he's a nice way to save money on one of your SPs.
---
Hitters
César Hernández – 2B –
PHI

@

NYM

– $3,100

Hernández has flourished in the top spot in the Phillies' lineup this season and is off to a blistering 20-58 (.345) start with three doubles, a triple, three homers and a pair of stolen bases. He has two of those homers while going 10-23 (.435) over the last week. Hernandez has hit safely in 11 straight games with multiple hits in three straight and five of his last six.

Hernández and the Phillies beat the Mets last night at Citi Field in extra innings, and tonight they'll face Robert Gsellman. Get Hernández in your lineup if you need a cheap bat near the top of the order. He has double-digit DKFP in six of his last nine games and each of his last three.
José Iglesias – SS –
DET

@ TB – $2,300

Almost all the way down at the very minimum, Iglesias actually has plenty to offer his fantasy owners if you decide to punt a position tonight. Iglesias has at least seven DKFP in each contest during his five-game hitting streak. Over that span, he is 9-18 with four doubles, three RBI, and a pair of stolen bases.

The sweet-fielding SS isn't known as much of an offensive threat, but he is 11-42 (.262) on the season and has gone 3-7 (.429) in his previous matchups with Tampa's starter Chris Archer. Unlike Hernández, Iglesias usually hits near the bottom of the order, but at such a cheap salary he brings a lot of potential value tonight in Tampa.
Avisaíl García – OF –
CWS

@

NYY

– $3,300

García has homered in two of his last three games and has three long balls on the year as part of his strong 22-50 (.440) start to the season. He has gone 12-27 (.444) over the last week and his power has been a huge boost to the White Sox who have been without Todd Frazier.

Tonight, García and the White Sox close out their series in New York facing Masahiro Tanaka. Tanaka is 1-1 with an 8.36 ERA in three starts this year and has given up three homers and 19 hits in his 14 innings. García had no problems with him in their past meetings going 3-6 with a double. García is a little off the radar, but he makes for a solid OF value tonight.
---
I am a promoter at DraftKings and am also an avid fan and user (my username is Z.Thompson) and may sometimes play on my personal account in the games that I offer advice on. Although I have expressed my personal view on the games and strategies above, they do not necessarily reflect the view(s) of DraftKings and I may also deploy different players and strategies than what I recommend above.