MLB Arcade Mode brings up an eight-game slate tonight. If you aren't familiar with Arcade Mode, you can brush up on all the happening by going here. Once you're acclimated with the rules, we can dive into the information for tonight's slate. As always, you can reach me on the ol' Twitter machine @SBuchanan24.
Pitchers
Max Scherzer – WAS vs. SD – $21,500 – Scherzer's matchup against this Padres team that owns just a .298 wOBA against righties with the second highest K% at 24.5 makes it hard to leave Scherzer on the board. The strikeout potential is the biggest attraction here, as he's reached double-digit strikeouts in three of his nine starts and hasn't allowed more than three runs in all but one game. Out of all the pitchers tonight, Scherzer is averaging 51.6 FPPG, which is the most on this slate by a good amount – 10.1 points higher than Jacob deGrom.
Dan Straily – MIA vs. LAA – $15,000 – Straily has been a solid addition to the Marlins' rotation this season, and tonight he gets a good matchup against the Angels at home. Besides the fact they'll be losing their DH for the pitcher's spot in the lineup, Straily has averaged 34.1 FPPG at home this season with a 7.4 K/9 and a wOBA of .217! The Angels are one of the worst on the road, posting a .285 wOBA and a K% of 21.9. Straily would be a nice salary saver for your roster tonight.
---
Hitters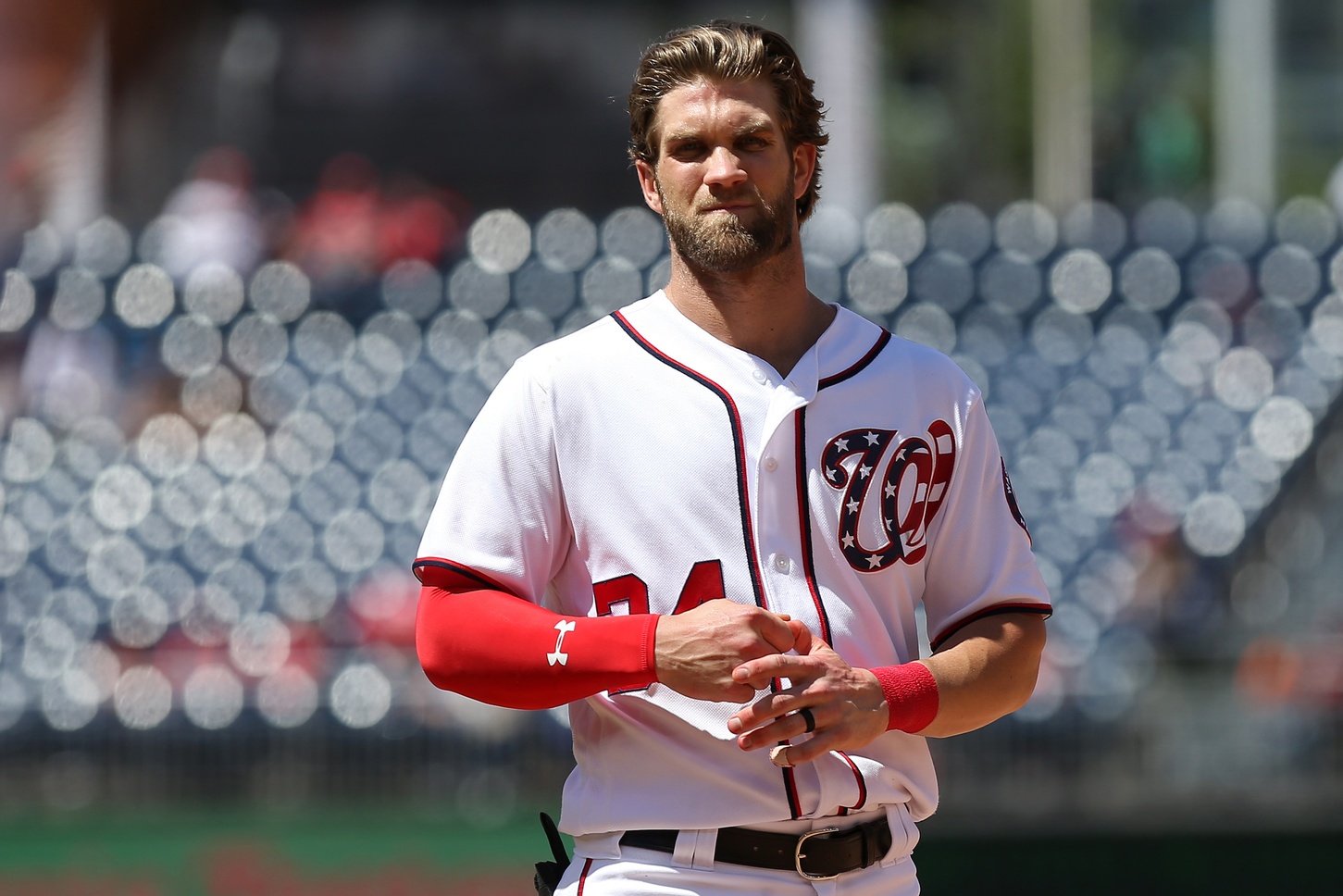 Bryce Harper – WAS vs. SD – $9,500 – Luis Perdomo has some electric stuff when he's throwing the ball well. When he's not, however, the other team benefits, immensely. Perdomo has struggled thus far against lefties, posting a .460 wOBA with a .613 SLG and two of his three home runs allowed. You probably don't need to be reminded, but Harper has been crushing righties at home, owning a .503 wOBA with a .774 SLG with seven of his 14 home runs.
Xander Bogaerts – BOS vs. SEA – $8,500 – We saw a big game from Bogaerts last night, and hopefully this ends up being the start of a hot streak. Bogaerts posted 83.50 fantasy points last night, bringing his last 10 game average to 37 fantasy points. It's also encouraging to see him stealing bases lately, bringing his season total to eight. He'll take on Yovani Gallardo, who's allowed a .382 wOBA to righties with five of his seven home runs surrendered.
Giancarlo Stanton – MIA vs. LAA – $7,000 – Stanton is an extreme boom or bust type player every night, as you're essentially looking for a home run. Stanton has hit 11 on the season with four of them coming at home. He'll take on Jesse Chavez, who has allowed 11 on the season with seven of them going to righties. Stanton is a decent salary saver with big upside, but he's far from a sure thing.
Jose Bautista – TOR vs. TEX – $8,500 – Another boom or bust type play here as Jose Bautista takes on A.J. Griffin. I'm somewhat hopeful for Bautista, as he's potentially getting Josh Donaldson back in the lineup, which will certainly provide some protection in the lineup. Griffin has allowed 11 home runs on the season, with seven of those coming off a right-handed bat. Bautista has been extremely up and down this season, but he has hit three home runs over his past 10 games while averaging 36.2 FPPG.
Nelson Cruz – SEA vs. BOS – $7,500 – Is Cruz an obscure hitter? Not exactly, but I think his salary is too low for a matchup against a lefty. As you may have heard, Cruz is a monster against left-handed pitching, posting a .421 wOBA this season with a .737 SLG and a .391 OBP. With three home runs over his past 10 games and now playing in the hitter-friendly Fenway Park, Cruz is in line to produce.
---
I am a promoter at DraftKings and am also an avid fan and user (my username is Steveazors) and may sometimes play on my personal account in the games that I offer advice on. Although I have expressed my personal view on the games and strategies above, they do not necessarily reflect the view(s) of DraftKings and I may also deploy different players and strategies than what I recommend above.