Welcome back to the Daily DraftKings segment where we try to get rich playing daily fantasy sports. HUUUGE Tuesday Slate tonight, I'll be playing in the $250K Slugfest trying to get this money.
As for last night…
6 spots out of the money. Literally 6. Unreal. I went to bed up $200, woke up with $0. Horrible way to start your Tuesday. God damn DFS is going to be the death of me.
My picks were ok…Hammel was one of the best pitchers of the night, Pederson went deep and Peterson paid off as a value play…Carpenter and Montero went 0-fer.
Anyway onto today…there are a million players going, here are a few I have my eye on as possible lineup staples.
PITCHER
Noah "Thor" Syndergaard $8.1K
http://store.barstoolsports.com/collections/new-york/products/noah-hammer-blue-tee
Did people watch this game last night? Probably not, because it was a late night Mets Padres game. But I did, and the amount of swings and misses was insane. Think there were like 16 strikeouts in the first 5 innings. And while the Mets eventually made enough contact to get runs, the Padres never did. Now consider Syndegaard is coming off a great start and looks incredibly comfortable on the mound and you got a guy with huge upside for a pretty cheap price.
HITTERS
In order of salary…
1B Adrian Gonzalez $5.3K
Tried to get all cutesy and contrarian last night and go Goldy over A-Gon at Coors. It was a mistake I won't be making again. This is obviously the series to target, and the Dodgers get another no-name bum pitcher to square off against. Just be careful and check the lineups because they're playing a doubleheader today so you never know who is going to sit.
OF Bryce Harper $5.2K
I'll put him in here every day, I don't give a shit. Only two things can stop Bryce, umpires and rain. You'll notice Marco Estrada is not one of those two things.
Doubleheader alert – make sure he's in the lineup
OF Joc Pederson $4.6K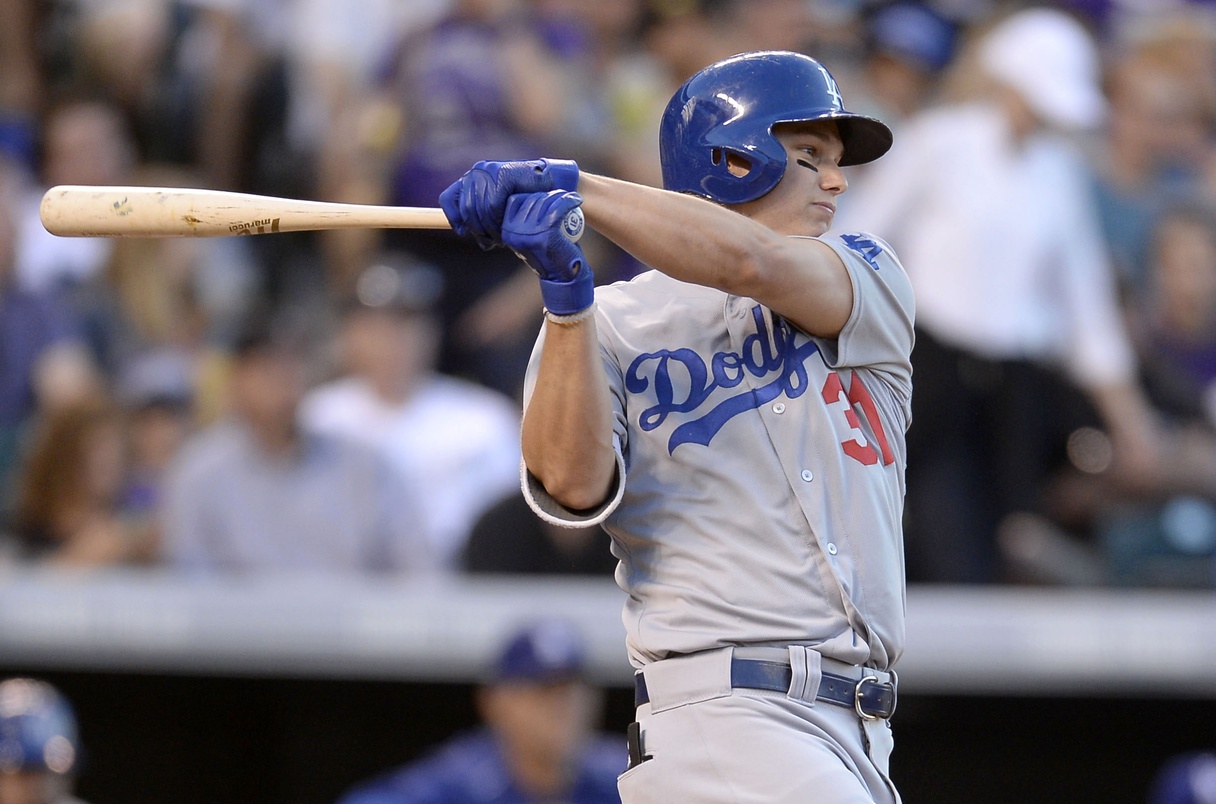 Don't look now but Joc is heating up again…Went deep last night, going deep again tonight. Like I said this is the game that needs to be targeted, obviously. Basically any guy in the starting lineup I'm going to consider tonight.
Value Plays Under $4K
These guys are speculative adds under $4K and are a way to save some $$ for pitching, by rule you're not allowed to get mad if they don't workout.
OF Andre Ethier $4K
Ok he's not under 4K technically but still a great price, one more Dodger for your consideration. Homered last night and sat out the first game today so he should be ready to roll. Batting either 2nd or 5th, love his value either way.
SS Jhonny Peralta $3.9K
He's hitting cleanup for the league's best offense against a prospect making a spot start out of the bullpen in a hitter's park. He's 3.9K. I say all the time I'm not an expert but I feel like one with picks like this. Good contrarian pick off of Rollins.
2B Daniel Murphy $3.8K
I hate to chase points but Murph is clearly hot and is hitting cleanup against Ian Kennedy tonight. At 3.8K what's the risk?
…
Just some guys to check out, definitely do your own research and make your own picks. Also be sure to let me know anyone you're thinking of and any hot tips for the night @kmarkobarstool. Good luck.