Yasmany Tomas went cold on us last night (5 DKFP), but if you had Nolan Arenado he paid off. We have a 13 game slate to jump into tonight, with some surprising players that will look to stay hot. Let's look at the hottest hitters over the past couple of games and see who is in play.
Editor's Note: Julio Teheran has been scratched from his start tonight. Either Matt Wisler or Williams Perez will toe the rubber for the Braves.
Jose Altuve (RIGHT) (HOU vs.
TEX

) – $5,200
Opposing Pitcher: Derek Holland
Altuve is definitely going to cost you, but he has been worth it lately. He put up 21 DKFP in his last game and has registered a hit in four out of his last five. He faces Derek Holland today who has a lifetime ERA of 4.37 against the Astros. Holland is a lefty that has an OPS of .608 against RHBs. Altuve sports a handedness wOBA of .395 and a SLG% of .517. The Astros are slated to score over 4 runs and Altuve should be able to get in on the action.
---
Nolan Arenado (RIGHT) (COL vs.
CIN

) – $4,700
Opposing Pitcher: Alfredo Simon
Let me just leave Arenado right here. I know you are thinking that this looks eerily similar to yesterday, but Arenado is still cranking the ball. He went 2 for 3 yesterday and put up 12 DKFP. His price hasn't changed, and he gets a matchup with Alfredo Simon today. Simon hasn't started 2016 like he would have wanted and has an ERA of 12.15. He has an OPS of 1.037 and looks like a candidate for a stack as well. I love Arenado's 6 homers on the season and will look to take advantage of his .366 positive handedness wOBA.
---
Bryce Harper (LEFT) (WAS vs.
MIA

) – $5,300
Opposing Pitcher: Adam Conley
After four straight games of 19 or more DKFP, Harper threw up a 4 DKFP dud yesterday. He will get a chance to redeem himself today as he faces Adam Conley. Conley has been striking people out all over the place and has registered a 3.86 ERA in 7 innings. He has an interesting 1.60 OPS against LHB, but the Ks have been too promising to deny. I love Harper's handedness wOBA of .445, but I don't like the Nationals total in this one. With that said, if someone puts Conley out tonight it could definitely be Harper. I will have some GPP exposure.
---
Mark Trumbo (RIGHT) (BAL vs.
TOR

) – $3,600
Opposing Pitcher: Marcus Stroman
Trumbo has had two 30+ DKFP games in the last five outings. He has also registered a hit in 4 out of the last 5 games. Stroman has started the year off decently with a 4.22 ERA in 21 innings. He also has a .515 OPS against RHBs. Due to how good Stroman has looked and Trumbo's negative handedness wOBA of .320, I am, unfortunately, staying away. It physically pains me to not play one of my O's who has been hot.
---
Chris Davis (LEFT) (BAL vs.
TOR

) – $4,600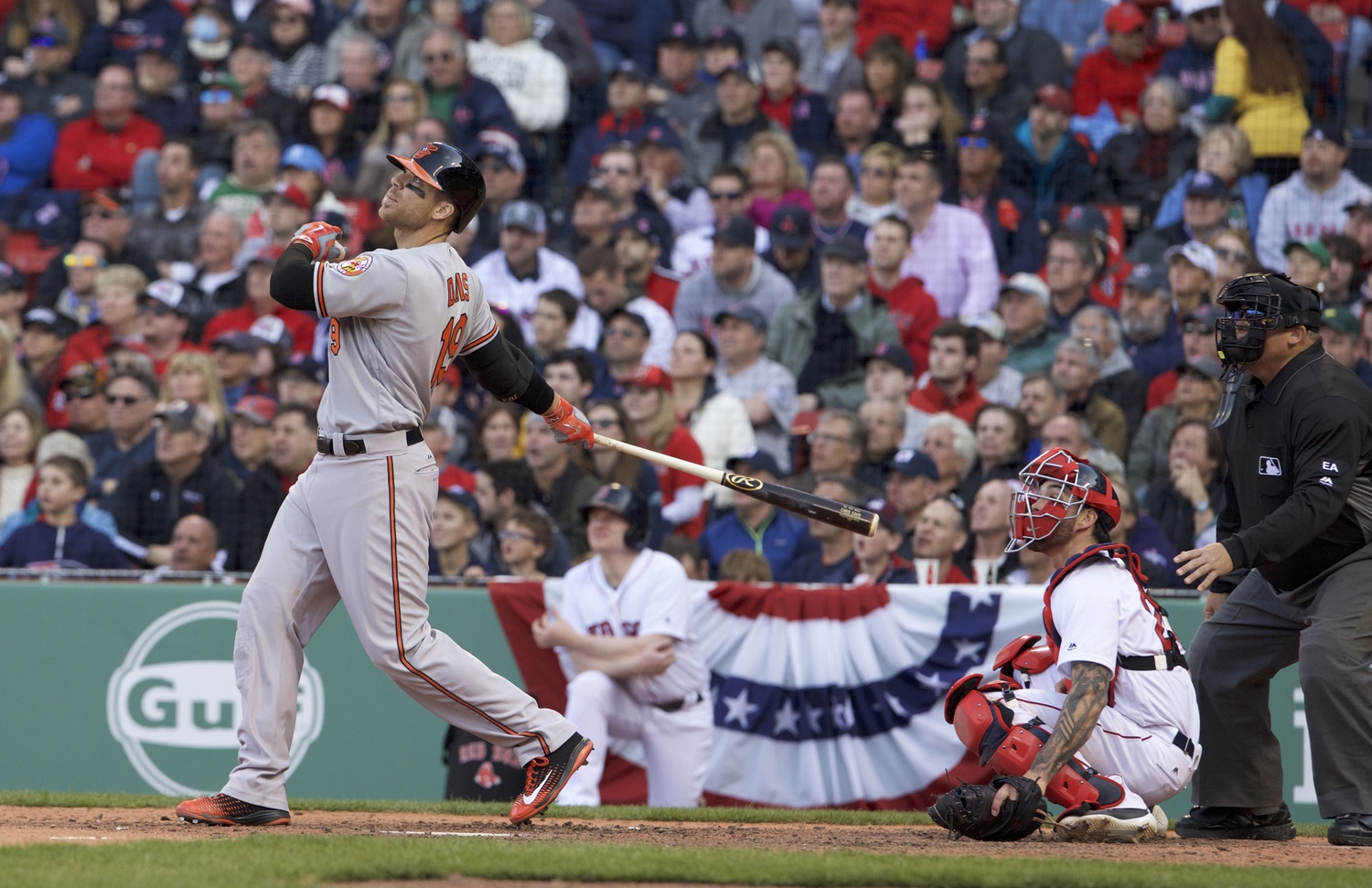 Opposing Pitcher: Marcus Stroman
There is one Oriole I am not afraid to roster tonight, and that is Chris Davis. Davis went 2 for 5 during his last outing with a homer. He stacks up a lot better against Stroman based on a handedness wOBA of .416 and a SLG% of .639. He has 5 homers on the season and has the ability to jack one tonight. I will definitely have Chris Davis in GPPs this evening.
---