Today's all-day slate features 15 games and starts at 1:40 pm ET. Here's a data-driven breakdown featuring five key stats, courtesy of FantasyLabs' Editor-in-Chief, Matthew Freedman.
FantasyLabs is a daily fantasy tools and real-time analytics platform that enables players to test theories, create and backtest models and construct customized lineups. In this piece, I leverage the same tools used by co-founders Jonathan Bales and Peter Jennings (CSURAM88) for each slate.
Pitchers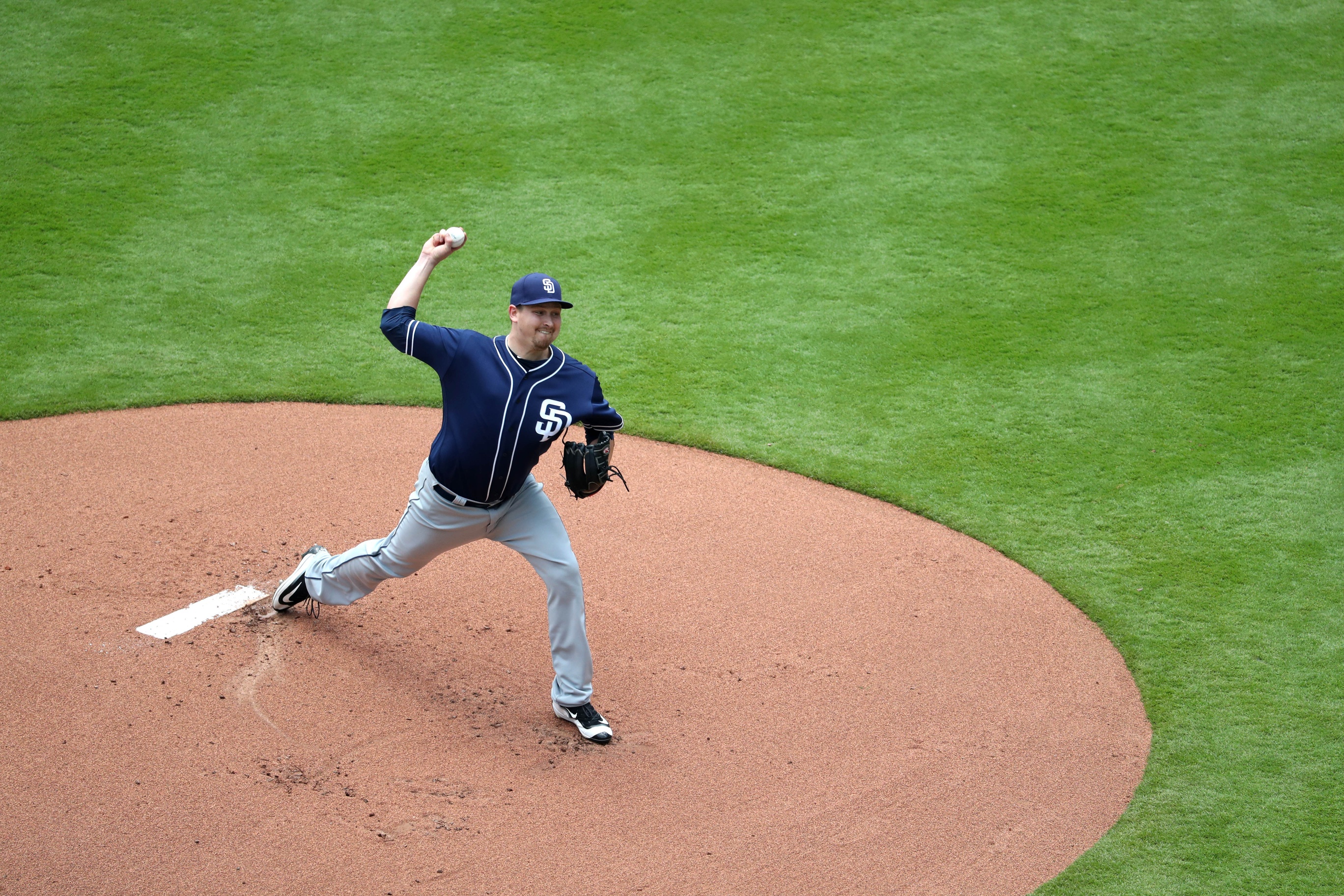 UPDATE: Noah Syndergaard has been bumped from his start tonight against Atlanta, per MLB.com.
168 Feet, Batted Ball Distance – Trevor Cahill
Apparently, this whole 'he's a starter' things isn't a joke. At $4,200, Cahill isn't just the cheapest starting pitcher on the slate: He's also the cheapest he's been all season despite having a 3.44 ERA and 21 strikeouts in 18.1 innings of work in three starts. To be sure, Cahill has his slate-specific warts: The Padres are 0.8-run underdogs at Chase Field against the Diamondbacks, who currently have the slate's highest implied total (5.2 runs) outside of the Coors Field game. On top of that, Cahill hasn't topped 100 pitches in any of his starts, and calling balls and strikes will be umpire Tom Woodring, whose hitter-friendly presence behind the plate has historically correlated with the loss of 1.9 DraftKings points from pitcher performance.
Still, there are significant reasons to like Cahill. His cheap salary makes rostering Nationals and Rockies stacks much easier, and he's third on the slate with 10.506 strikeouts per nine innings over the last 12 months. Additionally, he's second in the slate — just behind Noah Syndergaard ($12,600) — with a 53 percent strike rate over the last 15 days, in which time he's held hitters to a slate-low batted ball distance of 168 feet, exit velocity of 87 miles per hour, and fly ball rate of 18 percent. His short-term Statcast data points aren't fluky: He also has a slate-low batted ball distance (184 feet) and fly ball rate (20 percent) over the last year. At FantasyLabs we have a proprietary Plus/Minus metric that measures actual vs. expected fantasy production based on the historical performances of previous players at comparable salaries. According to our industry-leading Trends tool, pitchers comparable to Cahill on the basis of salary and recent batted ball distance have dominated with a +4.52 Plus/Minus and 72.6 percent Consistency Rating.
In three starts this season Cahill has had an average ownership of 2.2 percent in large-field tournaments. He could be a contrarian option with salary-adjusted upside.
8.5 K Prediction – Alex Wood
After Thor, there are some other intriguing high-priced pitchers in the slate: Jon Lester ($11,600), Johnny Cueto ($11,100), Jose Quintana ($10,500) and Lance McCullers ($10,300). The problem, though, with all of these pitchers is that they're hard to roster in lineups that feature Coors stacks. At $7,400, Wood has a palatable salary with some upside. He's second in the slate in WHIP (1.085) and strikeouts per nine innings (11.86) over the last year as well as opponent implied run total (3.4). Additionally, he currently leads the slate with an 8.5 K Prediction against the Giants and a 93 Park Rating on the road at AT&T Park. Having a zero percent chance of precipitation and pitcher-friendly umpire Bill Miller behind home plate (+1.5 Plus/Minus) is just the cherry on top.
The sample is small, but past pitchers with comparable salaries, strikeout predictions and opponent implied totals have crushed with a +6.31 Plus Minus and 75.0 percent Consistency Rating. They've also had an average ownership of 41.1 percent. Given his combination of salary and upside, Wood could be popular, but his ownership also might be held in check, as he's had only 70 and 76 pitches in his two starts this year, making him more of an option in guaranteed prize pools.
Be sure to monitor the news throughout the day in case the Dodgers mention that Wood is on a pitch count. As of now, he's one of the highest-rated pitchers in our Player Models.
---
Hitters
.468
ISO

– Eric Thames

There it is! After destroying baseball for almost the last month, Thames is finally $5,000. Gone are the days of getting his MLB-leading 1.411 OPS and 11 home runs on the cheap. That said, Thames is still relatively cheap in comparison to his production. This season he's absolutely crushed the ball with an unbelievable batted ball distance of 244 feet, exit velocity of 94 mph, and slate-leading hard hit rate of 54 percent. Of all everyday players, he easily is first on the slate with his .468 split-adjusted isolated power.

What's amazing is that even with his low salary and high production, Thames has on average been owned at only a 12.6 percent rate in large-field GPPs, and his ownership might be low once again due to his one-day salary increase of $800 and the presence of a Coors game in the slate. At the same time, there's reason to be cautious with Thames. Not only could he regress soon — he's producing at an incredible historical rate right now — but over his career he's actually exhibited more power against lefties (.487 slugging) than righties (.474), making him one of the rare left-handed batters with reverse splits. As a result, he has a -0.199 ISO Differential and is on the wrong side of his splits against Reds' righty Rookie Davis. Then again, the Brewers are implied to score a respectable 4.8 runs against a team starting a rookie named "Rookie." Previous hitters with comparable salaries, Statcast data and team implied totals have averaged 10.08 DraftKings points, a +1.31 Plus/Minus, and high 45.7 percent Consistency Rating.

Just remember that if you want Thames you'll need to play in the all-day or early slate.
100 Park Factor – Rockies & Nationals
Have I mentioned that there's a Coors game in this slate? Yesterday, the Nationals-Rockies game produced 27 runs of pure DFS goodness. On Monday, it popped off for a 'mere' 12 runs. Park Factor is a FantasyLabs metric that measures the friendliness of a park based on the handedness of the batter and the starting pitcher. At Coors Field, all batters have a 100 Park Factor regardless of handedness. Unsurprisingly, Coors Field is the most hitter-friendly ballpark in MLB with league-high marks in average DraftKings points per game (9.10), Plus/Minus (+1.36), Consistency Rating (47.5 percent) and Upside Rating (19 percent). In cash games, Coors is King: The Nationals and Rockies lead the slate with implied totals of 5.9 and 5.7 runs.
In GPPs, however, both of these teams are likely to have high ownership. For instance, yesterday uber-studs Trea Turner ($5,400) and Bryce Harper ($6,100) — both of whom rate well in our Models — had a combined average ownership rate of about 20 percent in GPPs, and top-five batters at Coors have historically been owned at a 14.0 percent rate in large-field tournaments. If you want to stack the Rockies or Nationals while still being somewhat contrarian, consider targeting the lower half of the lineups. Hitters batting sixth through eighth at Coors historically have provided value (+0.63 Plus/Minus) at a drastically reduced ownership of only 5.6 percent. Expected to hit seventh, Jayson Werth ($4,600) and Trevor Story ($5,200) are both intriguing. They're on the wrong side of their splits, but they're facing imminently disappointing pitchers in Tanner Roark and Tyler Chatwood.
The Nationals have an MLB-high team OPS of 0.804.
78 Team Value Rating – Athletics
Team Value Rating is a 0 to 100 grade showing a team's value based on its implied run total and collective salaries. Amazingly, the A's lead the slate in the metric even though they are implied for only 3.7 runs and playing in a venue with a Park Factor of 13 for righties and 11 for lefties. I guess this is what happens when the average salary for a team's projected top-six hitters is only $2,800. Considering that the A's have a middle-of-the-road team OPS of .715, they actually do offer some unignorable value. Also, "unignorable" might not be a real word.
Anchoring the lineup is righty Khris Davis, who at $3,600 is one of the cheapest No. 4 batters in the slate even though he's tied for second in the majors with seven home runs. Additionally, the lefties and switch-hitters for the A's have some hidden upside. Jaff Decker ($2,000), Jed Lowrie ($2,600), Stephen Vogt ($2,900) and Yonder Alonso ($2,600) — all of whom are under $3,000 — are all on the beneficial side of their splits against Angels' righty Matt Shoemaker. In theory, they should be aided by the wind blowing out to right field at eight miles per hour and a Weather Rating of 54. Previous batters with comparable salaries, lineup spots, implied run totals, splits and weather conditions have surprised with a high 41.1 percent Consistency Rating at only 3.0 percent ownership.
The A's aren't great, but they might be good and cheap enough to warrant limited GPP exposure.
---
I am a promoter at DraftKings and am also an avid fan and user (my username is mefreedman) and may sometimes play on my personal account in the games that I offer advice on. Although I have expressed my personal view on the games and strategies above, they do not necessarily reflect the view(s) of DraftKings and I may also deploy different players and strategies than what I recommend above.