With seven games going this afternoon, we have plenty of targets you should be looking at for your team. I'll break down some of my top picks for this slate and do my best to set you up for success. As always, you can get me on the ol' Twitter machine @SBuchanan24.
Pitchers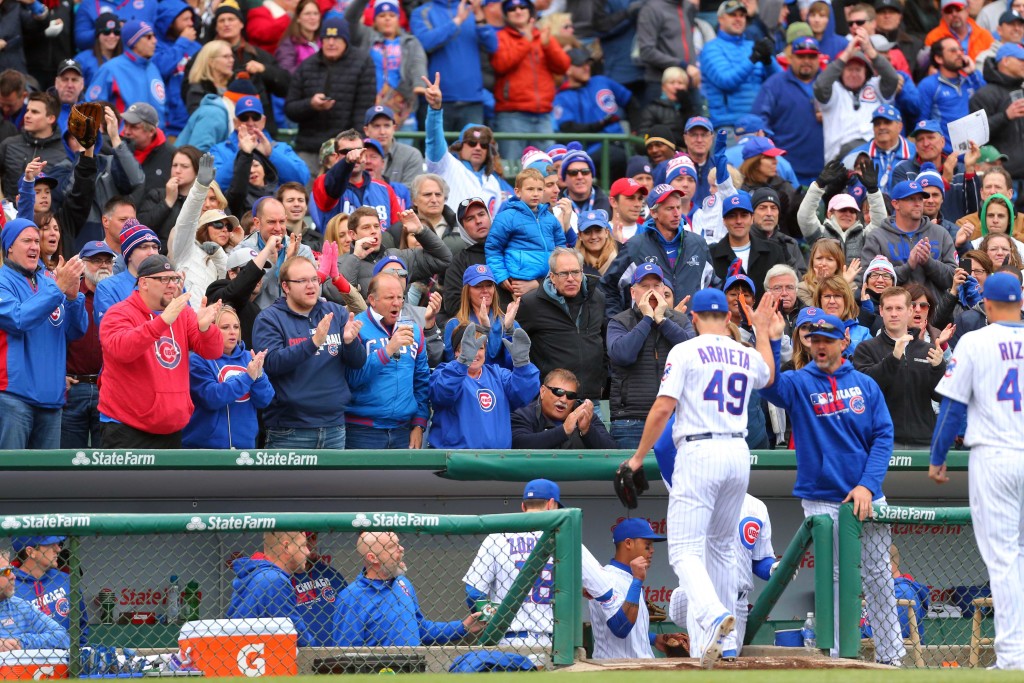 Studs
Jake Arrieta – CHC vs. STL – $13,100 – This man just cannot be stopped. Coming into this start, Arrieta continues to cruise, as he owns a 1.29 ERA through nine starts with a 0.84 WHIP and a K/9 of 9. Arrieta will be pitching on the road today, which has been where he's performed the best. In five road starts, Arrieta owns a 0.97 ERA with a 0.68 WHIP and a 7.5 K/9. Even against a high-powered offense like the Cardinals, who are second in the league in team wOBA against righties with at .357, Arrieta is a tough fade on the afternoon. Like Kershaw, it makes sense to fade in GPPs because of how high he'll be owned, but you'll most likely be playing catch up if he performs well.
Corey Kluber – CLE vs CHW – $11,400 – Kluber doesn't exactly give me all the feels today, but I can understand the logic in taking him in this matchup against the White Sox. For as good as this team has been, their numbers against right-handed pitching is not all that impressive. Coming into today, the White Sox own a .308 wOBA with a 20.1 K% and a .318 OBP. Nothing mind blowing, right? With some of the top pitchers in tough match ups, Kluber could be a nice play over someone like Aaron Nola who takes on the Tigers. It isn't all peaches and cream for Kluber, who is seeing a dip in his K's and a bump up in his walks, but he's certainly not a bad option here.
Values
Colby Lewis – TEX vs. LAA – $8,100 – I honestly don't know how, but Lewis continues to impress every five days. Averaging 17.5 DKFP over his first nine starts, Lewis owns a 2.75 ERA with a 1.10 WHIP and a K/9 of 6.7. He takes on the Angels today, a team he didn't have a stellar start against his last time out. In that start, Lewis pitched seven innings allowing two runs on nine hits without registering a walk or strikeout. Granted, the Angels are a tough team to strikeout, owning a 15.9 K% against righties, but Lewis' price is low and he's pitching well enough that I'd be willing to take shot with him.

---
Batters
Studs
Bryce Harper (OF) – WAS vs NYM – $4,700 – If you can grab Bryce Harper at under $5,000, that's a win in my book. Priced at $4,700 today, he takes on the young stud left-handed pitcher, Steven Matz. I'm not thrilled with the matchup with Matz, but he is allowing a .332 wOBA to lefties this season thus far. Harper, who has cooled off immensely since April, still owns a .367 wOBA against lefties at home with an ISO of .182. With Harper being "cheaper" than usual, I'm more than willing to take a shot with him.
Mike Trout (OF) – LAA vs TEX – $5,300 – I do like Lewis today don't get me wrong, but I can't say I wouldn't like Trout if I'm leaving Lewis on the board. Trout seems like he's back to his normal self, batting .325 with 10 home runs, 31 RBIs and a .981 OPS. Averaging 13.3 DKFP over his last 10 games, Trout is 16-40 with two doubles, three home runs, seven RBIs and two stolen bases. One downfall for Lewis is that he's a victim to the long ball, allowing 10 on the season with five of them coming against righties. If you're fading Lewis, jump on Trout.
Ian Desmond (OF) – TEX vs. LAA – $5,000 – Desmond faces off against someone else who is no stranger to allowing home runs, Hector Santiago. Just like his opposing starting pitcher today, Colby Lewis, Santiago has allowed 10 home runs on the season, but he's split them up nine to one, with nine going to righties. Desmond owns a .316 wOBA against righties with three home runs this season and has a good chance to take one deep this afternoon.
"Cabrera is starting to become matchup proof again, averaging 16.5

DKFP

over his last 10″
Miguel Cabrera (1B) – DET vs. PHI – $4,600 – After a rough start to the season, Cabrera is starting to become matchup proof again, averaging 16.5 DKFP over his last 10. Cabrera is 17-36 with a double, triple, seven home runs and 12 RBIs during that span. He faces off against Aaron Nola, which is no easy task by any means, but Cabrera at home against a right-handed pitcher hasn't been a problem at all. Cabrera owns an insane .667 wOBA against righties at home with a .545 ISO and a 1.073 SLG. He's essentially in play every day again.
Albert Pujols (1B) – LAA vs TEX – $4,200 – Pujols and Trout are essentially the only two threats I worry about if I were to take Lewis this afternoon. Pujols, for as poorly as he's hitting overall, still owns nine home runs this season and has hit two in his last ten games. As I mentioned earlier, Lewis has given up five to righties this season, and Pujols has six of his nine against righties. At $4,200, he won't kill your salary and is a worth shot on this slate.
Eduardo Nunez (3B/SS) – MIN vs. KCR – $4,000 – Until the day comes that Nunez stops hitting, that will be the day I leave him on the board. Nunez is extremely useful, as you can slot him into either the third base or shortstop position. Shortstop is huge for me because I struggle to find value on a daily basis with that position. Coming into today, Nunez owns a .441 wOBA against righties at home, and he faces off with Dillon Gee. Gee is not someone I'm shying away from, and even though he's looked good thus far, history shows that he will falter soon enough.
Values
Jayson Werth (OF) – WAS vs NYM – $3,800 As I said with Bryce Harper, I'm not jumping at the chance to start players against Steven Matz, but these two guys have good matchups against this tough pitcher. Werth has been crushing left-handed pitchers this season, owning a .523 wOBA against them with three home runs. Werth isn't having any huge games this season, but he could be sneaky enough that you can potentially grab a few points off of him at a low ownership.
Matt Kemp (OF) – SDP vs. SFG – $3,500 – This pick is more about how poorly Jake Peavy is pitching and not how well Kemp is hitting right now, because he's not. Peavy has been getting lit up almost every single start he's had, owning an 8.21 ERA with a 1.90 WHIP. Peavy is allowing a .399 wOBA to righties this season with eight home runs allowed. Kemp isn't crushing righties by any means, as his .266 wOBA will say all you need to see. But for $3,500 against a pitcher who clearly isn't right, Kemp isn't the worst option.
"Perez is really starting to heat up at the plate and this would be a perfect time to get him"
Salvador Perez (CATCHER) – KCR vs MIN – $3,700 – Perez is really starting to heat up at the plate and this would be a perfect time to get him at this low price. Coming into this game, Perez is averaging 8.3 DKFP over his last 10 games and faces Tyler Duffey today. With a career .294 wOBA against righties, those numbers jump to .339 when facing righties at MIN. Perez continues to pad his numbers, as he's up to a .359 wOBA against righties and .379 on the road.
Mike Napoli (1B) – CLE vs CHW – $3,300 Not the most ideal matchup, as Quintana has been pitching extremely well this season. However, Napoli has had his way with left-handed pitching and could be a sneaky pick for this afternoon. On the season, Napoli owns a .348 wOBA against lefties with a .186 IOS and a .447 SLG. At $3,300 at the first base position, Napoli will most certainly be looked over and could bring some great value if he can grab a couple of hits off of Quintana.