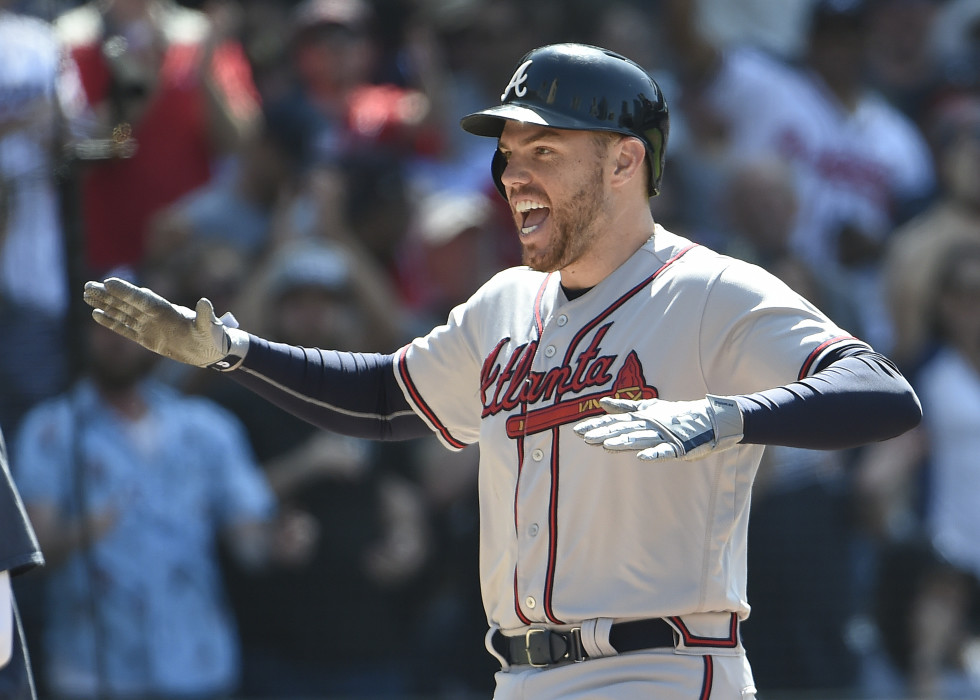 Every Sunday night this year, there will be a Captain's Mode Showdown contest on DraftKings for the ESPN featured primetime game. Tonight's game features a high-leverage rivalry game between the Nationals and Braves. After a slow start to the season, Washington has clawed up the standings and sits 5.5 games behind Atlanta. Tonight's game has big implications on which team ultimately ends up winning the division.
Note: All salaries will be Flex prices unless noted as Captain's Pick prices.
---
FIVE BETTING TRENDS
— The 'Inning one
UNDER
0.5 runs' market has hit in each of the Nationals' last four Sunday games.
— The Braves have led after three innings in each of their last three Sunday home games.
— Nine of the Nationals' last 10 games have gone UNDER the total runs line.
— The underdogs have won seven of the Nationals' last eight games at SunTrust Park.
— The Braves are 44-23 as a favorite this season.
Stats provided by DraftKings Sportsbook
---
SHOWDOWN STRATEGY
Nationals
I expect this to be a high scoring game. Both starters are being activated for tonight's game and neither has made a big league appearance since early June. For this reason, this game has an 11 run total and I think lineup builds should be focused on the hitters. Neither of the starting pitchers are in play for me.
Washington is facing Kevin Gausman ($9,600) tonight. He's been on the IL with a foot injury and his results were not great prior to the injury. He has a 6.21 ERA and was in awful form prior to his stint on the IL. In his past three starts, Gausman averaged -5.57 DKFP. This seems close to impossible and he accomplished the feat by giving up 17 earned runs in 8 1/3 innings. We don't need to worry about splits since he allows an identical .344 wOBA to righties and lefties.
On the high end, both Anthony Rendon ($10,600) and Juan Soto ($9,400) make for strong plays. Between the two, I prefer Soto for the slightly cheaper salary. He has a .401 wOBA against right-handed pitching and has scored double-digit fantasy points in two of the first three games of the series. Rendon also comes into tonight swinging a hot bat. He's on a 10-game hitting streak and has scored at least 10 DKFP in five of his past seven games.
As a value play, Adam Eaton ($6,800) seems a bit underpriced. Hitting second in the Nationals lineup, he's been an upside play as of late with at least 15 DKFP in three of his past five games. Since the All-Star break, Eaton has a .343/.351/.514 slash line. The biggest reason for his success since the break has been an uptick in power. His .171 ISO in the second half is an indication that the time off may have helped him to recharge his energy.
As a boom or bust play with upside, Matt Adams ($7,000) makes sense. He's homered in two of his past three starts and has 15 homers on the season. The only issue with Adams is that he's become an all or nothing type of player. Despite being on pace for a career high in homers, he has a career worst .273 OBP. If he doesn't go yard, then he is likely finishing with under 5.0 DKFP.
Editor's Note: Adams is not in the lineup for tonight's game.
---
Braves
Other than playing at Coors Field, the Braves could not be in a better spot tonight. Nationals starter
Joe Ross ($8,600)
has been a special kind of awful this season. He's spent most the year down in the minor leagues because his stint in the big leagues resulted in an 11.05
ERA.
He was once a promising prospect, but injuries have derailed his career. Even in Triple-A, he hasn't found much success with a 4.28
ERA.
Assuming his outing goes as poorly as I expect, there isn't much help coming for Washington out of the bullpen. The Nationals' bullpen has a 5.89
ERA,
the worst in the National League.
Ross has struggled against lefties and righties, but his struggles against left-handed hitters have been extreme in a small sample size. Lefties have a slash line of .545/.737/.1182 against him. It makes a ton of sense to load up on the Braves' left-handed hitters. At a reasonable salary, Freddie Freeman ($12,900) is my top choice for the captain spot. With a .412 wOBA against right-handed pitching, he's the most potent lefty bat in the Atlanta lineup.
He usually flies under the radar, but Nick Markakis ($6,600) is having another stellar season. He doesn't have a ton of power upside, but he's steady and one of the safest options for a cheap hitter. He's one of the best contact hitters in baseball and has managed to maintain value by limiting strikeouts as he gets older. With a 12.8% K rate, he's one of the more difficult hitters to strikeout. Markakis is averaging 11 DKFP in the first three games of the series and has a .371 wOBA against right-handed pitching.
The other two lefties expected to start for the Braves are Ozzie Albies ($7,200) and Brian McCann ($4,800). At a close to minimum salary, McCann makes for the best punt play of the night. In his past three games, he's averaging 14 DKFP with at least 10 DKFP in each. McCann opens up a ton of savings and has a solid .359 wOBA against right-handed pitching.
---
THE OUTCOME
Baseball has a tendency to be high variance and unpredictable, but I would be stunned if this game ends up being low-scoring. On paper this sets up extremely well for the offenses and the Braves in particular. This should be a barn burner and the Nationals pitching staff looks like it could be in some trouble tonight. Washington could have to go to their awful bullpen early and often.
Final Score: Atlanta 7, Washington 5
---
Put your knowledge to the test. Sign up for DraftKings and experience the game inside the game.
---
I am a promoter at DraftKings and am also an avid fan and user (my username is gehrenberg) and may sometimes play on my personal account in the games that I offer advice on. Although I have expressed my personal view on the games and strategies above, they do not necessarily reflect the view(s) of DraftKings and I may also deploy different players and strategies than what I recommend above. I am not an employee of DraftKings and do not have access to any non-public information.