Fresh off of the blockbuster UFC 202 Pay-Per-View, the UFC is right back at it as the promotion heads to Rogers Place in Vancouver this weekend for UFC on Fox 21. The card features an incredible main event between welterweight title contenders Demian Maia and Carlos Condit, plus a number of other intriguing matchups, many of which feature Canadian talent, and should be a worthy follow-up to what was maybe the card of the year at UFC 202.
Here are five things to watch for this Saturday night at UFC on Fox: Maia vs. Condit.
1) Condit and Maia Collide In Battle Of Welterweight Contenders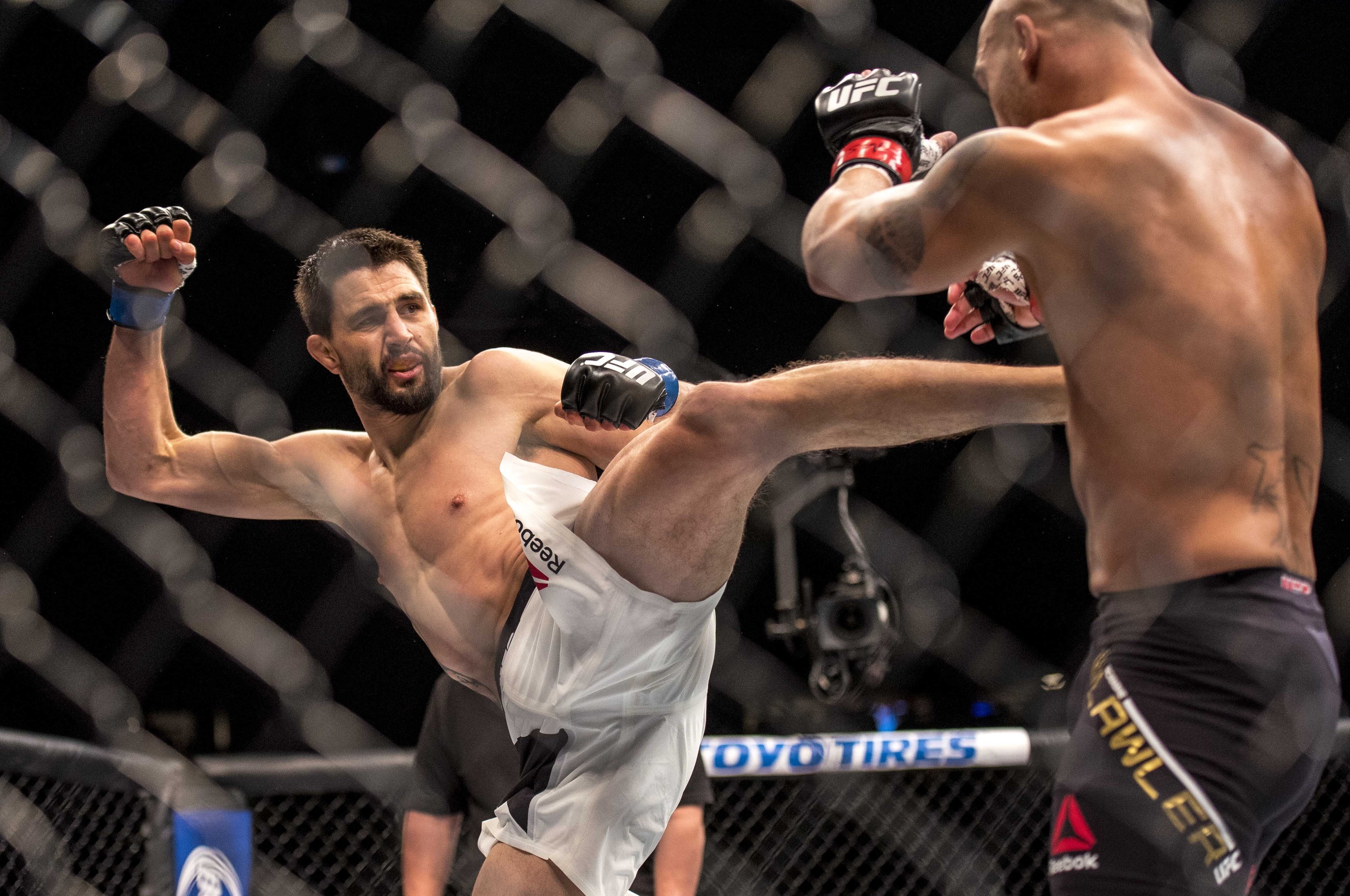 The main event of UFC on Fox 21 is a good one as former UFC interim welterweight champion Carlos Condit returns to the Octagon against former middleweight title contender Demian Maia. Condit last competed in January at UFC 195, losing a highly-contentious split decision to Robbie Lawler in one of the greatest welterweight title fights of all time. Many thought that Condit did enough to win the belt that night, but the judges felt otherwise, and the bad taste of losing made Condit contemplate retirement. Ultimately, he decided to return to the sport, which is great for MMA fans everywhere as Condit, known for his beautiful displays of striking, is one of the sport's must-watch fighters.
For Condit's return bout, the UFC has decided to give him a tough, stylistic matchup against the veteran grappler Maia, who has won five-straight fights and who has looked better and better every time out. Like a fine wine, at age 38 Maia seems to be improving which is hard to believe in a sport like MMA that punishes older fighters, but with his incredible, world-class grappling skills, Maia's longevity makes sense. Condit and Maia are two of the classiest, most-respected fighters in the entire sport, as well as two of the most violent and dangerous. This five-round main event showcase of the welterweight division should produce an incredible fight, and the winner will undoubtedly emerge as a legitimate title contender in one of the UFC's deepest weight classes.
---
2) Pettis Makes Featherweight Debut Against Oliveira
Former UFC lightweight champion Anthony Pettis will drop down to the featherweight division for the first time in his career when he takes on Charles Oliveira in an intriguing co-main event. Pettis had won five-straight fights at 155lbs and was looking like he had the potential to be the all-time lightweight GOAT, but for whatever reason he fell on hard times and lost three-straight fights, which was enough to convince him to drop down a weight class to 145lbs, a move he probably should have made a long time ago. Despite his struggles as of late, Pettis remains a powerful, high-level striker with a dangerous ground game and could be a darkhorse contender as a featherweight.
Pettis' first test in his new weight class comes against Oliveira, the submission expert who always seems on the cusp of title contention before either losing a big fight or missing weight and getting in the UFC's bad books. Still, he's an incredible fighter, and if he can finally get his weight in check and earn a big win over a big-name fighter like Pettis, then he could finally make a run for the featherweight belt. Both of these fighters are extremely skilled and this should be an incredible fight, one that could very well produce a "Performance of the Night" candidate as both fighters always look to finish the fight.
---
3) VanZant Returns Against Rawlings
One of the most popular fighters on the roster makes her return to the Octagon when Paige VanZant meets Bec Rawlings in a women's strawweight contest. VanZant was last seen this past December when she was absolutely thrashed by Rose Namajunas and choked out in the fifth round of their one-sided brawl. After the loss to Namajunas, VanZant took time off to compete on Dancing With The Stars, eventually finishing in second place on the show, but now returns to fighting in the Octagon against Rawlings, who has won back-to-back fights over Seo Hee Ham and Lisa Ellis. Both VanZant and Rawlings are high-paced, exciting fighters, and in a wide-open women's 115lbs weight class, the winner will take another step towards breaking through into the top-10 of the division.
---
4) Resurgent Veterans Miller and Lauzon Rematch
Two Octagon veterans who each picked up knockout wins at UFC 200 meet in a rematch as Jim Miller fights Joe Lauzon in a surefire "Fight of the Night" candidate. Both fighters are 2-2 over their last four fights, both men are 32 years old and both won via first-round TKO at UFC 200 over Takanori Gomi and Diego Sanchez, respectively. The first time these two met, at UFC 155 in late 2012, they put on a show for 15 minutes with Miller ultimately emerging as the winner via unanimous decision. Both men are on a downward slope in their careers and neither is considered a contender anymore, but both fighters are always involved in action-packed fights and the UFC clearly expects an exciting bout from both of them as they have been pegged to open up the main card. If this rematch goes anything like their first fight, then fans are going to be very happy with the result, regardless of the result.
---
5) Four Canadians Make

UFC

Debut
This card takes place in Vancouver, so it's no surprise that four Canadians will make their UFC debuts at this event. The first two Canadians making their debuts on the card are middleweights Adam Hunter (not to be confused with the MMA comedian) and Ryan Janes, who meet on the Fight Pass preliminary card. Janes, a B.C. native, is 8-1 in his MMA career and will no doubt have the crowd behind him, while his opponent Hunter, who hails from New Brunswick, is 7-1 in his career. Both men are 32 so both have waited a long time for the call to the big show, but now that they are here expect both fighters to put on a good show. The other two Canadians making their debuts are Ontario's Alex Ricci and B.C.'s Jeremy Kennedy, who go head-to-head in a lightweight bout that also takes place on Fight Pass. Ricci, a late-notice replacement, is 10-3 while Kennedy is 8-0, and both fighters are known for putting on a good show for the fans. It's nice to see the UFC signing some new Canadian talent, now it's up to the fighters to prove they belong at the highest level of the sport.
---
I am a promoter at DraftKings and am also an avid fan and user (my username is MMAdamMartin) and may sometimes play on my personal account in the games that I offer advice on. Although I have expressed my personal view on the games and strategies above, they do not necessarily reflect the view(s) of DraftKings and I may also deploy different players and strategies than what I recommend above.