This Saturday night's UFC Brisbane Fight Night event looks to be a fun card filled with match-ups that can end up being potential windfalls for daring DraftKings fantasy players. While there aren't title eliminators on the card, there are some bouts that definitely bear paying attention to as far as rankings advancement goes for contendership. Those matches are Neil Magny vs. Hector Lombard and Seohee Ham vs. Bec Rawlings.
While a blowout win from either of the heavyweights in the main event could set up a possible contender climb, it's doubtful that Mir or Hunt would cut the line ahead of the winner of Overeem/Arlovski. Stranger things have happened, though, and if we're very honest here, this sport sometimes values entertainment above rankings, but I digress.
I'm here to give you some ways to make money with your fantasy teams. That means it's time for my Top 4 underdog picks. Let's get down to brass tacks.
---
Filthy Rich is a big welterweight and he actually knows how to use his size advantage pretty well. He's got decent pop and power despite being at a three-inch reach deficit against equally massive Andrade. Walsh fights best in a phone booth and beats the hell out of his opponents with short strikes. He's also got very solid ground game and combines smothering top pressure with good ground & pound. Andrade isn't a bad fighter, but he's not as polished as Walsh, and doesn't use his reach very well. His wild, looping punches lack technique and he's lumbering in his advance.
Prediction: Rich Walsh via 1st Round

TKO
---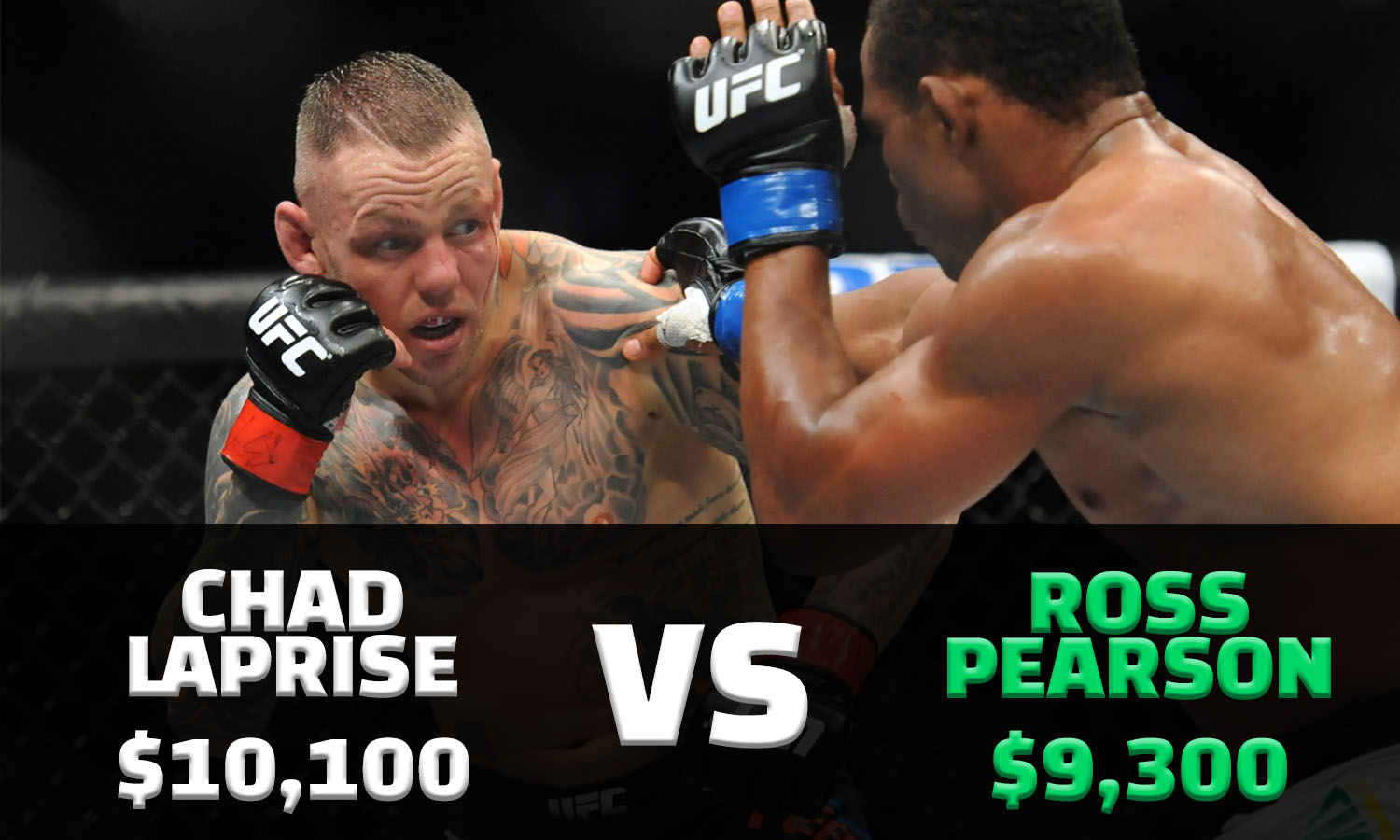 These two share a mutual opponent in Francisco Trinaldo, and what's unique about Trinaldo is that both men are coming off a loss to him. Laprise and Pearson are both TUF veterans with excellent stand-up. I feel that Pearson might be a bit more polished and is pretty durable. His losses are at the hands of a group of distinguished gentlemen, with one of those losses being largely contested by fans and media pundits that felt Diego Sanchez was undeserving of the split decision win he was awarded.
Alas, that was then and this is now, and if you're a bold soul and willing to take a risk, Ross Pearson might just net you a hot bundle of points. With tons of experience against better quality opposition, more polished striking and durability, it's hard to pick against him.
Prediction: Ross Pearson via Unanimous Decision
---
Rawlings has been a question mark to many, but if you consider that the first half of her career was basically a testament to grit and aggression without the benefit of a camp that could help her clean up her skillset, you'll see that she should be given the benefit of the doubt. For the last year and a half, she's called Alliance MMA her training home, and after just one camp last year, there was dramatic improvement that was evident in her win over Lisa Ellis.
Under the tutelage of Dominick Cruz and a gym filled with champion level athletes, Bec feels she finally has the perfect place to hone her tools to become a real threat to every girl in the division, starting with Ham. Ham, on the other hand, is a very game opponent, who is perfectly willing to push the pace and stand in the pocket. Her last outing was a win over Cortney Casey, but many felt Casey should have gotten the nod. Her experience cannot be denied, but when I interviewed "Rowdy" yesterday, she was adamant that Hamderlei's experience is against much smaller, less powerful competition:
"She's got a lot of experience fighting midgets, but she's never fought someone as powerful as me [laughs]. You've fought midgets because you're a 105er and you don't belong in this f$%*ing division and I'm gonna prove that you don't belong here. I'm a big strawweight. I'm a big girl that should probably be fighting at 125 and I'm going to be fighting an atomweight. I definitely feel like my size and strength advantage kind of voids her experience.
She's had a lot of fights, but again, they've been against little people that don't hit as hard. The difference between the people she's fought, even in the

UFC,

is that I'm actually going out there to finish you. I'm going out there to hurt you. I'm not going out there to compete just because I enjoy testing my body. I'm going out there to actually hurt you, and I feel like that's going to make all the difference."
Prediction: Bec Rawlings via 2nd Round

TKO
---
Mark Hunt is a big, sturdy heavyweight with ridiculous power, and when he's on, he's ON. That said, he's had a really rough couple years, and that one-sided mauling that Stipe Miocic gave him will be a series of images that will haunt me for many years to come. He is coming off a win over Bigfoot Silva, but let's face it, Silva hasn't looked good in a long time, so that win isn't as significant as it would have been the first time they fought (fight was a draw).
Frank Mir is also a burly heavyweight, but one that is a bit more agile and in better shape than Hunt, both in the off season and for fights. His ground game is undeniably fantastic and he has experience with putting away opponents much larger than himself. He has KO power and when not faced with Top 4 or 5 level competition, he wins. One thing is certain, this fight has a pretty high chance of ending with someone napping on the job. Remember, fortune favors the brave.
Prediction: Frank Mir via 2nd Round submission
---
If you'd like to have some fun fight night banter, shoot me a tweet. I'm @CrooklynMMA on Twitter.