All bouts have to start with two fighters standing at a distance, and when they do there's always a chance that someone is going to get dropped. Once a fighter scores a knockdown in a fight, their chances of winning rise dramatically, and often it sets up an early finish. That means that identifying knockout potential on a card can mean big points for your fantasy team.
So where does that potential lie among this weekend's competitors? Here is how they stack up in their historical performance of scoring and receiving knockdowns in the cage.
Knockdown Rate here is defined as Distance Knockdowns per Distance Landed Power Head Strike. It's not a perfect metric, but it's a great proxy to understand how those highlight reel finishes happen. The UFC average for Knockdown Rate is 2.3%, meaning there are typically 43 power head strikes landed before a knockdown occurs, each with a 2.3% chance of being the strike that does the job. But there's a lot of variation between weight classes and the individual athletes within them.
For fantasy players, this boils down to knowing who has a good chance to drop their opponent on fight night, and who is most at risk for getting knocked out. In both cases, it's better to be at the top of the graph, and worse to be near the bottom.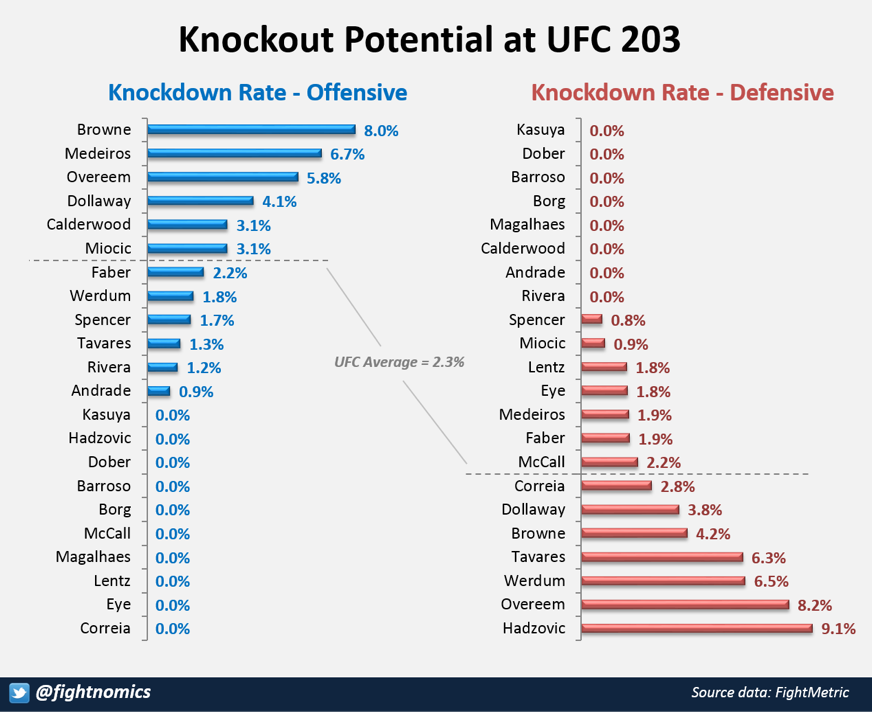 Heavy Hitters
With two heavyweight matchups on the card, it's no surprise to see several of them near the top of the list. And tops among them in terms of power is Travis Browne. The Hawaiian slugger has scored five knockdowns to date at a Knockdown Rate of 8%. He's also taking on the oldest fighter on the card in Werdum, making Browne a live underdog thanks to his knockout potential, despite being the less skilled and less technical fighter.
In the lighter weight classes, Yancy Madeiros has scored three knockdowns at a rate of 6.7%. Neither he nor opponent Sean Spencer attempts many takedowns, so expect them to go toe-to-toe. But while Madeiros packs power, he also has poor defense opening up some risk for him.
Alistair Overeem is one of the most accurate strikers in the UFC, and he's also capable of knockouts, having scored six knockdowns to date. Against Miocic, it will be Overeem's precision against the champ's durability and counter-striking threat. There's KO potential on both sides of the cage in this matchup.
Among the female fighter's on the card, Joanne Calderwood pops up as most dangerous with an above average Knockdown Rate, although a pretty small sample size.
Don't Expect a KO
Of the fighters with UFC experience, ten have yet to score a knockdown from a distance. But among the established matchups, don't expect a KO between Bethe Correia and Jessica Eye. The same goes for Ian McCall versus Ray Borg, neither of whom have scored a knockdown in the UFC. Borg especially has not been very successful in his standup game, so expect McCall to have a striking advantage even if it doesn't end up on a highlight reel.
At Risk for a KO
Newcomer Damir Hadzovic had a rough night in his UFC debut, suffering a knockdown and a loss in just 3.7 minutes. Time will tell if there's a pattern of vulnerability or if he just had a tough matchup, potentially compounded by Octagon Jitters.
And while the heavyweights all pack power, most of them are also vulnerable to it as well. Werdum, Overeem, and Browne are among the oldest fighters on the card, and have each been on the receiving end of some brutal knockouts. Miocic is the most durable of the batch. The combination of power and risk makes both of these matchups more volatile than usual.
Visit Fightnomics for more MMA stats and analysis.
---
I am a promoter at DraftKings and am also an avid fan and user (my username is "fightnomics") and may sometimes play on my personal account in the games that I offer advice on. Although I have expressed my personal view on the games and strategies above, they do not necessarily reflect the view(s) of DraftKings and I may also deploy different players and strategies than what I recommend above.