Las Vegas is the place to be this coming Saturday night, as UFC 197 will kick off at the MGM Grand Garden Arena. The event will feature the return of former light heavyweight champion, Jon Jones in an interim title bout against Number 6 ranked Ovince Saint Preux, as well as a flyweight title bout with reigning champion, Demetrious Johnson and Number 2 seed, Henry Cejudo. The rest of the card is filled with a variety of intriguing match-ups with exceptional entertainment potential.
There is plenty of opportunity to make your DraftKings team show big returns if you're willing to take some chances on the fighters, and trust me, there are some live dogs on this card. Let's get started with this week's underdog breakdown.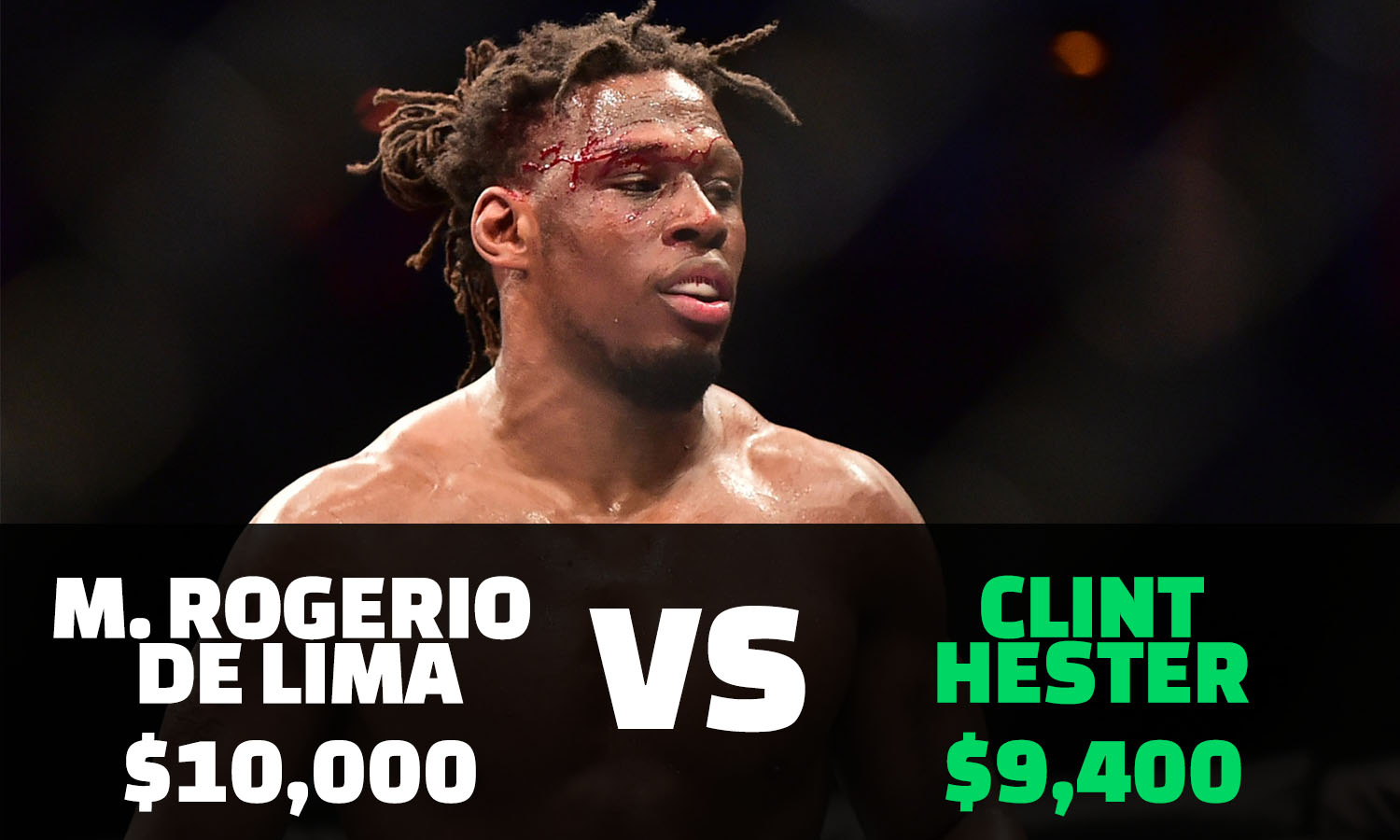 Clint Hester has the makings of a great fighter, but has struggled in his last two fights to put it together in a winning combination when stepping up in competition. With the possibility of being cut from the roster with another loss, I believe there will be a real fire lit under him to perform at his best, something I don't think we've seen yet. He has real power and a good striking game, which works well with his very capable wrestling. de Lima's UFC wins are against fairly equal competition to the UFC wins Hester holds, and like Clint, he is vulnerable when taking a step up against better quality opponents. There's a reason the values on these two are so close, but I believe Hester will have that "Fear of a pink slip" advantage that will make him pull out all the stops.
Hester via Decision
---
Lima and Esparza have both faced and lost to strawweight champ, Joanna Jedrzejczyk, but their fights were vastly different. Lima, while beaten very handily, took Joanna to a decision, and Esparza was absolutely destroyed inside two rounds. That's the kind of loss that can bring on a crisis of confidence. The other factors we need to look at here are Lima's aggressive ground game and solid technical striking. She's got a significant height & reach advantage and should be able to nullify Carla's wrestling which is her biggest weapon. This fight should be an entertaining one, with plenty of scrambles on the ground, but I'm confident that Lima will be able to edge Carla out here.
Lima via Decision
---
Kelades is a talented fighter, albeit a little bit raw. He's got good striking and a good ground game, and holds wins over tough Irish staple Patrick Holohan and TUF prospect Chris Beal. The thing that's awesome about Chris is that he's a spoiler, an upsetter of apple carts. He wins when he's not supposed to because he makes risky moves that pay off, where Pettis is a much more conservative fighter and almost seems like he prepares specifically to go the distance. While he looked good against Cariaso, I feel like Kelades is going to be bringing in another can of "upset" with him to the Octagon.
Kelades via Decision
---
Andre Fili's bread and butter is his crisp striking and aggression. He's pretty well rounded and keeps a very high energy pace, which should help him avoid the leg kicks of Rodriguez. He needs to control the distance and basically keep this fight in a phone booth. On the ground, both men are capable grapplers, with Yair utilizing the wrestling-centric AKA to polish up his skillset, while "Touchy" still trains with Team Alpha Male. This is a bout that has FOTN potential, but Fili's pace and pressure should net him the victory over the less experienced Rodriguez.
Fili via Submission