Whistling Straits in Sheboygan, Wisconsin, on the western shore of Lake Michigan, plays host to the PGA Championship for the first time since 2010, beginning this Thursday morning. All the best players in the world are on hand for the year's fourth major, as the season actually starts to ramp up heading into the final stretch. You'll have plenty of decisions to make, so here are some players to consider, at every price range. Good luck!
Enter the PGA $3.3M Millionaire Maker – $20 Entry >> DRAFT NOW!!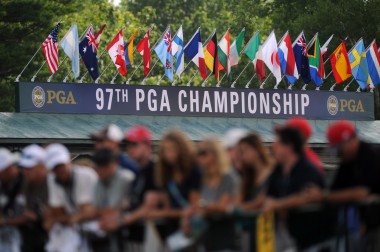 High-Priced
Jason Day ($10,800) – Day finally seems completely healthy, and is looking to finally break through with his first major championship. Coming off a run of T9 (US Open) and T4 (Open Championship) followed by a win in Canada and a T12 at Bridgestone, his game looks sharp enough for him to do exactly that.
Adam Scott ($10,200) – Day, Scott, Rose – those are some great names in golf – top options, every time. And yet, lately, when you pick them, there is some small part of you that wishes you had that extra couple-two-three thousand you'd need to grab Spieth or McIlroy – the "real" elite. And I get it. Spieth and McIlroy are incredible – both of them. But with top-10s at both of the last two majors, I hope Scott has proved he doesn't just have it in him to compete with the very best – he is among the very best.
Justin Rose ($10,000) – Continuing the topic from above – you aren't "settling" for a player like Justin Rose. Sure, Spieth and McIlroy's games are almost majestic, with perfectly shaped shot after perfectly shaped shot, with high trajectories and soft landings. But that is Scott and Rose, et al, too. And on this course, the whole point is hitting the green – it doesn't matter how you get there. And Rose has continued to demonstrate that he knows how to leave himself in positions to card birdies – if four out of five tournaments inside the top-6 on the final leaderboard (including two majors) doesn't prove that to you, nothing will.
Henrik Stenson ($9,700) – My personal pick to win this tournament, Stenson's game is a perfect fit for this course. The leader in GIR % and 5th in Strokes Gained: Tee to Green (two stats you would know I thought were important this week if you took at a look at my PGA Insights), Stenson has the kind of rock-solid consistency he'll need to just keep hitting greens all weekend long. He hadn't had a top-20 performance in a PGA event since THE PLAYERS (although he did have a T17 and a solo 2nd in June in European Tour events) until this past weekend, when he came through with a T6 at the WCG-Bridgestone Invitational, just the confidence-booster he needed heading into this one.
Mid-Priced
Louis Oosthuizen ($9,100) – He's come through big in big spots all season long, with a T2 in each of the last two majors (and a T19 back at Augusta), and, frankly, he is just inexpensive enough that "just" a top-20 keeps him from feeling like a bust in your lineup. You might be hoping for more, but he has a solid chance of delivering you something useful, at least.
Matt Kuchar ($8,300) – He finished T10 here back in 2010, closing at -7 after firing a 67-68 on Thursday and Friday. Clearly he has the game to score well on this course, so the question is whether he's playing well enough right now to actually do that for four straight rounds. The top-25 performances in three of his last four tournaments leave me feeling… encouraged.
Jim Furyk ($8,100) – I honestly have a hard time picturing myself building a lineup for this weekend that doesn't have Furyk in it. He led after Saturday last weekend, and then shot a 72 on Sunday to finish up with a T3. That was on the heels of a solo 4th in Canada, and was his third top-5 performance in his last five tournaments. Third overall in Strokes Gained: Tee to Green, his consistent ball-striking will be exactly what he needs to take advantage of some very hittable fairways and consistently put himself in a position to pick up strokes.
Hideki Matsuyama ($8,000) – Before he closed out at T37 last weekend, he had secured eleven straight top-25's. ELEVEN. He plays the way the designers of this course clearly want people to play here: he just keeps hammering greens, all the time. Not the longest, but long enough to usually leave himself in good position off the tee, he then has the consistency with every club in his bag to do what he needs to at least give himself a chance to score (which happens to be exactly what fantasy players are looking for, as well, conveniently enough).
Low-Priced
Paul Casey ($7,400) – Top-10 in both GIR and Strokes Gained: Tee to Green, he will need to play consistently for four straight days to really compete for a title in this one. He might not have the game to recover from bad shots on a course with the challenges presented by Whistling Straits, but he might not need to if he is striking the ball with authority. Clearly, right now, he is capable of doing just that, as evidenced by the closing-round 67 he shot at Bridgestone to end up T17. He comes by his 70-point fantasy average honestly, without a ton of downside – valuable at this price (13 of 17 cuts made this season, including six straight).
Danny Willett ($7,200) – He finished T6 at St. Andrews and T17 at Bridgestone, and in between he travelled to Switzerland to win the Omega European Masters against a field that included several players who might be on your radar for this week (such as Sergio, Jamie Donaldson, Lee Westwood, or Patrick Reed). In other words, he's playing well right now, and flashing the kind of control on very different courses that could translate well this weekend.
Robert Streb ($6,800) – With the way he has been playing lately, you almost expect him to be a lot more expensive than this. He has four straight top-20 performances, and seven of eight (T42 at the US Open being the only outlier). He is averaging just over 90 fantasy points per tournament for his last four, carding at least fifteen birdies in each of those efforts (22 at the John Deere Classic and another 21 last weekend at Bridgestone).
Russell Knox ($6,700) – 6th in GIR % and 20th in Strokes Gained: Tee to Green, this is nothing but me putting my money where my mouth is – I have said repeatedly now that those stats are important, and if anyone is going to personify that, it's Knox. I am just going to be hoping he drills a few putts to make all those GIRs count.
Good luck!