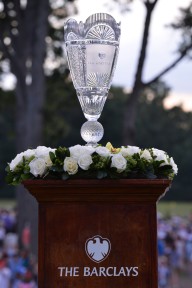 The Barclays – round 1 of the FedEx Cup Playoffs – tees off on Thursday morning from Plainfield Country Club in Edison, NJ. The first thing you will think as you start to peruse the DFS options available to you for the first time is the number of immensely talented golfers priced in mid-range and even low tiers, just based on the depth of quality in this field. And the second thing you'll think is "this changes everything."
Enter the PGA $425K Drive the Green – Only $3 Entry >> DRAFT NOW!!
The difference between this tournament and any of the majors is that the bottom of the field isn't cluttered with a bunch of players who made it in through some weird exemption but are not really expected to compete. These are – with a few exceptions – the 125 golfers in the world playing the best golf right now. And this means that you are going to be able to come up with reasons to like players buried pretty deep in the rankings.
If you read my PGA Targets column for this weekend, you might have noticed one conspicuous absence: Jordan Spieth. I didn't leave Spieth off the list because I hate him. But I also didn't decide to leave him off the list because he was just too obvious or anything like that. I considered him for the list, as I should have, and as you should for your lineups – I mean, he is the best golfer in the world right now. But after I considered him, I decided that it was the wrong move to get him active in my lineup, and I wanted to pass that realization on to you. Whether you follow the path I'm blazing is up to you, of course.
I left him off the list because he is just too expensive for my taste when there are this many quality options competing with him. Sitting there at a 10% premium over the second priciest golfer on the list (Jason Day, a man with two wins in his last three tries), too much of his incredible ability is baked into that price.
What it comes down to, is that you roster Spieth because he is the safest guy on the board, the surest thing. He's got 15 top-10's, he finished no worse than T4 in any of the majors, etc, etc. You know it all. So, he's safe. But you're picking him for safety, and paying for his upside. No matter how good he is, he can't do any better than winning the tournament, and if he is on your roster, and he wins, great – but you paid for it. So unless your picks further down your lineup were also solid, it's not going to have done you any good having Spieth out there performing for you. And if he doesn't win, you overpaid.
And there is one big upside to stepping down a notch for your most expensive guy, saving a couple grand on a player like Justin Rose (working on a string of top-10 finishes himself), or even just the $1,100 you can save by "downgrading" to Jason Day, winner of two of the last three PGA events he has played in. That upside is that very depth of field – for every dollar you save, you are giving yourself more options for the rest of your roster. And these are not bad options – they might include players like Furyk, Matsuyama, Snedeker and Mickelson, all priced under $9K. Or you could go for more recent performers, such as a Danny Lee or a Robert Streb, both of whom have shown – recently – that they can consistently compete with anyone, and who are priced under $8K.
No matter which way you go, have fun watching all weekend – I hope you're in it until the end. Good luck.