In this article I give six recommended plays each for the Noon ET and 7 PM ET slates of Saturday games. Within the six recommendations for each slate, three are "Paying Up" plays (top-12 salaries at their positions), and three are "Digging Deep" plays (non-top-12 salaries at their positions).
EARLY SLATE

: Noon ET
QUARTERBACKS
Paying Up: Greg Ward, Jr. (Houston): $8,800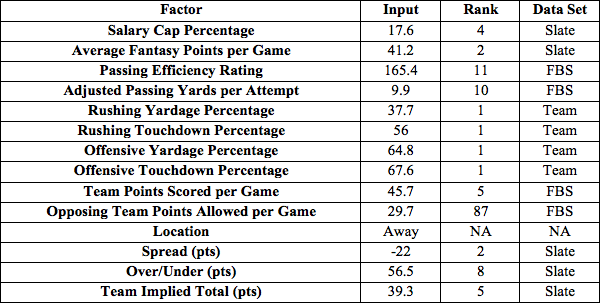 I prefer Seth Russell of Baylor, but Russell is also $600 more expensive than Ward and has outscored him on the season by only a little over a point per game. Of you are looking for an elite quarterback but don't want to pay the absolute highest price for him, then Ward is your guy. Although Ward is a respectable thrower, averaging 253.8 yards passing per game and placing among the top in the nation in terms of total efficiency, what really distinguishes Ward as a player is his rushing capability. He leads the Cougars in yards rushing with 637 and all of the Football Bowl Subdivision in touchdowns rushing with 14.
Playing on the road against the 0-7 Central Florida in Week 8, Houston is heavily favored and has a very good chance of exceeding its already high implied point total, given UCF's struggles on both sides of the ball. Houston has never scored fewer than 34 points and should have the opportunity to score more than 40 since UCF should have difficulty sustaining drives. And Ward has an incredibly high floor, having never passed for fewer than 222 yards and rushed for fewer than 77 yards. Additionally, he has never scored fewer than three combined touchdowns in any game.
Ward should comfortably be able to accumulate 235 yards passing, 85 yards rushing, and three total touchdowns. He has the upside to pass for 275 yards, to run for 125 yards, and to score five touchdowns.
Digging Deep: Tommy Armstrong, Jr. (Nebraska) – $6,100
I don't love this pick. I am interested in Indiana's Nate Sudfeld, who is a better quarterback but has an inferior matchup, and I am also interested in Texas' Jerrod Heard, but his matchup isn't any better than Armstrong's and despite being a better runner Heard is a limited passer. Armstrong, meanwhile, is an uninspiring choice, but he has a comparatively high floor and a more certain projection. Only once in seven games has he failed to score multiple touchdowns and only twice has he failed to rush for more than 35 yards. He's not going to win anyone's matchup, but he has a decent chance in cash games of doing well enough to earn his salary.
The primary reason Armstrong is preferable to other quarterbacks without top-12 salaries is that Nebraska is favored to beat Northwestern by more than a touchdown at home. Of all the non-elite quarterbacks with such favorable circumstances, Armstrong has been the best to this point in the season, and the Cornhuskers do have a respectable implied point total. There is some danger in this matchup, as the Las Vegas lines are going against what some of the numbers would suggest — for instance, Northwestern has been stingy on defense despite its two recent losses — but if Vegas is correct than Armstrong should do well along with the Cornhuskers.
Given the matchup, his role in the offense, and the Vegas lines, Armstrong has an excellent chance of passing for 275 yards, running for 50 yards, and scoring three touchdowns.
---
RUNNING BACKS
Paying Up: Derrick Henry (Alabama): $8,200
Henry is the best running back in this slate, and it's not even particularly close. He is Alabama's offense. Running backs on the team collectively have 13 touchdowns rushing, and 12 of those are his. His 970 scrimmage yards more than double the 437 belonging to WR Calvin Ridley, who is second on the team. And Henry's 12 touchdowns from scrimmage quintuple the three touchdowns that Ridley and WR Richard Mullaney both have as the team's second-leading scorers. Right now, Henry is one of the top-five running backs in the FBS.
Playing at home, Alabama is favored to beat Tennessee by more than two touchdowns and has an implied point total of almost five touchdowns, which should facilitate the positive game flow on which workhorse runners like Henry thrive. Only once has Henry touched the ball fewer than 15 times this season, and that occurred in a 34-0 blowout victory in which Henry scored the game's first touchdown and then saw limited action thereafter. In every other game of the season, Henry has scored at least one touchdown and rushed for at least 95 yards.
In week 8, Henry has a strong chance of reaching 100 yards and a touchdown, and he always has 150-yard, two-touchdown upside.
Digging Deep: Johnny Jefferson (Baylor): $4,000
I have been a hit-or-miss decision maker when it comes to using backup running backs participating in high-scoring blowouts, but the numbers are compelling when it comes to Jefferson. He has been the primary backup to starting RB Shock Linwood for the last three games, and he also has been notably productive in Baylor's first six games, with more scrimmage yards and touchdowns than starting WR K.D. Cannon. In fact, in the five games that Baylor has won by at least 28 points, Jefferson has averaged 10.6 touches per contest for 73.2 yards and 0.8 touchdowns. In four of those five games he has scored. In three of those games he has over 80 yards.
Baylor is a 37-point favorite at home against Iowa State, with the slate's highest implied point total. This advantageous matchup should afford Jefferson the opportunity to produce at a high level, as he has done in comparable games throughout the season. This is the kind of game in which a competent backup running back would be likely to accumulate substantial production.
Jefferson is likely either to get good yardage and a touchdown or to do nothing in this game, so he's a dangerous cash game play, but he has some sneaky potential in tournaments. He has a decent chance of rushing for 60 yards and scoring a touchdown, and he also has 100-yard upside.
---
WIDE RECEIVERS
Paying Up: Corey Coleman (Baylor) – $8,600
It's another week and Baylor is playing a game this weekend, which means that it's time for me to recommend Coleman, who has officially become my 2015 college football obsession. He's more expensive than he was last week, and he is $600 more expensive than Bowling Green State's Roger Lewis, the second-most expensive and productive receiver in the slate, but Coleman is worth the expense. He is an outsized 8.8 points per game more productive than the Lewis and 13.9 points per game more productive than the slate's third-most productive receiver, Tajae Sharpe of Massachusetts. Basically, until Coleman is more expensive than the slate's top quarterback, he should be in lineups.
Not only does Coleman lead the FBS in touchdowns receiving by an obscene margin despite having already taken his bye week, but Coleman is also amazingly consistent. He has scored fewer than two touchdowns in a game only once and fewer than three touchdowns only twice. He is yet to have fewer than 100 yards receiving in any game. Again, Baylor has a highly advantageous matchup at home against Iowa State, and given his role within the offense and Baylor's slate-leading implied point total Coleman should continue to produce.
In Week 8, Coleman has a strong chance of accumulating 125 yards and two touchdowns. As always, he has 175-yard, three-touchdown upside.
Digging Deep: Drew Morgan (Arkansas): $4,600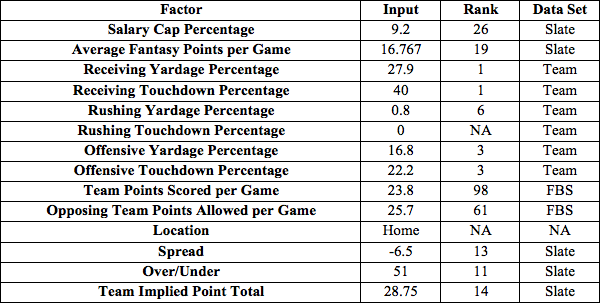 Morgan is one of this slate's clearly undervalued players, being available at a discount to his 2015 production, but he is even better than his seasonal numbers suggest. Although he leads Arkansas in every major receiving category with a 27-428-4 stat line across six games, Morgan has been the team's lead receiver for only the last four games, with early-season stud Keon Hatcher's Week 2 foot injury. Since ascending to Hatcher's offensive role in Week 3, Morgan has 21 receptions for 325 yards and three scores. Over that timeframe, he has at least four receptions and either 100 yards or a touchdown in each game.
Arkansas is a 6.5-point favorite at home against Auburn with a respectable implied point total. Since the Razorbacks are 1-3 in the last four games, Morgan is a relatively matchup-proof receiver, and he has accounted for 27.3 percent of the team's touchdowns in the last month.
Morgan has an excellent chance of finishing Week 8 with at least 50 yards and a receiving score, and he also has 100-yard upside.
---
LATE SLATE

: 7 PM ET
QUARTERBACKS
Paying Up: Chad Kelly (Mississippi) – $7,000
This slate (of only nine games . . .) doesn't offer the same quality of top-tier passers as the early slate, but Brandon Doughty of Western Kentucky and J.T. Barrett of Ohio State are good options. I expect that the Hilltoppers will do better against Louisiana State than people anticipate, and we saw in 2014 what Barrett was capable of in his Heisman-caliber campaign. Still, my preferred top-12 play this week is Kelly, who is available at a discount to his 2015 production and is especially a strong play considering that he is something of a statistical bully at home and in victories.
At home, Kelly averages 3.25 touchdowns per game. Away, he has 2.3 per game. In wins, Kelly has 3.4 touchdowns per game. In losses, 1.5 per game. These numbers are especially pertinent since Arkansas is a 5.5-point favorite at home against Texas A&M. In a game with the slate's second-highest over/under, Arkansas has the slate's fourth-highest implied point total. Kelly should have lots of opportunities to accumulate numbers as both a passer and an undervalued runner in what is likely to be a shootout.
In Week 8, Kelly has a good chance of getting 300 yards passing and three touchdowns. He has 375-yard, four-touchdown upside.
Digging Deep: Brandon Harris (Louisiana State) – $5,800
Out of all the quarterbacks with non-top-12 salaries, Harris is the one with the most Week 8 potential. He is priced basically at his 2015 production — which is fairly unimpressive, considering that he averages only 135.3 yards passing, 26.7 yards rushing, and 1.5 touchdowns per game — but his price doesn't seem to take into account the upside that Harris has because of his matchup or his 2015 history of performances in comparable games.
LSU is a 16.5-point favorite at home against Western Kentucky, with a 41.5-point implied game total in the matchup with the slate's highest over/under. This should be a high-scoring game, and in LSU's three previous 2015 contests in which it scored five to six offensive touchdowns Harris averaged 168 yards passing, 30.3 yards rushing, and 2.3 touchdowns while accounting for 41.2 percent of LSU's offensive scores. Those numbers aren't elite, but they are good enough to suggest that Harris could be a functional quarterback at his low cost of acquisition.
Against Western Kentucky, Harris has a decent chance of passing for 200 yards, rushing for 20 yards, and scoring two touchdowns. He does have three-touchdown upside.
---
RUNNING BACKS
Paying Up: Ezekiel Elliott (Ohio State) – $8,100
Elliott is fairly valued in that he is priced at his 2015 production, but his current pricing doesn't seem to take into account that his past production occurred in an underperforming system quarterbacked by Cardale Jones, not J.T. Barrett, whose reclamation of the starting quarterback position should benefit Elliot tremendously. Given Barrett's abilities as a runner, Elliott should have less defensive attention focused on him. He should find easier running lanes, and he should have more opportunities for touches as drives last longer. If Barrett's return to the starting lineup can give extra juice to OSU's offense — and it should, as Barrett has the slate's third-highest quarterback salary — then Elliott may be able to put up Leonard Fournette-caliber production at a $1,700 discount.
As it is, even without projecting an increase in production, one has to like Elliott's Week 8 prospects. OSU is a 21.5-point road favorite to Rutgers, expecting to score a lot of points in a generally high-scoring game. This game should afford Elliott plenty of opportunities early and late for the accumulation of yards and goal-line touches. On the season, Elliott is averaging 21.1 carries and 2.9 receptions for 159.9 yards and 1.6 touchdowns per game. There's no reason why this week his performance should drastically deviate from that standard.
In Week 8, Elliott has a good chance of accumulating 135 scrimmage yards and scoring a touchdown. Every week he has 200-yard, three-touchdown upside.
Digging Deep: Dwayne Washington (Washington) – $3,300
This is not a cash game play. This isn't even a GPP play if you're the type of person who uses only a couple of GPP lineups. This is a "we have no idea what is going on" play, and because almost everyone is likely avoiding Washington (both the player and the team) if Washington does well the GPP benefit could be tremendous. In case you don't know — last week, in pre-game warmups, Washington injured his knee and missed the game. His status for this week is unclear, although it is believed that his injury will not impact his over the long term.
Because of the uncertainty surrounding this situation with Washington, the Vegas books are not accepting bets on this game (as of Friday morning). No lines currently exist, and no formal favorite has been determined, although Stanford would normally be the favorite to win this game. Again, because most DFS players will avoid this situation, Washington presents an intriguing GPP play for opportunistic tournament entrants.
When Washington is active, he is the best player on the Huskies and a top-ten option at his positon. At his price, he is worth the gamble in a couple of GPP lineups.
If he plays, Washington has 120-yard, two-touchdown upside. Again — he is only for GPPs.
---
WIDE RECEIVERS
Paying Up: Leonte Carroo (Rutgers) – $6,900
As the slate's most productive and expensive receiver, Carroo is probably cheaper than he should be, especially given that he is 4.7 points per game more productive than Western Kentucky's Taywan Taylor, the slate's second-most productive and third-most expensive receiving option. Perhaps Carroo's salary is relatively devalued because, although he has been productive, he has played in only 3.5 games this season, missing the first half of one game and two full games subsequently due to suspensions. But in his four appearances, Carroo has been electric, with 5.3 receptions for 118 yards and 2.3 touchdowns per game — and his four-game onslaught is no fluke, as he led Rutgers last year in all major receiving categories with a 55-1,086-10 stat line. And this year, despite missing 2.5 games, Carroo still leads the entire team in receptions, yards, and touchdowns. When active Carroo has been a beast.
Rutgers is a big underdog at home to Ohio State, and Carroo should see a lot of targets as the Scarlet Knights attempt to keep pace with the Buckeyes. Even with Rutgers not expected to score a lot of points, Carroo should still be productive because he is such a huge part of the offense whether Rutgers is in positive or negative game flow.
One issue to monitor is that Carroo injured his ankle last week. He is questionable but expected to play. If you don't like using players who have injury concerns, you should avoid Carroo. Also, it's possible that if the injury lingers then Carroo could be less effective than he usually — which he almost certainly will be anyway, because no one (except for Corey Coleman) can keep up Carroo's production pace. Still, be aware of the injury issue — and maybe use Carroo only GPPs.
Digging Deep: Malachi Dupre (Louisiana State): $4,100
Dupre is available at the slightest discount to his seasonal production, but that's not really why you should want him. Instead, you should roster him because over the last month he has become the clear lead wide receiver on this team, with 3.8 receptions for 70.3 yards and a touchdown per contest. In three of the last four games he has had at least 70 yards and a touchdown. If I believe that LSU QB Brandon Harris is likely to do well in Week 8, then I should probably believe in his lead wide receiver — because if Harris throws even just one touchdown the odds are high that Dupre will be the guy catching the ball.
Given that LSU is a 16.5-point favorite at home against Western Kentucky and projected to score 41.5 points, the odds are high that LSU will have at least one touchdown receiving in this game, and that score along with most of the receiving production will likely go to Dupre if recent trends hold true. He doesn't have a high realistic ceiling, but the points he has a high probability of accruing in this matchup at a minimum should make him a value play at his salary. Although he is cheap and fairly unknown, Dupre is actually a pretty strong receiver for cash games.
Against Western Kentucky, Dupre has a good chance of catching four passes for 65 yards and a touchdown, and if Harris gets hot and throws multiple touchdowns then Dupre will have 90-yard, two-touchdown upside.