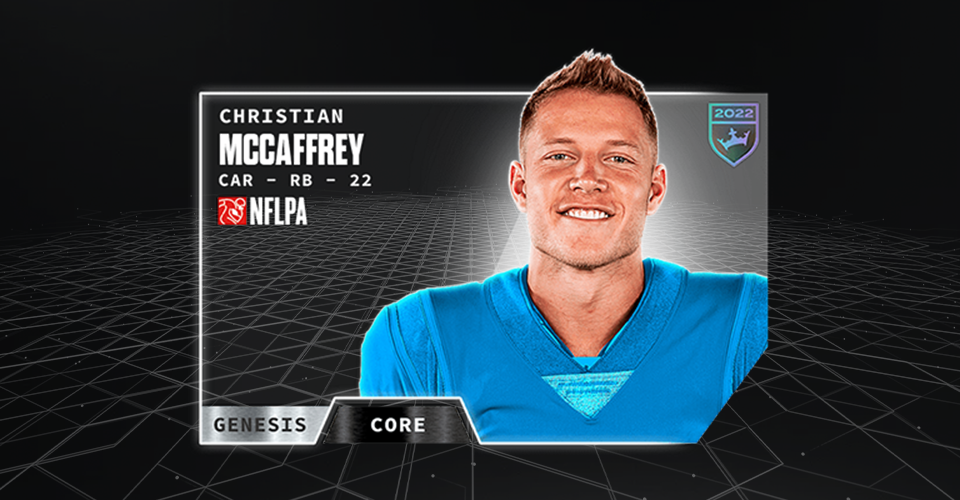 Growing Your Franchise
The 2022 Field Pass
The 2022 Field Pass is not required to play the Reignmakers Football game. Holders of the Field Pass do, however, receive significant benefits throughout the Reignmakers Football season.
The Field Pass exists at the CORE (of /7500), RARE (of /2000), ELITE (of /500), LEGENDARY (of /200), and REIGNMAKER (of /20) tiers. Passes are available in the Field Pass Collection on DraftKings Marketplace.
Passholders will receive a variety of benefits and rewards all season long, including presale access with rebates on presale packs, Franchise Score boosts, swag, and other rewards. A full overview of the rewards and benefits are below: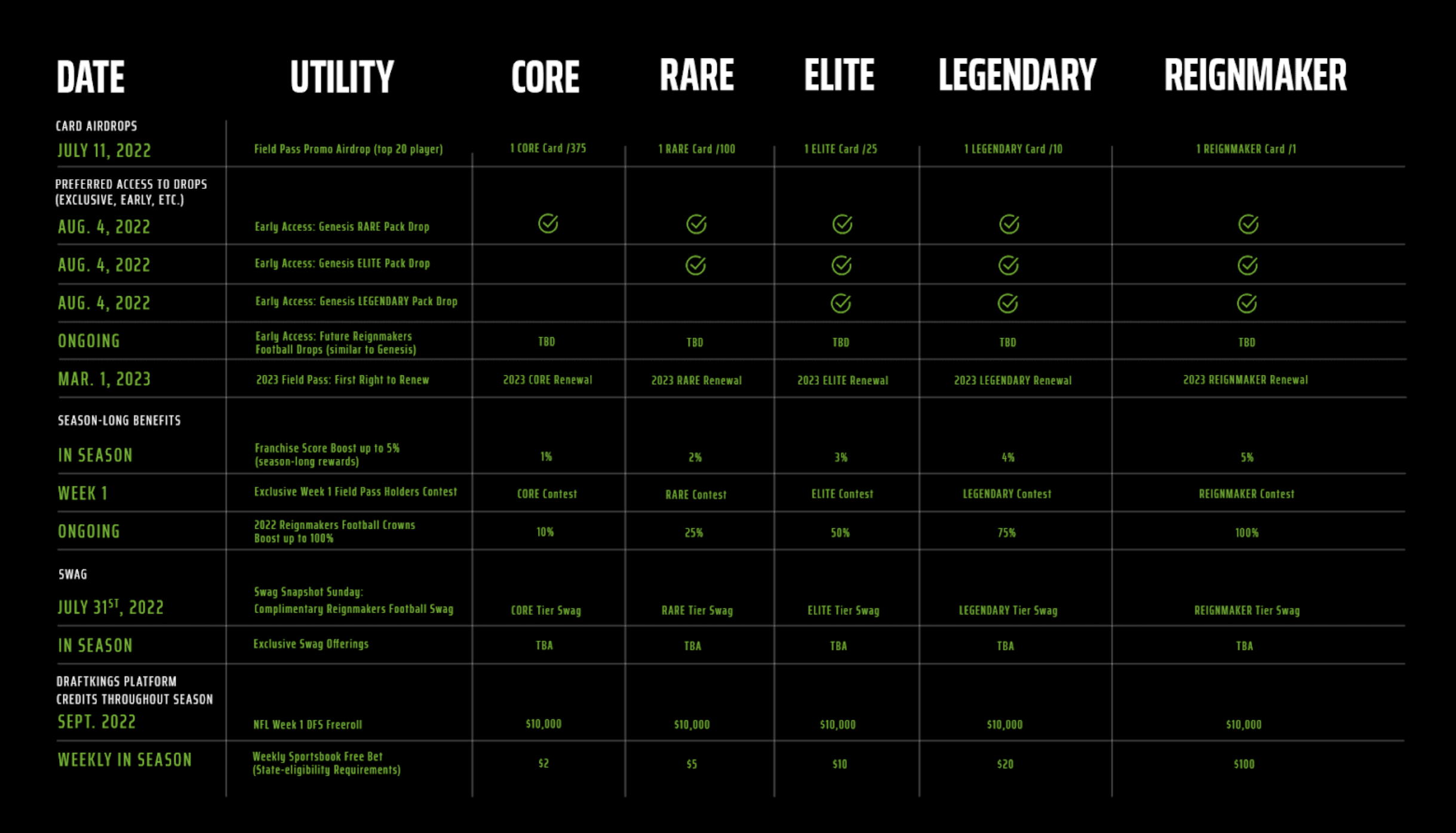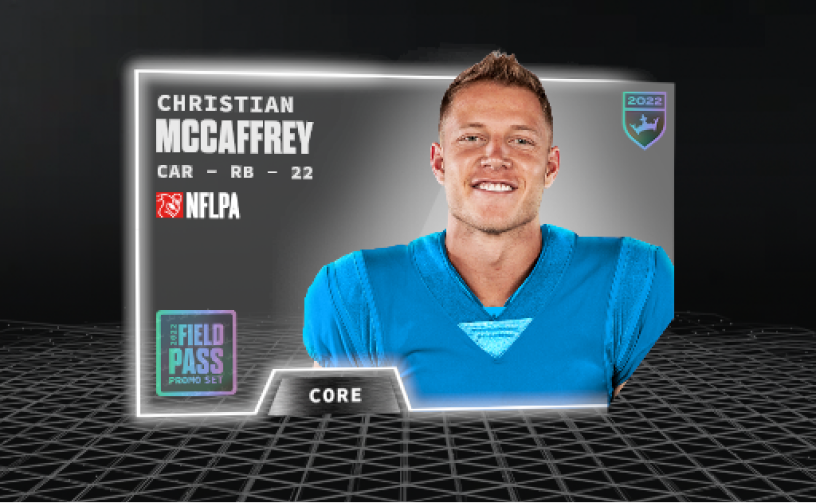 Get more Player Cards
Opening Packs is one of the best ways to grow and and improve your Collection. There are many different types of packs available for Reignmakers Football in the DraftKings Marketplace, which contain various numbers of cards and quality of cards from different Sets. Packs can be bought during Premium drop events, they can be bought from other players' listings in the DraftKings Marketplace, or you can always pick up some CORE Booster Packs.
Premium Drops: The majority of Player Cards are distributed through Premium Pack Drops, such as the GENESIS or ELEVATE Sets.
CORE Booster Packs: For $19.99, you can purchase a pack with 3 CORE cards, with a 50% chance of one being RARE.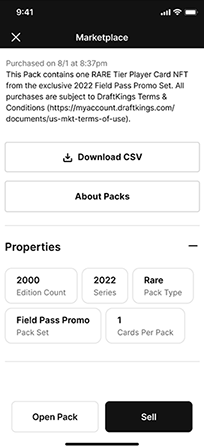 Win Auctions
Auctions will be offered at scheduled times, usually during Premium drop events, to offer Player Cards. Auctions will often consist of very premium offerings, such as REIGNMAKER tier Player Cards.
Buy and Sell in the DraftKings Marketplace
The Reignmaker Football section of the DraftKings Marketplace allows you to list any of your Packs or Player Cards for sale, and allows you to browse Packs and Player Cards listed for sale by others.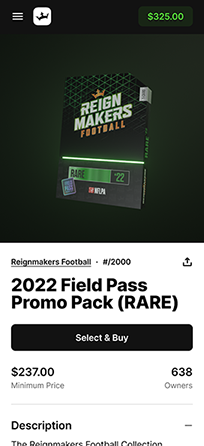 Win FREE Player Card NFT Prizes
Many thousands of Prize Packs will be given out as prizes in no-fee Contests, and can also be earned through rewards and promotions.
BUILD: Navigating Packs on DraftKings Marketplace

Reignmakers Football packs are exclusively on DraftKings Marketplace. The most common way of obtaining packs is participating in scheduled drop events, which show up on the Drops page in advance. On that page, there Pack Details show, including a link to download a file containing the "checklist" of athletes and rarities that could potentially be pulled from the pack's Player Cards.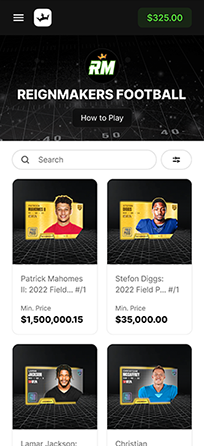 You can hold, list for sale, or open any of your Packs. To open a pack, you simply click "Open Pack" from the Pack Details page. From there, you can choose to reveal each card individually, all at once, or skip the reveal completely.
BUILD: Browse Player Cards and Packs for Sale by other Players
You can find many listings of Reignmakers Football Player Cards and Packs on the Reignmakers Football Collection page in DraftKings Marketplace. You'll be able to search active listings to find the players or packs you would like, and you can buy them instantly.
To find Player Cards you are looking for quickly, you can toggle between packs and Player Cards, filter by rarity tier, set, attribute, and more.
You can also search by player name to find the player you want for any particular contest.