How to Play Reignmakers Fantasy Football
Reignmakers fantasy is similar to classic daily fantasy sports but with a twist, you can only draft players you own Reignmakers cards for.
The fantasy football game for Reignmakers Football lives inside the DraftKings Fantasy Sports app. If you've played Daily Fantasy Sports on DraftKings before, it's the same app you have already.
In each of the 22 weeks of the 2022-23 Football season, including the playoffs, you will have your choice between dozens of different no-fee Reignmakers Football contests with various prizes.
Contest offerings will include Classic (multiple games) and Showdown (single game) formats, as well as contests requiring different Player Card NFTs across all Rarity Tiers - from CORE to REIGNMAKER.



There will also be certain special contests where enhanced prizing is offered to holders of certain NFTs each week. For example, in Week 1 of the 2022 season, the special contest theme is focused on 2022 Field Pass Holders.
To compete in Reignmakers Football fantasy contests for prizes, you must be in a state or province where DraftKings offers real-money Daily Fantasy Sports.
Card Rarity and Contest Gating
All Reignmakers cards have a series of properties associated with them and these properties impact the way you play the game
Card rarity is the most commonly used property to gate contests. Every contest will have rarity rules tied to entry.
In the Reignmakers Football game, the player card NFTs will be from five (5) distinct rarity tiers. The rarity tiers were initially introduced in the 2022 Field Pass release. In order of least to most scarce, those tiers are CORE, RARE, ELITE, LEGENDARY and REIGNMAKER.

Holding scarcer NFTs matters in the fantasy game because contests have scarcity requirements to field a valid lineup. In short, the scarcer your collection of NFTs, the more exclusive contests you'll have access to.
Take a look at the graphs below to see how the rarity of your cards determines which contests you can enter. The higher up in contest tiers you go, certain card rarities will no longer be eligible for your roster (e.g. CORE cards aren't eligible for any contests above the RARE tier, etc).

Contest Example: Elite Tier Contest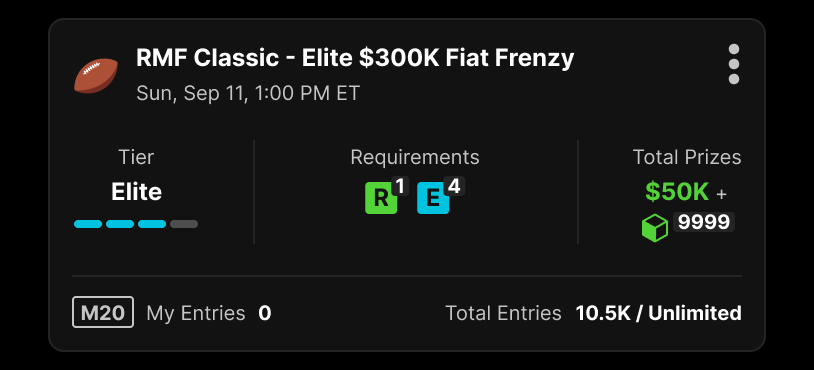 In this contest example, there are multiple required rarities to enter.
Must draft at least one (1) rare or higher rarity card
Must draft at least four (4) elite or higher rarity cards
Other lineup requirements may be introduced throughout the year, such as contests that can only be entered by lineups with Cards from a specific drop (e.g. Field Pass Airdrop cards).
Superstar Cards
The Superstar property is created at the beginning of the season and may be updated throughout the year based on individual player performance. 
Each contest will have a limit where you can only draft 1X player per lineup who qualifies as a "Superstar".
Additionally, when considering the Superstar player attribute, not only is your roster limited to having only one Superstar, but your Superstar player card must also be eligible for the highest rarity tier of the given contest. This means if the contest is at the Legendary tier but allows both Elite and Legendary cards, the superstar you play must be of the Legendary rarity or higher.

Superstar cards are shown with a STAR icon next to them in the draft experience.
Game Scoring, Rosters & Contest Types
Classic Contests
Classic contests are multi-game slates where you can complete your lineup from a number of different football games. The roster format for classic contests is:
QB, RB, WR, WR/TE, FLEX
*Note: In classic contests, FLEX players can be any RB, WR, TE, K or defensive player

To complete your lineup, you'll need to draft at least one player from two different teams in the contest.


Showdown Contests
Showdown is a single-game contest where the rosters will have a CAPTAIN position, which gets a fantasy score multiplier, and FLEX positions.
For Reignmakers football, Showdown slates will typically be available for all primetime games each week (TNF, SNF & MNF).
CPT (FLEX), FLEX, FLEX, FLEX
Notes:
FLEX players can be drafted from any position (QB, RB, WR, TE, K or defense).
You cannot draft two of the same player in a lineup but you CAN draft multiple different defensive players from the same team (see defensive player scoring rules below).
As with DFS Showdown contests, you will still need to draft at least one player from both teams in a game to complete your lineup.

Specialty Contests
Throughout the season, DraftKings may offer contests that have differing roster constructions or entry requirements. Examples of this could be an all Quarterback contest or contests with unique fantasy point multipliers.
Scoring System
Scoring for Reignmakers football will match our classic daily fantasy scoring system.
Defensive Player Scoring
Defensive players score fantasy points based on the team they play for. Their score will be equal to the fantasy score of their team's defense. See how DSTs are scored in DraftKings fantasy football here
There is no limit on the number of defensive players from the same team you can draft in one lineup, though not all contests will have enough draftable positions where defensive players are eligible.
Multiple Entries in a Single Contest
Many Reignmakers contests will allow for multiple entries where you can submit multiple unique lineups to the same contest. The max number of entries will be displayed on the contest lobby cell and in the contest details information.
Game Tiebreakers
In the event of a tie for any position in a contest between two (2) or more participants, the edition numbers of the Reignmakers NFTs used in a participant's lineup will be used as a tiebreaker. The edition number for each Reignmakers NFT in a participant's lineup will be added up, and the participant with the lower sum of edition numbers will be deemed the winner. For example, in the event two (2) participants finish a contest with the same number of points and the participants selected the Reignmakers NFTs with the edition counts in the table below, Participant A will be deemed the winner, as the total edition count of their lineup (126) is less than the total edition count of Participant B's lineup (166).
In the event a participant's lineup has open positions, an edition number of ten thousand (10,000) will be used as the edition number for each open position in the participant's lineup for purposes of tie breakers. In the event of a tie in a tie breaker, the related prize pool positions for such tied positions will be evenly split among each of the tied participants. For example, in the event the prize for first place is two hundred dollars ($200), the prize for second place is one hundred dollars ($100), and two (2) participants tie for first place and have the same sum of edition numbers in their respective lineups, the prizes for first place and second place will be combined and split equally between them, meaning each of the two (2) tied participants will get one hundred and fifty dollars ($150). Except as otherwise set forth in a contest's Details page, in the event of a tie in the tie breaker and the prize pool for the tied positions involves prizes that cannot be divided between the tied participants (e.g. an NFT or an autographed bat), the prizes that cannot be divided will not be awarded to any participant, and instead, a dollar amount equal to the approximate retail value of such prizes will be split between the participants tied after the tie breaker.
Additional Game Rules
Selling Cards in Lineups
In the event a participant sells or transfers a Reignmakers NFT that is included in their contest lineup prior to such Reignmakers NFT becoming Locked (as defined in the Lineup Edits section), such Reignmakers NFT will be removed from that participant's lineup and must be replaced with another Reignmakers NFT from the Player Pool. In the event a participant does not replace the removed NFT, except as set forth in next paragraph, the lineup will still be valid; however, the participant will receive zero (0) points for the vacant lineup position. In the event a participant sells or transfers a Reignmakers NFT that is included in their contest lineup after such Reignmakers NFT is Locked, the Reignmakers NFT will remain in the participant's lineup notwithstanding the sale or transfer.
Each "Individual Reignmakers NFT" (defined as the same player card from the same series, set, and rarity tier with the same serial number) cannot be included in more than one (1) lineup per customer account, per "Football Week" (the Football Week starts on Thursday and ends on Wednesday), irrespective of whether the Individual Reignmakers NFT was sold or transferred after being included in an entered lineup and then was later reacquired by the same participant. In the event a participant has included an Individual Reignmakers NFT in any entered lineup, the participant must remove that Individual Reignmakers NFT from the entered lineup before the participant can use it in a different lineup during the same Football Week. In the event a participant includes an Individual Reignmakers NFT in more than one (1) contest entry in the same Football Week, only the first lineup utilizing the Individual Reignmakers NFT will be valid; and all other entries utilizing the Individual Reignmakers NFT will be invalid and ineligible for prizing.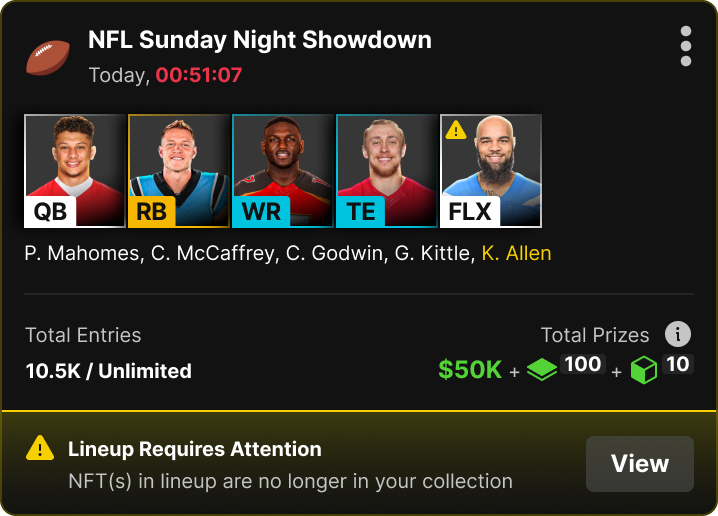 Lineup Edits
Lineups may be edited at any time leading up to games. Each individual Reignmakers NFT will become "Locked" for a contest at the scheduled start time of the player's game. A Locked Reignmakers NFT cannot be removed from a lineup. Locked lineup spots for all entries are displayed in the contest's GameCenters which can be accessed through the "My Contests" page and clicking on the applicable contest.
In the event the scheduled start time for a game changes, DraftKings will take measures to ensure the change is reflected in Player Pools and for lineup editing purposes. In the event a game starts before the scheduled start time, all Reignmakers NFTs associated with that game will become Locked as soon as DraftKings' feed reflects that the game has begun. Additionally, any lineup changes that were made after the real-life start time of the game will result in those lineups being disqualified.
Player Positional Eligibility
Player positions will be dependent on the position they are currently playing and not necessarily tied to the position listed on the card. For example, if a player's card is minted at WR and he moves to RB, the player will be draftable as an RB and not a WR.
Reserving Entries
The reserve entry feature is not available for Reignmakers contests at this time.
State Eligibility
Reignmakers contests can be joined by anyone in the United States and Canada, with the exception of those in the following states or provinces:
PA, CT, HI, ID, MT, NV, OR, WA, parts of LA and Ontario