WIN: Prizes Up For Grabs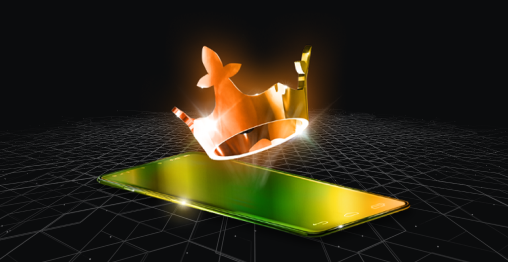 $1 Million per week - Cash / Experiences 
In each of the 22 weeks of the 2022-23 Football season, including the playoffs, you will have your choice between dozens of different Reignmakers Football contests. Contest offerings will include our Classic (multiple games) and Showdown (single game) formats, as well as contests requiring different Player Card NFTs across all Rarity Tiers - from CORE to REIGNMAKER.
There will also be certain special contests where enhanced prizing is offered to holders of certain NFTs – such as Week 1, which will have special contests for our 2022 Field Pass Holders. While most of the "over $1M in weekly prizes" will be in the form of cash, you will have the choice to compete for a variety of other prizes, including unforgettable live experiences, swag, or rewards for use across the DraftKings platform.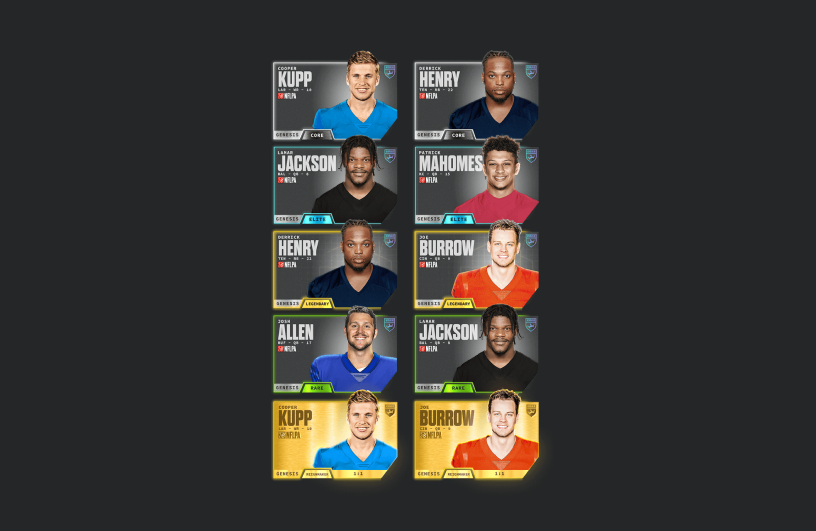 Prize Pack NFTs 
To have the BEST Reignmakers Football franchise, you need to build and upgrade your collection.
Winning Prize Packs or Player Card NFTs from Reignmakers Football no-fee contests gives you a way to build and improve your collection for FREE.
In 2022 Reignmakers Football, you will see the following prizes up for grabs in no-fee contests: 
Prize Packs, which exist at the CORE, RARE, ELITE, LEGENDARY, and REIGNMAKER tier. These packs will contain 1 random card from the Prize Set at that specified tier, and in some cases, a specific position as well. 
Prize Player Card NFTs will be offered and give you a chance to win an exact Player Card NFT. For example, a contest can award a 2022 LEGENDARY tier Stefon Diggs. 
At the lower tiers of competition, such as CORE and RARE, a bigger focus of prizing will be on winning Prize Packs to help you "climb the ladder" into higher tiers, such as RARE or ELITE. 
At the higher tiers of competition, such as LEGENDARY and REIGNMAKER, a bigger focus of prizing will be on Cash, World Championship entries, and top-end experiences. Prize Packs and Player Card NFT Prizes won at higher levels of competition will also be higher-tiered. 
Remember ELITE, LEGENDARY and REIGNMAKER tier cards have guaranteed scarcity all season across the entire game. So, Prize Player Card NFTs won are part of that total, not in addition. 
By the end of the regular season, all 2022 Prize Packs will have been awarded. During the playoffs, no additional 2022 Player Card NFTs will be awarded as prizes. 
In general, Prize Pack NFTs will be more common early in the season, and will become slightly less each week. Player Card NFTs are most helpful if you win early!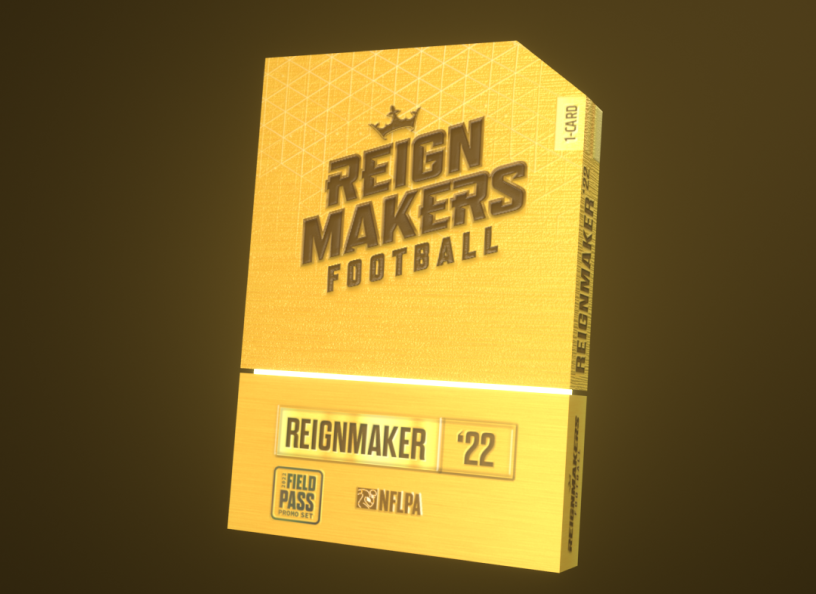 Franchise Score Leaderboard 
Reignmakers Football will be launching the Franchise Score Leaderboard for the 2022 season in August. Your Franchise Score and your position on the leaderboard will make you eligible for various rewards throughout the season. The Franchise Score is a measure of the greatness of your Player Card NFTs.
$1 Million RM Champ (Crown) 
You think you have what it takes to be the GOAT of Reignmakers Football? 50 qualifying spots will be awarded to our first-ever LIVE Championship event, taking place on December 18th, 2022 in New Orleans, LA. In addition to winning the weekend trip package to New Orleans, our qualifiers will compete in the ultimate Reignmakers Football challenge for their share of $1 Million in cash prizes.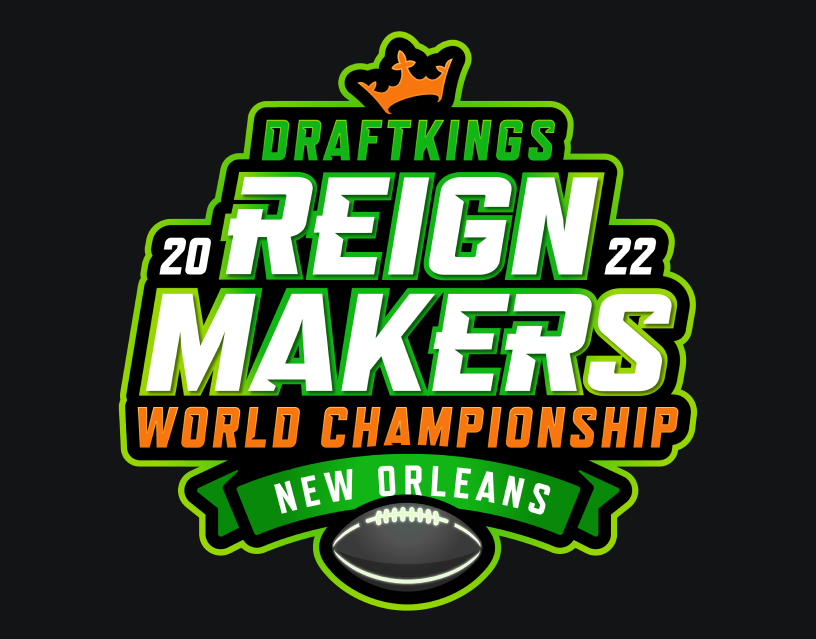 In this true test of greatness, Qualifiers will complete 5 different Reignmakers Football lineups for the Week 15 Classic set using their Player Card NFT collection – one at each of the CORE, RARE, ELITE, LEGENDARY, and REIGNMAKER contest tiers. The best cumulative score will win 2022's Reignmakers Football World Championship and walk away with $250,000 cash, the coveted 2022 Reignmakers Football Title Belt, and gain entry to the exclusive DraftKings Tournament of Champions semi-final event.
HOW TO QUALIFY: 
We have 50 spots up for grabs to compete in the Reignmaker Football World Championship. Qualify in one of several ways: 
5 qualifiers from the Week 1 Field Pass Holders Enhanced Prized contests (1 winner from each tier.) 
30 qualifiers from Weeks 2-11 Classic Set contests at ELITE, LEGENDARY, and REIGNMAKER tiers. 
5 qualifiers from Week 12 Last Chance contests (1 winner from each tier.) 
10 Qualifiers from the top 10 Franchise Scores on the leaderboard through the end of Week 12. 

Crowns / Dynasty Rewards