BUILD: Your Franchise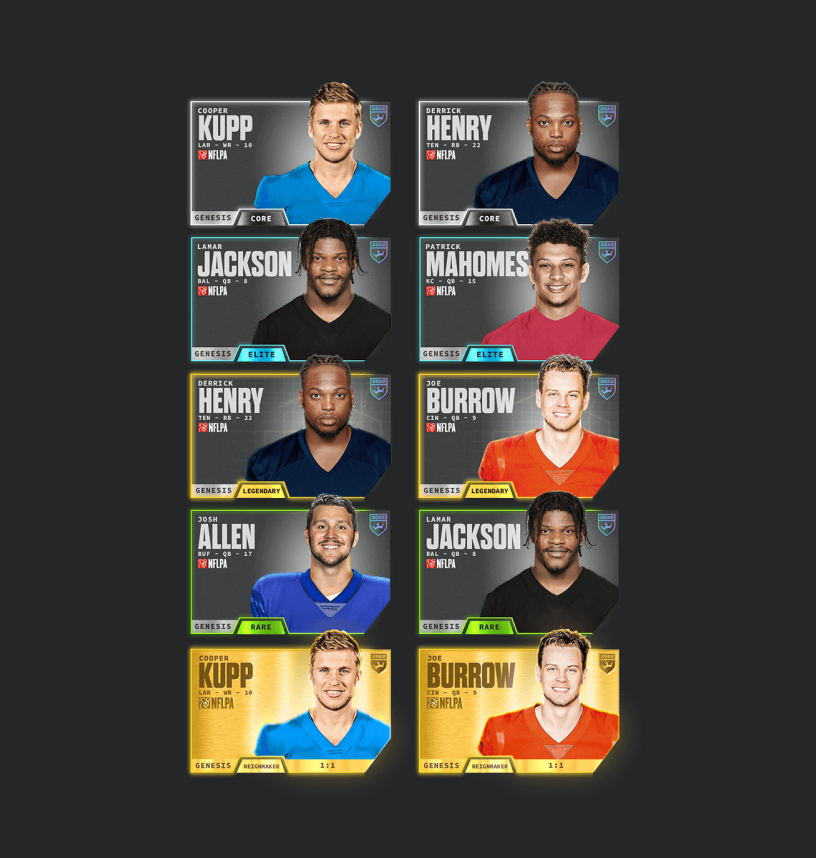 Rarity Tiers 
In the Reignmakers Football game, the player card NFTs will be from five (5) distinct rarity tiers. The rarity tiers were initially introduced in the 2022 Field Pass release. In order of least to most scarce, those tiers are CORE, RARE, ELITE, LEGENDARY and REIGNMAKER. 
Holding scarcer NFTs matters in the fantasy game because contests have scarcity requirements to field a valid lineup. In short, the scarcer your collection of NFTs, the more exclusive contests you'll have access to.
Roster Requirements by Rarity 
Lineups require specific positions to be filled, and contests will be gated based on the rarity levels of your NFTs. 
CORE contests: Accept cards of ANY rarity. RARE, ELITE, LEGENDARY & REIGNMAKER Tier Contests: Require certain card rarities in your lineup to be eligible. 
Other lineup requirements to be introduced, such as contests that can only be entered by lineups with Cards from a specific drop (e.g. Field Pass Airdrop cards).
Superstars 
Reignmakers Football introduces the "SuperStar" designation for a small group of NFL players. Players with this designation will be restricted to use only one per lineup. The initial batch of SuperStar designated players for the 2022 season will be announced prior to the Genesis Drop in early August, and the list itself is subject to change over time.