Editor's Note: Don't miss out on tonight's $60,000 Fantasy Basketball Contest! Draft your team Now

Playing fantasy basketball on DraftKings can be especially exciting when one of your players has a huge game. Just ask DraftKings user cone999, who won first place and $20,000 on Wednesday when Russell Westbrook scored 45 points (63.5 fantasy points) for his team.
How does Westbrook's 63.5 fantasy points stack up all time? We decided to look at some other notable stat lines in search of the all time best fantasy basketball performance.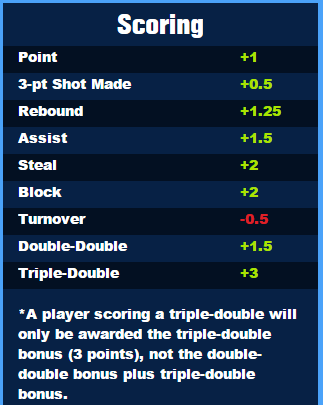 Kobe Bryant
Date: 1/22/06
Stats: 81 Points, 6 Rebounds, 2 assists, 3 steals, 1 block, 7 3pts made
Fantasy Points: 103
When comparing Kobe's 81 point game to the other high scoring performances, a lot will point out the number of shots he took. But with teammates like Smush Parker and Kwame Brown as his other options, it seems like Kobe had to take this one on his own to take down the Raptors.
Hakeem Olajuwon
Date: 3/10/87
Stats: 38 Points, 17 Rebounds, 12 Blocks, 6 Assists, 7 Steals, Triple-Double
Fantasy Points: 110.75
Hakeem recorded one of the most well-rounded stat lines in NBA history, with a triple-double and 5×5. His line shows that you don't necessarily need a huge scoring total to have a great fantasy performance.
Claim free entry to tonight's $60,000 Fantasy Basketball Contest

Michael Jordan
Date: 3/28/90
Stats: 69 Points, 18 Rebounds, 6 Assists, 4 Steals, 1 Block, 2 3pts made, Double-Double
Fantasy Points: 113
His Airness had a ton of great performances, but his 69 point game was his highest scoring of his career. Lost in the mix is that he also recorded 18 rebounds as a guard. This was just one game in route to his fourth straight scoring title and before he had won any of his 6 rings.
Wilt Chamberlain
Date: 3/2/62
Stats: 100 points, 25 rebounds, 2 assists, Double-Double
Fantasy Points: 135.75
Unfortunately for Wilt's fantasy owners, the NBA didn't start tracking blocked shots until 1973, so the famous 100 point game could have looked even more impressive. However, on March 12th, 1968, Wilt also had 53 points, 32 rebounds, and 14 assists, good for 118.5 points. According to unofficial stats, he had 24 blocks and 11 steals as well, which would put him at an incredible 188.5 fantasy points.
You can win huge cash prizes playing daily fantasy basketball. Here's how to get started:
1) Sign up at DraftKings.com
2) Draft your team for tonight's games. New users get a FREE ENTRY to compete for $60,000 in guaranteed prizes.
3) Follow along as your scores update live