Larry Fitzgerald is a proven veteran with a storied career, but with talented WRs John Brown and Michael Floyd on the rise, many wondered if he could continue to produce high level stats.
Patrick Dugan believed in Fitzgerald and it paid off in the form of $2 Million Dollars.
Dugan, username 'TheDuganBrothers' on DraftKings, drafted a one week fantasy football lineup that finished in first place last week, good for the $2 Million prize. Larry Fitzgerald's 3 touchdown game came as a pleasant surprise, with only 6.5% of owners selecting him. But his real darkhorse pick was Travis Benjamin, who has quickly developed a rapport with Johnny Manziel on the deep ball. He was owned by less than 1% of the teams and scored 35.5 fantasy points.
Draft Your Team and Become the next Fantasy Football Millionaire This Week

The Winning Lineup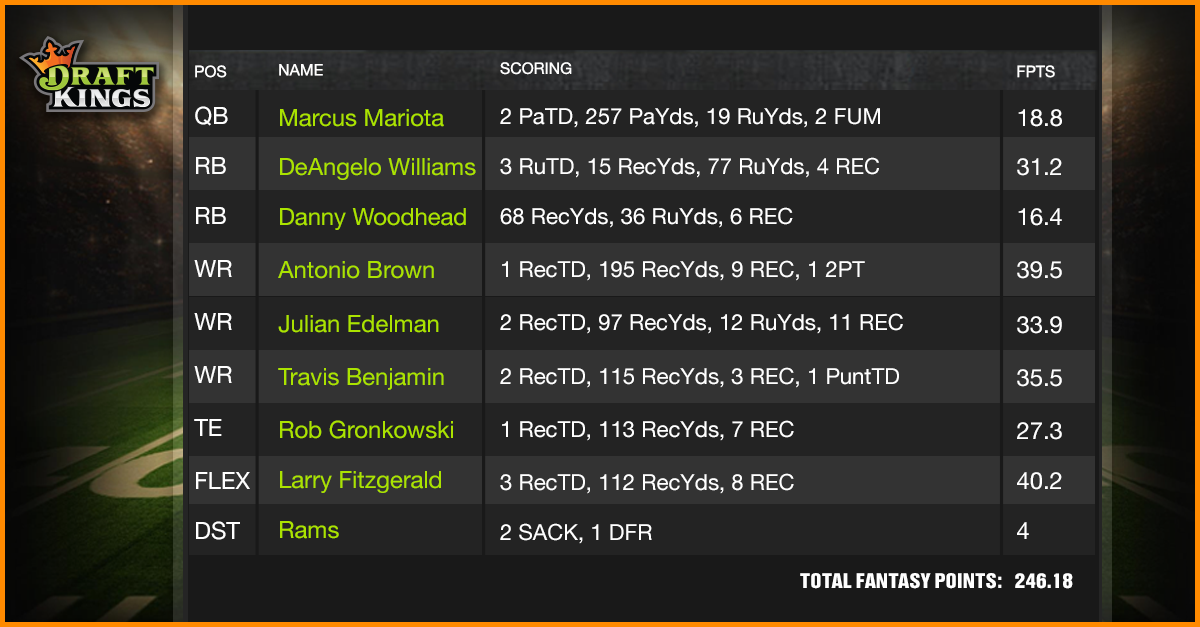 TheDuganBrothers assembled a team that combined to score an incredible 246.18 points, here is a look at their selections:
Larry Fitzgerald (40.2 Points), Antonio Brown ($39.5 Points) and Julian Edelman (33.9 Points) all followed a similar trend – proven WRs who were expected to see a high number of targets this week. They each have veteran QBs who look to them first, giving them the best opportunity to bring in fantasy points.
Rams Defense was a popular pick, ending up on 22% of DraftKings rosters this week. After taking down the Seahawks in week 1, they failed to stop the Redskins and only recorded 4 fantasy points. It goes to show that your lineup doesn't have to be perfect, just better than the competition.
At only $5,300 in salary, DeAngelo Williams proved to be a great value pick. On DraftKings, you must build a team of 9 players while staying under the salary cap, so the challenge is in combining top players with your sleepers to build the best team possible.
Draft Your Team and Become the next Fantasy Football Millionaire This Week

How to Draft a Team
Step 1. Select 9 NFL Players (QB, RB, RB, WR, WR, WR, TE, FLEX, DEF) while staying under the $50,000 salary cap.
Step 2. Enter your team in a contest, such as DraftKings Millionaire Maker event.
Step 3. Follow along live and receive your winnings at the end of Monday Night Football.
Ready to test your fantasy knowledge? First place wins $1.2 Million This Week. Draft How