I'm a tea-leaf kinda guy. I like to stare into data and get a feel for little up-ticks that I see.
This week the MLS Power Rankings give just enough insight into the murky DFS soup we all love so much.
CHICAGO FIRE
Currently riding high on a three match winning streak the Chicago Fire are, well, on FIRE!!! Just one point in the negative in Goal Differential means – to me – this team is climbing into the fight at a good stage in the Summer of MLS Magic. This week they find themselves facing off against Sporting Kansas City who has been limping as of late with only two draws and a loss in their last three.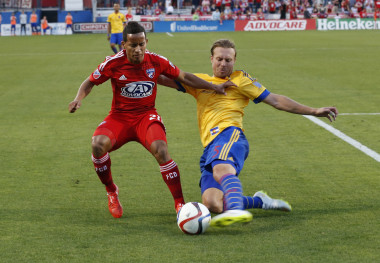 FC DALLAS
I'm going to reserve any judgment on FC Dallas. They have had a tough schedule as of late because I expect more form them against lowly Colorado last week. But alas there is hope on the horizon with Houston looming. This in-state showdown should be a shoot out as Houston is looking to rebound after two weeks of draws. With a couple of goal scoring guys on both sides of the ball look out for shots in this matchup.
PORTLAND TIMBERS
I love this team just for their goal scoring celebration which involves a guy firing up a chainsaw and cutting through a giant log to the roar of the deafening crowd. Hopefully, this week they can find the net and climb out of the basement in the Western Conference against the dominating Vancouver Whitecaps.
D.C. UNITED
In town this week coming a rolling the Columbus Crew. A team that posterized Philadelphia last week 4-1 and are currently riding a two week winning streak. Can Bill Hamid whether the Crew and can Chris Pontius and Perry Kitchen find the net to get a winning streak going?
NEW YORK RED BULLS
Last, but not least, the New York Red Bulls round out my must watch teams this week. Not only do they draw the dreaded two-game week, but they face off against two teams that couldn't be at more polar-opposite. First the Colorado Rapids (who also have a two game week) are at the bottom of the Western Conference right now and suffering with only 7 points this season and only one win. Frame that against the New England Revolution who have only tied and lost twice. The Red Bulls can do well just to break even this week. Note, the Red Bulls have not lost this season, but after a Rapid turn do they have the legs to face the Revolution?
Till next time, I don't always drink beer, but when I do, I prefer Scotch and follow me @Deepdfspicks.