Don't miss out on the $300,000 Flea Flicker this weekend. The entry is $5 and first place is guaranteed $25,000.


With a score of 181.76 points, 'simplyjesse' turned $27 into $100,000 in the NFL Playoff Million. He did it with a nearly perfect lineup centered around a combo of Ben Roethlesberger, Antonio Brown, and Daniel Herron. However, it came down to the last minute of the week, where the Cowboys defense got a sack and fumble to clinch the game, and move him into first place. His team from last week is below: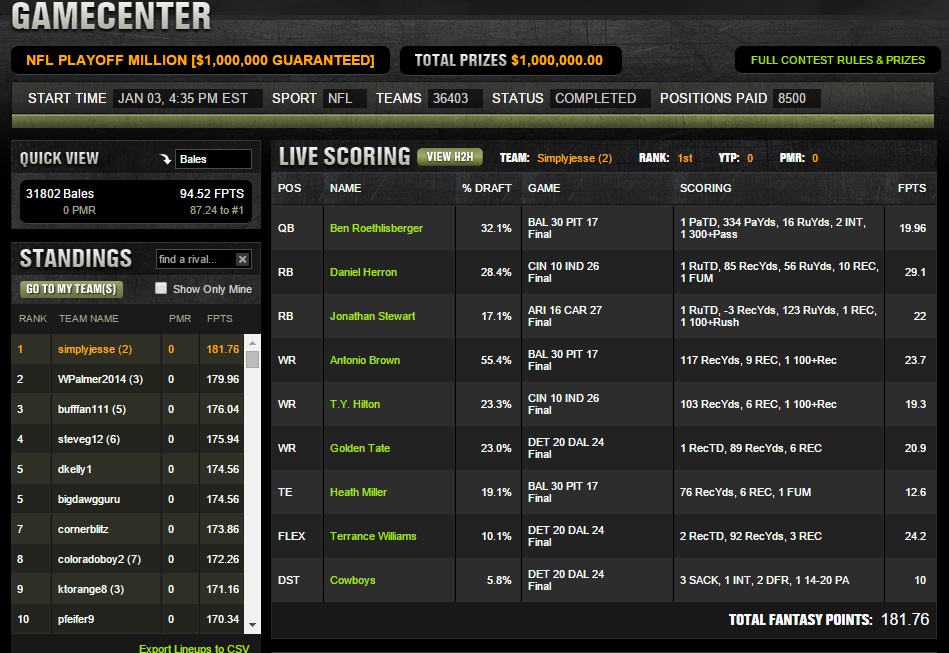 If you've never played in a daily league (known as Daily Fantasy Sports or DFS), then the first idea to familiarize yourself with is the idea of a salary cap. In DFS, each player has a specific price for each game set, which is based on their past performances. You start with $50,000 and draft 9 players while staying under the budget. You can play in leagues ranging from free to ones with $1,000,000 first place prizes, such as this week's Millionaire Maker contest.
Here's a look at some of this week's player options:
Quarterbacks
Aaron Rodgers ($8,900): The Packers haven't lost at home this season and Rodgers is a huge reason why that's true. He has thrown 25 touchdowns and 0 interceptions in his 8 home games. There's little downside to choosing Rodgers this week.
Andrew Luck ($8,700): Luck looks to take down the man he replaced in Indianopolis. He played a great wild card game against the Bengals last week and the Colts will need to throw the ball often to have success.
Others to consider: Peyton Manning ($8,400) Tom Brady ($7,800), Russell Wilson ($7,800), Tony Romo ($7,600), Joe Flacco ($6,900), Cam Newton ($6,700).
Running Backs
DeMarco Murray ($8,400): Murray has broken all sorts of records this fantasy season and was one of the best season-long league picks. If the Cowboys expect to win, they'll have to establish a run game in Green Bay.
Marshawn Lynch ($8,000): The bye week should help Marshawn come into this game ready to bruise the Panthers defense. Seattle is a heavy favorite in this game, which could mean they lean on the run game if they get out to an early lead.
Others to consider: CJ Anderson ($7,600), Eddie Lacy ($7,200), Daniel Herron ($5,300)
Wide Receivers
Demaryius Thomas ($8,500): Peyton's favorite target should get a lot of looks, although the Broncos passing game has not been as dominant as it was last year.
Dez Bryant ($8,400): The Lions were really able to limit Dez in the wild card matchup, but the Packers secondary may be a more favorable one for him. He's still one of the most difficult matchups in the league for cornerbacks.
Others to consider: Jordy Nelson ($8,300), TY Hilton ($7,600), Kelvin Benjamin ($5,000), Terrance Williams ($4,100)
This week, DraftKings is hosting an even bigger event with a guaranteed $1,000,000 first place prize. In 2014, there were 13 different $1,000,000 winners — and someone will become the first fantasy football millionaire of 2015 this weekend.
1) Draft Your Team
Join the Millionaire Maker ($100 Entry, $1,000,000 First Place Prize)
Join the Flea Flicker ($5 Entry, $25,000 First Place Prize).
2) Follow along as your scores update live
3) When the games end on Sunday, you will be paid out instantly if you finish in a winning place.