Ohhhh say can you (almost) seeee…..
https://vine.co/v/eJlgaITHIrF
…by the dawn's early NOONAN.
https://vine.co/v/eJllbhlVKbA
Alex Morgan so prouuuuudly got fouled in the boxxxxx… at the refs' last gleaming….
https://vine.co/v/e1Bu0vV2mAw
Whose broad stripes and Captain America's bright starrrrrrs, sums up all of us watching this fightttttttt….
O'er the ball possession dominance we watchedddd (in the first half) …. once seemed so gallantly streaming, BUT THEN CARLI LLOYD'S RED GLAREEEEE….
https://vine.co/v/e1BzrxXgb2V
Kelly O'Hara's bombs bursting in airrrrrrr
https://vine.co/v/e1BKWlAXeAg
Gave prooooooof through the match …. that our 2-0 lead was still there. Oh, say does that star-spangled … let's watch Megan Rapinoe pump her fist and banner yet waaaaaaveeeee.
https://vine.co/v/e1BOLuYdYm1
O'er the landddddddd of the freeeeeee WHAT'S UP BRO U MAD?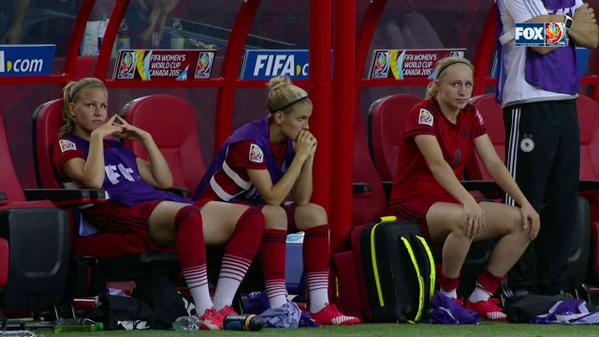 …and the homeeeee of theeeeee U-S-A!!! U-S-A!!! U-S-A!!!
https://vine.co/v/e1BMhm7MIBV
—-
(h/t @gifdsports)