Glad I woke up early. If you didn't. No worries. It was just your loss.
Some mornings the English Premier League can be quite relaxing. A good match-up a fresh cup of coffee with your lineups set.
Other mornings it can have the explosiveness and break-neck turns as a Cold War spy novel. This morning was like a killer car chase through Prague, my friends.
Yannick Bolasie, a 25-year-old winger for Crystal Palace lit up the scoreboard this morning for a hat trick. "So what?" you say. Hat tricks are scored all the time. Yes, generally they can occur, but this morning Bolasie scored all of his goals in a matter of 11 minutes; blistering and incredible. He then ran around the pitch for another 9 minutes and was substituted out. But that's not where this story ends.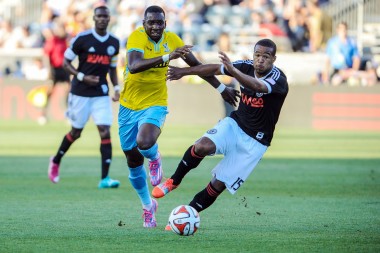 This year, Bolasie has scored only 4 goals after 28 matches with only 6 assists this whole season. If he was on your radar and in your projections; bless me with your wisdom. In various types of matches, Championship, League 1, etc, Bolasie has always been a minor scoring threat, but not one that ever hit my radar.
Crystal Palace is in the dead center of the league table right now. Sunderland is struggling to avoid the relegation three and is just above Hull City in that respect.
As for a relegation team that everyone thought was found on the roadside dead. We now turn to Leicester City.
Technically, it's not too late for them. Wait, yeah, with only 25 points after 32 weeks it just might be back down for this scrappy club. Today, however, they showed some real spark. And by spark, I mean a pulse, an actual beat you could dance to. This morning they faced off against West Bromwich Albion; which I originally thought was either a weird sandwich I hadn't tried or a suburb of Trenton, New Jersey. Then I remembered, they don't have a good soccer club in Trenton and I've had just about every type of sandwich ever made. I should add that last bit to my resume.
Generally, this particular match-up normally wouldn't catch much ink, but the full time score of 2-3 is compelling, so I looked a bit further into the stats. There I found Leicester City did not lead the entire match until the 81st minute.
Think about that, you've got the last place team in one of the strongest leagues in the soccer world and they came from behind…twice, might I add. That is heart. That is something to take note of. You've got a team that was given a chance. They are struggling, but even in the 32 week of the season after being behind to a team that safer than you are from dreaded relegation.
In short, never count out an underdog especially in soccer.
Till next time, try the veal on rye with the Russian dressing and follow @Deepdfspicks.