A dominant performance by Jordan Spieth at Augusta was matched only by the dominant performance of latest DraftKings Millionaire brettmarino. Brettmarino led after Day 3 and held his lead into the final shots, dominating the field and winning by 11 fantasy points. It was an incredible week overall so we have a full breakdown of the action both on the course and in the DraftKings Masters Millionaire Maker Tournament.
The Million Dollar Lineup
View Entire Masters Millionaire Maker Leaderboard Here
PGA Expert Geoff Ulrich Breaks Down the Million-Dollar-Winning Lineup
More on BrettMarino
He was the definition of an underdog story this weekend, check out some of the fun facts on the latest DraftKings Millionaire:
1) He had just one entry in the Millionaire Maker!
2) His only entry was a ticket won in a $5 Satellite (he came in 757th with top 1000 earning entries.)
3) With the satellite ticket, he was able to turn $5 into $1 Million
4) BrettMarino has been playing at DraftKings since December of 2014
5) He also won the $50K PGA Birdie #2 this week ($4000 top prize)
6) Before this weekend, his biggest win was a $20 H2H for $36
7) Including this weekend, BrettMarino has played in just 25 total PGA contests at DraftKings
8) His lineup was also the perfect PGA lineup for this past week.
More from the Millionaire Maker…
We recapped the first two days of the Masters on Saturday with some percentage owned and other stats. Check those out here.
Here was your final Top 10 leaderboard:
And here were the highest owned players out of ONLY the Top 100 finishers in the Millionaire Maker: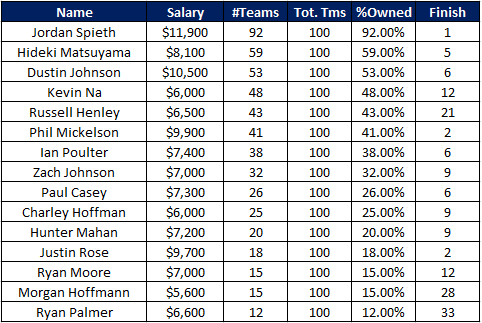 And at the end of the tournament, not a single player had all 6 of their golfers in the Top 10 of the final leaderboard:
Table above shows the Millionaire Maker teams broken down by number of golfers they had at various segments of the leaderboard
Become the next PGA Millionaire by reading our exclusive PGA Training Camp Content
---
Vine Recap of the Masters
Jack Nicklaus started the festivities off with a hole-in-one at the Par 3 tournament on Wednesday
Jordan Spieth with a ridiculous chip shot on Day 1
And Tiger Woods made his triumphant return to the PGATour on Day 1…but shot a +1
Henrik Stenson was not pleased with his play on Day 2
Tiger Made a Push on Day 3
And so did Phil Mickelson…
Then Justin Rose Hit a Ridiculous Bunker Shot
And Rose Ended Day 3 with a Birdie To Put Him in the Final Pairing
Spieth struggled a bit at the end but recovered well from shots like this:
Heading into Day 4 we had an epic Tiger Woods/Rory McIlroy pairing. But Tiger got hurt yet again
It's cool though because he was able to push the bone back into place
Meanwhile Justin Rose was hanging a few shots back the whole final day
But at the end of the day, it was Jordan Spieth's tournament:

Miscellaneous Vines