Jacksonville v Detroit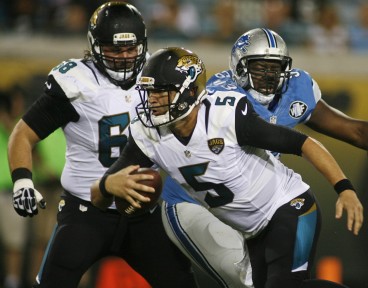 I wouldn't be fooled by a couple Jags performances in this game. TJ Yeldon (10 car. 12 yards) started and played a couple full series with the starters (and even scored a TD). However, Yeldon simply did not look good to me in this game. His runs were lackluster and he struggled to get past the line of scrimmage on many plays. His yards per carry average of 1.1 reflects this. His TD was also a bit of a fluke. Yeldon got stuffed on his first goal line attempt and absolutely blown up on his second one as he tried to leap over the pile. Yeldon actually fumbled on this play but the officials ruled the ball had crossed the line, the review showed they were wrong but the play was upheld. I would avoid Yeldon in fantasy completely.
The Jags back that shows promise to me is Denard Robinson (2 rec. 29 yards). Robinson is small but just such a better athlete. He was the second RB in for the Jags and when he got in space in this game he broke a couple play and nearly scored a highlight reel TD. Robinson could have big days against weak rush D's or teams that don't defend the RB well in the pass game. His usage won't be as high as other feature backs but he's still the best RB on the Jags roster in my opinion and will probably be part of a time share with Yeldon.
I also wouldn't draw too many conclusions from Blake Bortles in this game. Bortles completed 20-29 passes for 245 yards and a TD but he had a lot of the 2-5 yard completions which were made bigger by his receivers after the catch. When Bortles attempts passes of more than 10 yards it is essentially an INT waiting to happen. He had some open receivers in this one and made a couple nice passes but still threw into coverage way too many times and just missed being picked multiple times. He may have the odd good day for fantasy next year but don't rely on him regularly.
Allen Robinson is going to be the featured wide out in this offense. He had a quiet game stat wise but has now been targeted 14 times by Blake Bortles in the past two games. If Robinson keeps getting this sort of volume he will be a weekly fantasy consideration and possibly a very good one. The other target I might consider in this offense is Julius Thomas—when he's healthy. Bortles likes the short crossing routes and the TE position was targeted 6 times by him in this game.
On the Detroit side of things I am still amazed at how good Matthew Stafford (11-15, 173 yards and a TD) and Golden Tate (3 rec. 91 yards and a TD) are together, and how good Tate is at running after the catch. In this game Tate had a big gain after a catch over the middle where he essentially split two defenders in the open field and turned a small gain into a big gain. On his big play he beat the Jags defender clean downfield and was led perfectly by Stafford for an easy TD. It should be noted that Calvin Johnson missed this game. I won't rehash the numbers but Tate was a massive play in 2014 when Johnson was limited or missed time last season. If Johnson misses time again in 2015 you have to play Tate.
The Detroit RB situation is just too confusing for me right now. Both Theo Riddick and Ameer Abdullah played with the starters and once again it was hard to tell the difference between the two. Neither did much, although Abdullah had a nice 20 yard catch and run. If they are splitting time the lack of volume will really drain both players' fantasy prospects. You also have to add Zach Zenner (8 car. 85 yards and a TD) into the mix now as he played with the starts in this one too once again looked like the best RB of the bunch. He'll be on the final roster for Detroit and possibly even a part of their starting lineup, he's more suited for the power back and goal line work than either Abdullah or Riddick. I haven't even mentioned Joique Bell yet either who has missed preseason with an injury but is expected back soon.
Carolina v New England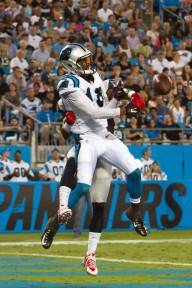 This game was kind of ugly all-around. The New England offense is a complete mystery to me right now. Most of the starting Wide Receivers-TE haven't played at all this preseason and this made Tom Brady and Jimmy Garoppolo (13-17, 121 yards and a TD) look bad at times. Still, you have to think with an insertion of Gronk and Edelman the passing game will pick up quickly. I'd still be on board with using Jimmy G early in the season on DraftKings as a cheap QB play (if Brady is suspended). He's got a great release and shown he isn't afraid to tuck and run a few times a game to pick you up a few free points, there's more potential here than people think for fantasy.
The RB situation has looked bad for NE as well. Jonas Gray (5 car. 11 yards) got the start in this one but looked less effective than he did in weeks 1 and 2. He'll probably get the start in week 1 with Blount suspended and might be a cheap-under the radar target. After that though it will probably be the LeGarrette Blount show. I really wouldn't bother with trying to decipher who the Pats third down back is. James White, Don Lewis and Brandon Boldin all have seen work as the passing down back in preseason. Boldin will prob get first crack in the regular season although Lewis has looked good in preseason and might be best suited for the job. Just avoid it for fantasy.
Cam Newton (17-28, 160 yards and a TD) looked much more settled in this one. I know many have downgraded Cam with Benjamin done but it's possible the injury actually helps his fantasy prospects. Cam has not been much of a volume passer since his rookie season and most of his big fantasy days come from his ability to run. The loss of Benjamin might mean more Cam running and more fantasy points.
Greg Olsen (6 car. For 51 yards) will probably be one of the most reliable players at his position this year. He was targeted 8 times by Newton over one half of this game. It will be interesting to see if teams focus more coverage on him this year and see if the other Panthers options can beat them. Given that the rest of the receivers outside of Olsen might be more wide open, I might consider Ted Ginn (3 rec. 30 yards) as a min-priced play on DraftKings some weeks. Ginn has history playing with Cam from 2013 and saw several looks again from him in this game. I know Devin Funchess was out and will eat into his volume eventually but Ginn is probably locked into the 2nd WR role now that Philly Brown (multiple bad drops in this game) has proven himself inept for the role. Ginn is still fast and still capable of a screen a long ways.
At RB I don't see any reason not to trust Jonathon Stewart this season. He may not have had any huge games in the preseason but he has looked fine to me and the Panthers are likely limiting his work to ensure he's fresh for what might be his biggest workload ever. Rookie Cameron Artis-Payne has looked fine in the preseason and is likely going to be the backup but I don't see him getting enough work to make an impact.
Tennessee v KC
Was this the coming out party for Alex Smith-Jeremy Maclin as a top fantasy play this season? Smith has been looking Maclin's way consistently since the start of preseason and in this one, in just a half of play Smith and Maclin hooked up 7 times (on 8 targets) for 65yards and a td. It took a while but you can Smith is getting more comfortable throwing the ball downfield and with a reliable receiver like Maclin he should only continue to get better.
The other huge play in this offense will be Travis Kelce (2 rec. 42 yards and a TD). Last season in limited action Kelce and Smith were able to connect on pass plays of 20yards in 10 out of 15 games played together. A lot of this was due to Kelce's extreme athleticism and ability to run after the catch. That athleticism was on full display in this one as Kelce took a short sideline route 39 yards. Two plays later the two hooked up again for an 8 yard TD. Kelce is going to be unstoppable, especially now that have to start shifting coverage over to stop Jeremy Maclin from getting free. All this and I haven't even talked about Jamaal Charles (he looked fine by the way). The KC Offense is going to be a legit fantasy gold mine this season.
In Tennessee we finally got to see Marcus Mariota (7-11, 99 yards and 2 car. 22 yards) run with the ball a little bit and he looked good doing it. We all know Mariota is fast, but how much he will run is another question. I like how Mariota has looked in preseason but he did float some passes in this game. There will be big fantasy games, but also some turnovers and games where he struggles. I'm advocating avoidance early in the season for fantasy.
Mariota does seem to have a connection with Kendall Wright (3 rec. 60 yards). Wright is up to 7 targets in his last two games and the duo connected on a couple nice timing routes in this one where Wright was able to get free for a bigger gain. Some decent ppr games await Wright, especially in games where Tennessee gets behind big early. The Dorial Green-Beckham explosion I was hoping for didn't happen. I don't know what this means but Beckham likely can't be trusted early on, or until he's locked in as a starter in this offense.