After two days of Millionaire Maker action at DraftKings, there have been quite a few surprises and even the occasional disappointment. Regardless, some of the figures are pretty incredible as we head down the final two-day stretch of the biggest fantasy golf tournament in history. Let's take a look at a full breakdown by the numbers.
FOLLOW THE MASTERS MILLIONAIRE MAKER HERE
Highest Owned Players
Shown below are all players who were at least 10% owned in the Millionaire Maker.
| Name | Salary | #Teams | %Owned |
| --- | --- | --- | --- |
| Jimmy Walker | $8,900 | 45424 | 36.07 |
| Jordan Spieth | $11,900 | 38057 | 30.22 |
| J.B. Holmes | $7,200 | 37656 | 29.9 |
| Jason Day | $11,300 | 26495 | 21.04 |
| Ryan Palmer | $6,600 | 26334 | 20.91 |
| Dustin Johnson | $10,500 | 25383 | 20.15 |
| Bubba Watson | $12,200 | 24786 | 19.68 |
| Kevin Na | $6,000 | 23095 | 18.34 |
| Lee Westwood | $8,200 | 21111 | 16.76 |
| Patrick Reed | $9,300 | 20035 | 15.91 |
| Russell Henley | $6,500 | 19230 | 15.27 |
| Paul Casey | $7,300 | 17069 | 13.55 |
| Keegan Bradley | $7,700 | 16315 | 12.95 |
| Hideki Matsuyama | $8,100 | 16183 | 12.85 |
| Matt Kuchar | $9,600 | 15643 | 12.42 |
| Henrik Stenson | $10,100 | 15508 | 12.31 |
| Zach Johnson | $7,000 | 14648 | 11.63 |
| Phil Mickelson | $9,900 | 13996 | 11.11 |
| Jim Furyk | $7,800 | 13862 | 11.01 |
| Ryan Moore | $7,000 | 13593 | 10.79 |
| Ian Poulter | $7,400 | 13349 | 10.6 |
| Adam Scott | $10,800 | 12946 | 10.28 |
---
Highest Owned Players Performing
Below is the list of all players who have are in the Top-15 players on the Masters Leaderboard AND were in the Top-10 in percentage owned in the Millionaire Maker:
1) Jordan Spieth (1st in Masters, 2nd in Percentage Owned)
2) Jason Day (12th in Masters, 4th in Percentage Owned)
3) Dustin Johnson (3rd in Masters, 6th in Percentage Owned)
4) Kevin Na (8th in Masters, 8 in Percentage Owned)
Highest Owned Players Struggling
Below are all players who were at least 8% owned AND missed the cut:
1) J.B. Holmes – Percent Owned Rank #3 (29.9%)
2) Jim Furyk – Percent Owned Rank #19 (11.01%)
3) Billy Horschel – Percent Owned Rank #26 (9.05%)
4) Brandt Snedeker – Percent Owned Rank #31 (8.17%)
5) Fred Couples – Percent Owned Rank #34 (7.33%)
6) Miguel Angel Jimenez – Percent Owned Rank #38 (4.64%)
7) Brendon Todd – Percent Owned Rank #41 (4.4%)
8) Ben Martin – Percent Owned Rank #42 (4.37%)
---
Lineups With Players Who Made the Cut
Below is a breakdown of the number of golfers remaining (who did not miss the cut or withdraw) heading into the weekend: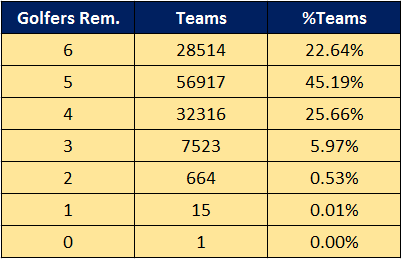 Masters Leaderboard against Millionaire Maker Rosters
Below is a chart that looks at teams in the Millionaire Maker in terms of the players on their rosters. For example, there are two teams remaining who have all 6 golfers in the Top-10 of the Masters leaderboard after two days of competition:
Noted above, but there are two teams remaining with all 6 golfers who were in the Top 10 after Day Two
Less than 0.1% of the field has at least 5 golfers in the Top-10 after Day Two.
Less than 1% of the field has all 6 golfers inside the Top-20 after Day Two.
21.75% of the field doesn't have a single golfer inside the Top-10
Just 1.06% of the field doesn't have a single golfer inside the Top-20
---