It may be Halloween, but that hasn't stopped the NHL from delivering an exciting ten game slate for the daily fantasy hockey diehards to work with. With the majority of the action on DraftKings focusing on the seven game evening slate, these picks will do the same.
Goaltenders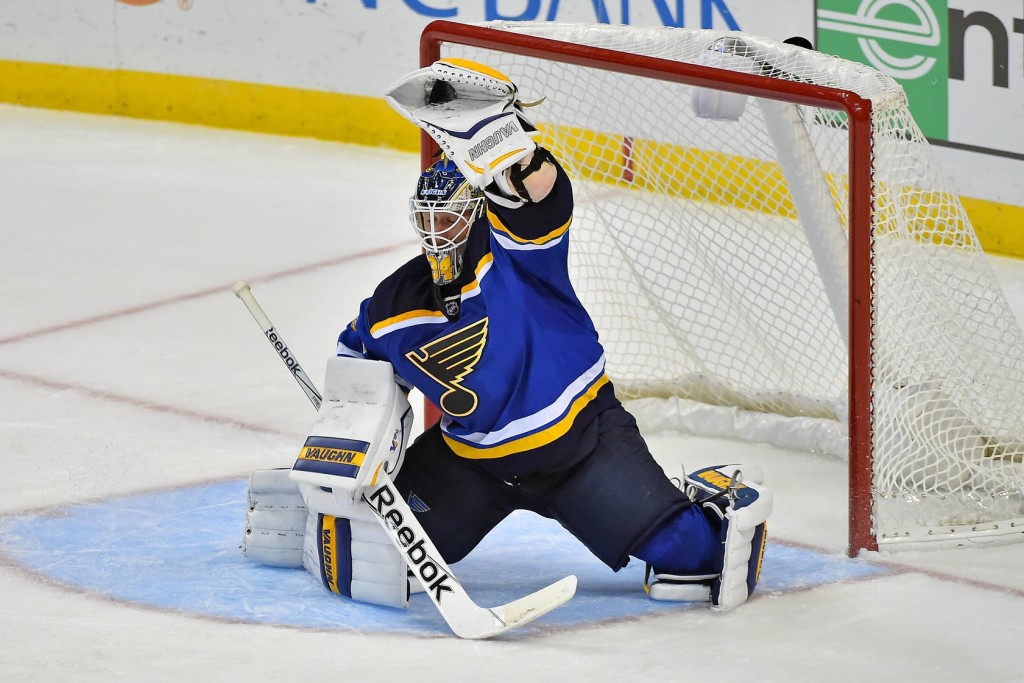 Jake Allen – St. Louis Blues – $7,200 – Allen has been superb in each of his last two starts and now owns a terrific 2.01 GAA and .928 SV% through five starts this season. He'll draw a home start against a Minnesota team that was forced into overtime last night and Allen posted a 12-4-1 record and 2.14 GAA at the Scottrade Center last season. He posted a 1.80 GAA and .930 SV% after the All-Star break last season and is making his case to be the #1 starter in St. Louis.
Others: Braden Holtby, Ben Bishop
Centers
Evgeni Malkin – Pittsburgh Penguins – $7,200 – It was a slow start to the 2014-15 season for Malkin, but he's finally heating up and now has games and has scored two goals and added five assists over the last five games. The Toronto Maple Leafs have had no answer for Malkin as the Russian sniped scored a goal against them in their only meeting this season and tallied two goals and four assists in three games last year. He's a major weapon on the Penguins top power-play unit and should skate into plenty of scoring chances tonight against Toronto's ugly 71.9% penalty kill.
Connor McDavid – Edmonton Oilers – $5,600 – McDavid extended his point streak to seven games ith a pair of assists against the Canadians on Thursday night. While it seemed to take him a few games to grow accustomed to life in the NHL, the most hyped prospect to enter the league since Sidney Crosby certainly hasn't disappointed anyone in Edmonton. Despite the slow start to the season he has now tallied five goals and seven assists through the first 11 games of his career. Tonight's matchup against a Calgary team that has struggled defensively is a nice one, and this $5,600 asking price is just too cheap to ignore.
Others: John Tavares, Sidney Crosby, Tyler Seguin, Kyle Turris, Evgeny Kuznetsov, Sean Monahan
Wingers
Vladimir Tarasenko – St. Louis Blues – $7,600 – Tarasenko scored his six goal of the season against the Ducks on Thursday and has picked up ten points through the first ten games. His 46 shots on goal is the highest in the NHL and Tarasenko scored a goal and added an assist against the Wild when they squared off earlier this season. He posted 20 goals and 20 assists in 38 home games last season and posted thre goals and a pair of assists in four games against Minnesota last year.
Mark Stone – Ottawa Senators – $5,800 –Stone posted an impressive 15 goals and 23 assists in 36 games after the all-star break last season, and shows no signs of slowing down as he's already picked up two goals and nine assists through the first 11 games of the 2015-16 season. Stone picked up an assists against the Red Wings last night to extend his scoring streak to three games and posted 14 goals and 23 assists in 41 home games last year. His price is on the rise, but this 23 year-old still looks to be a bit undervalued.
Others: Phil Kessel, Alexander Ovechkin, Patrick Sharp, Jamie Benn, Gustav Nyquist, Patric Hornqvist, T.J. Oshie, Taylor Hall, Johnny Gaudreau
Defensemen
Dustin Byfuglien – Winnipeg Jets – $5,900 – "Big Buff" has been quiet the last few games, but being able to slow him into one of your "D" spots just seems like cheating. The former forward already has two 20 goal seasons on his resume and has posted two goals and five assists over the first 10 games. He'll face a Columbus team that has allowed 4 goals against per game this season and that owns the league's worst penalty kill (71.4%). While he's not cheap by any means, there's enough value on the board to easily fit him into your lineup.
Colton Parayko – St. Louis Blues – $3,600 – You'll need to double-check his status as game time approaches, but assuming he's in the lineup tonight, he's a tough player to fade at this bargain asking price. He scored his fourth goal of the season and unloaded a whopping ten shots on goal against the Ducks on Thursday. Parayko looks to be locked into 20+ minutes of playing time each night and his blistering slapshot that has earned him a spot on the point of the Blue's #1 power-play unit while Kevin Shattenkirk remains sidelined.
Others: Erik Karlsson, Mark Giordano, Victor Hedman, John Carlson, Aaron Ekblad, Kris Letang
Best of luck tonight!
JMBWngFn (@JBritt2 on Twitter)