It's a light night in the NHL, but not as light as most Wednesdays over the first half of the season. In the coming days and weeks, the usual slow gamenights get a bit heavier, while the usual loaded weeknights (Tuesday, Thursday) even up a bit. Only a few of the League's top skaters will be in action, so keep in mind the higher-priced players should have lofty ownership percentages. Don't be afraid to work in some against-the-grain ideas, balance your roster with middle-range and value plays, and invest in a strong goaltender.
GOALIE
Jake Allen ($7,600) – When considering the Avalanche-Blues matchup for a goalie, the choice should be clear. As well as Semyon Varlamov has played on the road this season, he's only $100 cheaper than Allen and much less of a sure thing on home ice (7-6-3, .894 save percentage). Allen, who has lost two straight, has still averaged 3.0 DraftKings points in those losses and is 7-4-1 with a .927 SV% on the road (slightly better than his .926 home mark). That's an impressive display of consistency and he's a goalie you can trust in a key divisional game in the Mile High City. There's a good chance the Blues give him goal support too, with the Avs allowing 61 goals (2nd-most in NHL) in their first 19 home games this season (3.21 per game).
John Gibson ($6,800) – Gibson has six wins, a .933 SV% and three shutouts in his past 10 games, which equates to an average of 5.1 DraftKings points per contest in that span. He was named to the 2016 NHL All-Star Game roster Wednesday, and is still priced under $7,000. The only things riding against Gibson is that the Ducks are allowing only 20.8 shots in his past 10 outings, and he may be due for a loss having won four straight. He also hosts the well-rested Leafs, who are far from a pushover. But, all things considered, I wouldn't overthink this one. Gibson is 6-2-1 at home with a marvelous SV% (.938) and has an excellent chance at bringing home the win bonus and possibly a shutout.
Others to consider: Cory Schneider ($7,900), Scott Darling ($7,400)
DEFENDER
Kris Letang or Duncan Keith ($5,900 apiece) – I highly suggest you work Letang and/or Keith into your DraftKings lineup, because each is red-hot and priced $500 behind Kevin Shattenkirk, the most expensive defenseman on the night with a similar ceiling in the second of a home-and-home, back-to-back set between the Blackhawks and Penguins. Letang has multipoint outings in four of his six games since returning from injury, and Keith is in the midst of a four-game point streak (two goals, four assists) with 10 blocks and 10 shots on goal in that span. On a night where Jamie Benn, Tyler Seguin and Alex Ovechkin are off, you may even have room to spend up for both of these D-men and try to pick your spots with middle-range and value forwards.
Andrei Markov ($4,300) – With a few key injuries on the blue line (i.e. Erik Johnson, Cam Fowler) and another top D-man in doubt becuase of illness (Alexander Edler), Markov is an against-the-grain value pick Wednesday at home against the Devils. He has struggled mightily over his past 10 games with two points, 10 blocks and 15 SOG (1.7 DraftKings points per contest), but still plays 22-plus minutes per game with season averages of 2.5 DraftKings points. On a night like this, take a shot on a proven veteran who has a high ceiling and exposure to scoring chances. With the defense position mostly an abyss of hit-or-miss options, Markov could help set your defense apart from the rest.
Others to consider: Tyson Barrie ($5,200), Jeff Petry ($3,700), Niklas Hjalmarsson ($3,300), John Moore ($2,900)
CENTER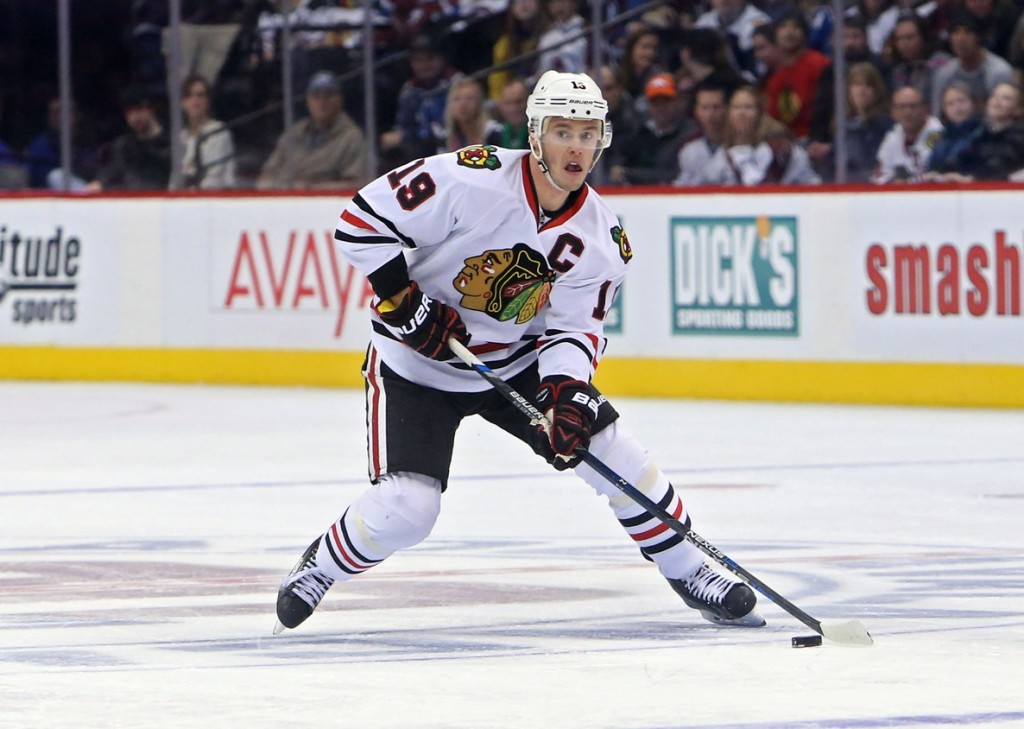 Jonathan Toews ($6,100) – Toews' fantasy value doesn't usually stack up to his all-world status in reality, but it certainly has lately. The Blackhawks captain has points in seven of his past 10 games, with 24 SOG in that span for 3.9 DraftKings points per contest. He'll be on the second of a back-to-back against Pittsburgh, but most DFS owners will be trying to work in Patrick Kane ($8,800), Evgeni Malkin ($7,700) and Sidney Crosby ($7,100) on this light gamenight. When push comes to shove, few have been better than Toews down the stretch of games with six game-winning goals (T-2nd in NHL), including a League-best four overtime winners. You can get him for $1,000-plus cheaper than the other stars in his game.
Nazem Kadri ($5,400) – If you're not rostering Gibson, take advantage of Kadri's middle-tier price in an against-the-grain spot in Anaheim. Kadri has nine points in his past eight games and is among the League leaders in SOG (127, 14th) this season. Even with his hot streak, he's only shooting 5.5 percent — fourth-lowest among NHL forwards among those with 100-plus SOG behind Marian Hossa (4.4), Dustin Brown (3.6) and Jakub Voracek (3.6). Kadri is primed for even more positive regression over the second half of the season. Toronto, winners of five of its past seven, hasn't played since Saturday and embarks on a three-game California road swing starting Wednesday at the Ducks.
Others to consider: Ryan Getzlaf ($5,700), Eric Staal ($4,900), Paul Stastny ($4,900), Matt Cullen ($2,800)
WING
Alexander Steen ($7,200) – The Blues are coming off a stinging loss to the Senators at home and could exploit the Avalanche, who have been vulnerable at home for most of the season and will be without their top all-around defenseman in Johnson. Steen, fifth among skaters in price, has points in three of his past four games and can be conveniently stacked with Stastny ($4,900), who's quietly been a point-per-game player on the road this season (12 points in 12 games). On a night like this, don't be surprised to see a three-point night from Steen dictate the DFS landscape and give your team a lift. So many people will invest in the Blackhawks-Penguins game, but if that turns out to be a grind-it-out, low-scoring affair, those who tap into the Blues-Avalanche showdown could reap the benefits.
Jeff Skinner ($4,600) – When you're looking for a high-ceiling, low-ownership player, Skinner tops the list Wednesday. He has two hat tricks this season and is averaging 3.2 DraftKings points per contest on the road this season (compared to 2.8 at home). He's averaging nearly three SOG per game (2.83) and faces the Canucks, who are allowing the third-most DraftKings points to wings this season. Stack Skinner with his center Victor Rask ($4,700) and put some stock in the Hurricanes, the League's most underrated team in terms of puck possession.
Others to consider: Brendan Gallagher ($6,300), Artemi Panarin ($5,700), Teuvo Teravainen ($4,200), David Perron ($4,100), Blake Comeau ($3,200)
Feel free to send me DFS NHL lineup questions all season long via Twitter, Facebook and Swayy (NHLJensen). Subscribe to The Daily Fantasy Hockey Edge podcast on iTunes or Android.