There are only four games in the NHL on Wednesday as the League will have a five-day break beginning Thursday for All-Star weekend in Nashville, TN. Washington Capitals forward Alex Ovechkin ($8,800) is the only skater priced above $8,000, leaving plenty of options for building a well-balanced lineup. The Toronto Maple Leafs, Colorado Avalanche and Nashville Predators are all set to play their respective second road game in as many nights so owners should proceed with caution in considering players from those teams, especially that Toronto and Colorado each lost by five goals Tuesday. Here are some players to target on the light game night:
Goaltender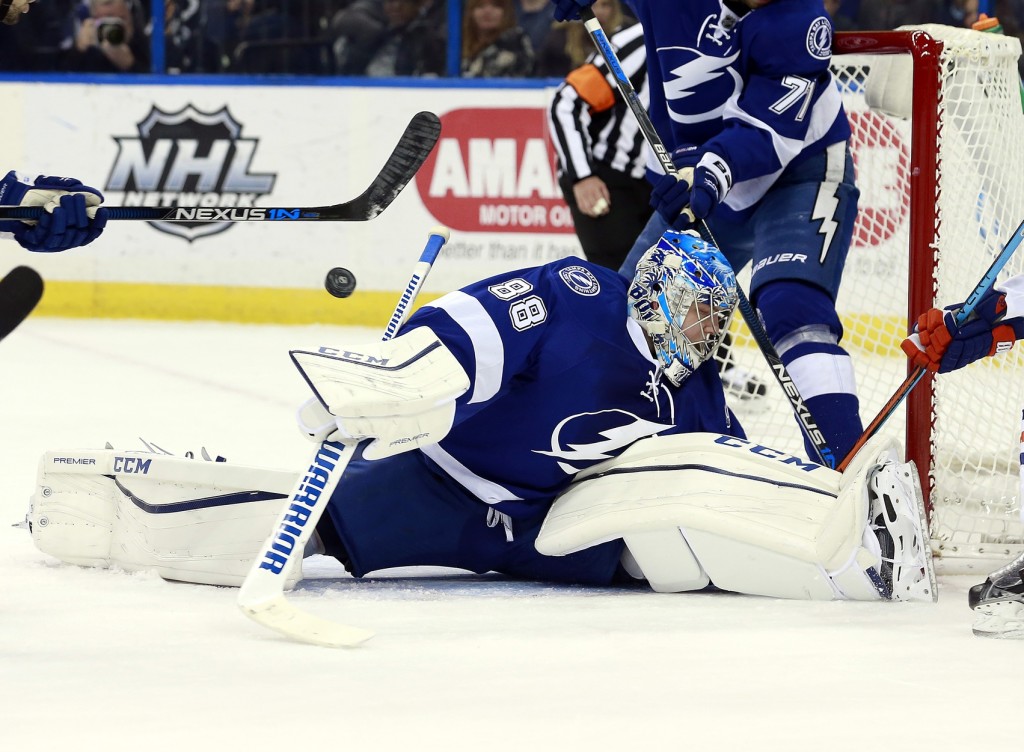 Andrei Vasilevskiy ($7,600) – The Lightning backup goaltender is a sound selection as Tampa Bay hosts the struggling Maple Leafs. Toronto began the New Year strong with 4-1 and 4-0 wins against the St. Louis Blues and Anaheim Ducks, respectively, but have since gone 1-6-2 with a 3.00 goals-against average. The Maple Leafs have also missed the offense of James van Riemsdyk as they are averaging just 1.42 goals for in seven games since the forward was injured in a 7-0 loss at the San Jose Sharks on Jan. 9. Vasilveskiy gets limited opportunities to start playing behind Ben Bishop but will try to extend his winning streak to six games Wednesday.
Jonathan Quick ($8,400) – While Vasilevskiy should provide owners with a good return at an affordable price, taking the more expensive Quick at home against the Avalanche is a good alternative. Although the Kings goalie has hit a brief rough patch with two straight losses and a 3.00 GAA, he is 13-4-1 with two shutouts and a 2.25 GAA in 19 career starts against Colorado, including a 2-1 win at home against the Avs on Oct. 18.
Others to Consider: Braden Holtby ($8,500), Pekka Rinne ($7,500), Michal Neuvirth ($7,300)
Defender
Roman Josi ($6,900) – Josi is the most expensive defenseman in the player pool Wednesday but should be worth the investment at the Calgary Flames. The Predators' top-unit blue liner at regular strength and the power play has 12 points (one goal, 11 assists), 28 blocked shots and 18 shots on goal in 13 career games against Calgary. Josi has been amazing on the road this season with 21 points (six goals, 15 assists), 62 blocked shots and 52 SOG in 26 games. The Flames are also tied for 29th in the NHL with a 3.02 GAA, increasing the chances of any player from Nashville producing for your daily fantasy lineup.
Matt Niskanen ($4,900) – As part of the Capitals' current top defensive unit as well as being Alex Ovechkin's partner at the point on the power play, Niskanen has received increased opportunities to score. If you go with Josi as your top defenseman Wednesday, then Niskanen is a prefect mid-priced secondary option at home against the Philadelphia Flyers. The veteran blue liner will try for a three-game point streak Wednesday with a goal, two assists, seven blocked shots and seven SOG over that span. Owners should keep up with news concerning Capitals top defenseman John Carlsson returning from a lower-body injury as this could possibly affect Niskanen's power-play minutes.
Others to Consider: Shea Weber ($6,100), Jake Muzzin ($5,000), Anton Stralman ($5,000), Michael Del Zotto ($4,100)
Forward
Nikita Kucherov ($6,500) – Kucherov has been one of the hottest players in the NHL the past two months with 30 points (14 goals, 14 assists) in 23 games through December and January. The second-line forward will try to extend his scoring streak to nine games Wednesday with 11 points (six goals, five assists) and 19 SOG over that span. Kucherov should provide an amazing return against the Maple Leafs going up against Jonathan Bernier; the veteran goalie is 6-12-3 with a 3.13 GAA in 21 games this season.
Mike Ribeiro ($3,500) – It's always a good idea to grab at least one extremely low-priced, lesser-owned player because if you get good production then your chances of moving into the money tier increase. Ribeiro has seen increased minutes on the Predators top line recently with Ryan Johansen ($5,900) and James Neal ($5,800), making it possible to stack that entire line in your DraftKings contest(s). The veteran forward will try to keep his strong play going against the Flames; Ribeiro has 33 points (13 goals, 20 assists) and 56 SOG in 39 career games against Calgary.
Others to Consider: Evgeny Kuznetsov ($6,500), T.J. Oshie ($5,800), Jarome Iginla ($4,400), Leo Komarov ($4,400)