A decent slate for tonight's NHL action has five games on the docket for DFS players to choose their lineups form. There are some top superstars available, as well as some great value picks, so let's take a look at some of the top and bargain buys for tonight's scheduled action:
Goaltender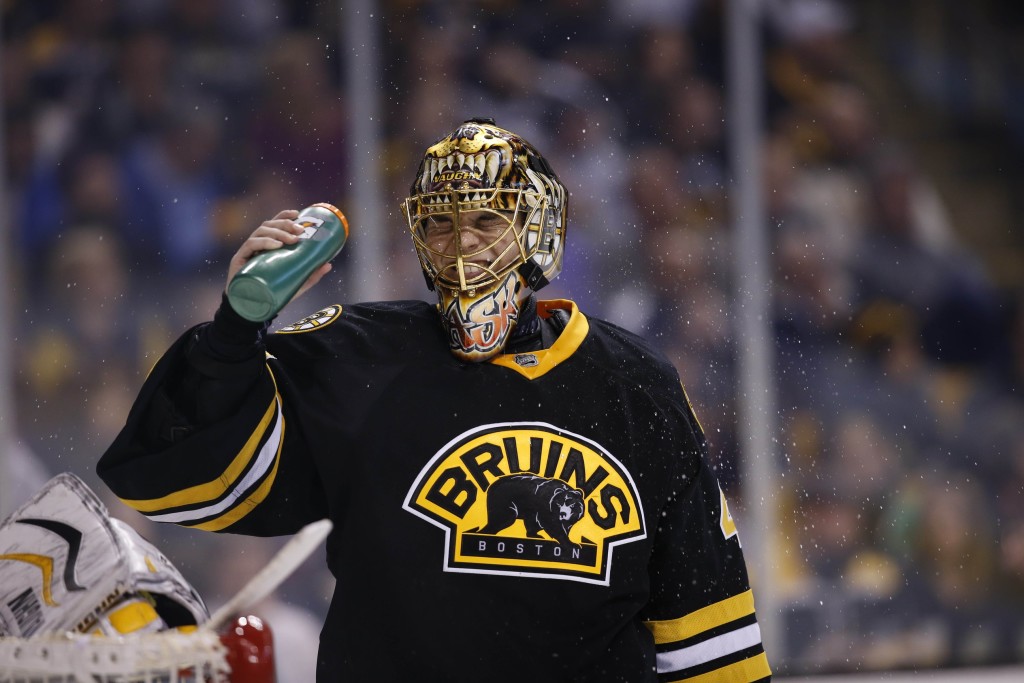 Tuukka Rask ($8,200) – Rask has won two in a row and three of his last four for the Bruins. He was fantastic in net on Wednesday night against the Penguins, holding Pitt to a lone goal in a beautiful 41-save performance. It was his second straight win over a playoff contender after beating the Stars on Saturday night. Rask is now up to 23 and his strong play as of late makes him one of the top starters available tonight. The Bruins face the Hurricanes tonight on the road and this will be Rask's first matchup with them this season. However, he has been a much better goalie away from home this year posting nearly a full goal less GAA (2.10 road, 2.99 home), .30 higher SV% (.932) and an above .500 record at 13-5-3 in 22 games. Roll Rask tonight in a favorable road matchup against Carolina.
Frederik Andersen ($7,600) – Andersen or John Gibson ($7,400) will be in net for the Ducks Friday night, so start either against the Oilers. I am assuming it will be Andersen who is coming off a strong shutout performance against the Sabres on Wednesday night, stopping all 26 shots he faced. Andersen has taken a firm grip on the Anaheim net going 8-0-1 in his last 10 appearances and has not lost in regulation since before Christmas. He and Gibson have tag-teamed to backstop the Ducks to four points out of the division lead with a game in hand. Andersen has struggled against the Oilers this season, but the game is on home ice and he has posted a 1.99 GAA at Honda Center this year. With a looming matchup, potentially for the division lead, against the Kings on Sunday the Ducks could elect to go with Gibson tonight to give Andersen the rest. Regardless of which netminder starts for Anaheim I like the matchup for both and the price tag each comes in at.
Martin Jones ($7,500) – Jones has had his struggles this season as he copes with playing starter minutes for the first time in his career but he has begun to play really solid hockey for the Sharks and has solidified that over his last 10 games. 6-3-1 while boasting a 2.28 GAA and .921 SV% over that span, he is coming off the OTL against the Avs on Wednesday taking the loss in the shootout after stopping 38 of 41 shots. Jones now sits in sole-possession of fifth in the league in wins with 29 on the year, just two back of former teammate Jonathan Quick. The Sharks face the Sabres tonight, who are struggling for offense with the loss of Ryan O'Reilly, and in his previous start against Buffalo this season Jones was fantastic, allowing a single goal against picking up the win with a 30-save effort. .
Others to Consider: Braden Holtby ($8,600), Cory Schneider ($8,000), Ben Bishop ($7,800)
Defender
Brent Burns ($8,200) – I have said it before that there are very few defensemen in the NHL who can act like a fourth forward and Burns is one of those few. He'd be in the Norris discussion if it weren't for the season Karlsson is having in Ottawa, but Burns is still having a fantastic year of production and is right now on-pace to break his career-high season of 60 points that he set just last year. He has already set new career-highs with 20 goals and 257 SOG in only 59 games this year and the shot totals put him second in the league, only 46 behind Ocechkin's 303. Burns has points in three straight games and in five of his last seven overall. He's averaging 4.8 FPPG in his last 10 games, a number helped by his 47 SOG and his 17 blocks. He faces the Sabres tonight and in his lone game against them this year he posted and assist, three blocks and four SOG which were good for a 5.5 fantasy point night. If you are going to pay up for a defender tonight go with Burns.
Sami Vatanen ($5,100) – Coming in $3,100 cheaper than Burns tonight is Vatanen for those who want a top defenseman at a more manageable price. He won't give you the shots totals but the offensive production as of late is even, Vatanen has eight to Burns' seven, and he is adding about 1-2 blocks per game over his last 10 games (15 to Burns' 17). The young puck-mover has points in five of his last six games for the surging Ducks and he has helped to take advantage of their PP opportunities with seven of his eight points lately coming on the man advantage. The Ducks face the Oilers tonight in a favorable matchup and in three games against Edmonton this season Vatanen has two assists, three blocks and nine SOG.
Brooks Orpik ($4,300) – Never one known to pour in the points, DFS players should look Orpik's way as a value buy tonight and take advantage of his recent run of scoring form. The defenseman returned after missing over two months on IR and has five points in his first five games back in the Caps lineup. The five points have coming in three of his games and two have been multi-point outings. On Wednesday against the Habs Orpik posted two assists, a block and a SOG in 17 minutes of ice time. He is only playing a third-pair role at the moment, but if he continues to show flashes and break the rust then he could force Coach Trotz to bump his time on ice up to top-four minutes.
Others to Consider: Victor Hedman ($6,100), Ryan Suter ($6,000), John Carlson ($5,800), Torey Krug ($5,700), Matt Dumba ($4,400), Hampus Lindholm ($4,300), John-Michael Liles ($3,600)
Forward
Steven Stamkos ($7,200) – We know that Stamkos is not getting moved on or before Monday's trade deadline and that's good for the Lightning because he is heating up again at the right time. Stammer is up to 47 points in 60 games, below his norm but still solid. He does however have nine points in his last 10 games, three multi-point outings, and is currently riding a four-game goal streak that he extended with a marker against the Coyotes on Tuesday night. He is having an uncharacteristic shooting year this year with only 166 SOG, 20 in his last 10 games, well below his pace at this time last year when he finished with 268. He is still one of the best scorers in the league and has a great chance to do that tonight against the Devils, who have surprisingly struggled in net recently.
Ryan Getzlaf ($6,000) – Getzlaf continued his month long dominance with an assist against the Sabres on Wednesday night. He is now up to a nine-game point streak and has 17 points in the month, while failing in only one game to find the scoresheet. In 12 February contests the Ducks Captain has five goals, 12 assists and 24 SOG and is averaging almost five FPPG in his last 10 games. He has two points and seven SOG in three games against tonight's opponent the Oilers on the season and at $6,000 is a bargain for his level of production right now.
Tomas Hertl ($5,200) – Hertl has once again found his scoring touch as his offensive inconsistencies this season show. He has flashed some brilliance offensively this year, but has also gone into scoreless droughts that have lasted more than four games. He is on one of those brilliant streaks right now so I'm buying in. He remains on San Jose's top line with Pavelski and Thornton which automatically gives him fantasy relevance and has been lighting it up with points in five of his last six games. At the moment he is riding a three-game point streak that has seen him put up three goals and an assist while adding 12 SOG. This still is only his second full season in the NHL so he is still learning, and he has already passed his 31-point season from last year only 58 games into this season. He could hit the 40-point barrier easily over the last 20+ games and as long as he plays with Pavelski and Thornton he will be a threat every night to find the scoresheet.
David Pastrnak ($4,300) – Another young player who has shown flashes of offensive brilliance and is playing in a top-six capacity is Pastrnak, the Bruins talented young sniper. He is currently saddled on a line with countryman David Krejci and Loui Eriksson and has put up back-to-back strong multi-point outings. He started the week with a two assist game against the Blue Jackets and topped that with a fantastic two-goal, seven SOG performance against the Penguins on Wednesday night. Overall he has seven points in his last 10 games and is playing with two dynamic playmakers. He could see an even bigger offensive role after the weekend should Eriksson, a UFA at year's end, get moved before the deadline. But for now this line is together and they are productive and Pastrnak is a great talent at a great price.
Joakim Nordstrom ($3,300) – Nordstrom has the benefit of playing with one of the hottest centers in the league right now for Carolina and it's not the Staal brother that you're thinking of. Playing on the Canes second line with Jordan Staal, Nordstrom has managed eight of his 20 points this year in his last 10 games. He has been doing it fairly consistently as well with points in seven of those 10 games. He had an okay game against the Maple Leafs last night with two SOG in 17+ minutes of ice time, but the game snapped a four-game point streak. Still, with as hot as Staal is right now and the Canes still in the playoff hunt, Nordstrom is worth a look as a flier tonight against the Bruins.
Others to Consider: Alex Ovechkin ($9,100), Joe Pavelski ($7,500), Patrice Bergeron ($7,100), Connor McDavid ($7,000), Brad Marchand ($6,900), Evgeny Kuznetsov ($6,700), Jack Eichel ($5,700), Joe Thornton ($5,500), Thomas Vanek ($4,900), Jordan Staal ($4,700), Jason Pominville ($4,400), Joseph Blandisi ($3,800), Zack Kassian ($2,900)
Make sure to check out the Cheat Sheet and NHL Line Stacks posts today and as always for any DFS Hockey questions or comments this season, find me on Twitter at: @JHarding_Hockey