The Series Breakdown will take an in-depth look into each of the series in the Western Conference Playoffs First Round action. This will include: the top players to look for, which players could be the breakout stars, and a series prediction.
1. Anaheim Ducks vs. 8. Winnipeg Jets
Game Analysis
This may be the series out West that everyone ultimately has their eye on. Does the run Winnipeg went on at the end of the season continue into the playoffs? Or do we see the usual Jets being Jets? The thing is, these two teams are almost heading in opposite directions, and yet, that could potentially mean nothing come game one, round one! Both teams take lots of penalties, so the team that even gets somewhat hot on the power play will likely have an edge. Winnipeg and Anaheim both have a bevy of forwards that can score, but the Jets have Dustin Byfuglien. When healthy, Byfuglien can be a real force, especially in the playoffs. Goaltending will be a question mark for Anaheim, as Frederik Andersen will start, but how long is his leash?
Players to Watch
Dustin Byfuglien
Ondrej Pavelec
Ryan Getzlaf
Frederik Andersen
Breakout Star
I'm looking to Mark Scheifele as the breakout star here. The forward has solid numbers, but seemed to get better after Evander Kane left. Though he plays a little on the smallish side, Scheifele is not afraid to battle for loose pucks, get in the corners, etc. He played pretty well against Anaheim during the season, and I would not be surprised to see him have a good series versus an Anaheim team that has given up goals lately.
Prediction
This is one series that could really go either way, but in a shocker, I have Winnipeg upending Anaheim in seven games. Anaheim will basically be playing a clone of the Los Angeles Kings, and that may be enough to drive them over the edge. Then again, maybe the Ducks learned their lesson, but time will tell on this one.
---
2. St. Louis Blues vs. 7. Minnesota Wild
Game Analysis
So how does Devan Dubnyk handle going up against one of the deepest forward cores in the league? His last time against St. Louis saw him get yanked after allowing three goals, but that does not diminish what he has done the whole season. At the same time, St. Louis does not even know who they are starting as of press time. Minnesota at even strength is one of the best (if not the best) teams in the playoffs. After that, it gets a little dicey. St. Louis is right up there also and has more balance, especially on special teams. This series will come down to guys like Alexander Steen and Vladmir Tarasenko. That means, for Minnesota, Zach Parise is going to have to have a series like he did against Colorado last year.
Players to Watch
Zach Parise
Devan Dubnyk
Vladimir Tarasenko
Kevin Shattenkirk
Breakout Star
It all depends on how he is used but do not be surprised if Dmitrij Jaskin makes quite an impact on this series. Jaden Schwartz will be the chic pick, but Jaskin has quietly been able to play in all situations, and in the playoffs, that versatility is very much desired. If an injury occurs, the forward can step right in. That makes him valuable.
Prediction
St. Louis wins this series over Minnesota in seven games. It will be a bit tougher than it looks, especially if Devan Dubnyk is not solved early by the Blues. Can Minnesota steal a road game? They are ridiculously tough at home. Both teams have history in the playoffs of late, and it has not been pleasant. Someone has to win.
---
3. Nashville Predators vs. 6. Chicago Blackhawks
Game Analysis
This does not seem to be fair on paper, and as if Chicago was not good enough, they get Patrick Kane back for round number one. I guess that injury really was only 6-8 weeks after all. Chicago has its moments of just awful, inconsistent play, but the difference is they can get off the mat. Nashville has never shown that yet. There is no question that the Predators, with a young Filip Forsberg and Roman Josi along with a solid veteran corp, have the talent, but can they score? No fewer than a half dozen players are on offensive slumps, and Pekka Rinne has been a below average goalie for a month now. Chicago, on the other hand, has been there many times before and has the team that can go far even if some of the parts are not quite as good as they were before. Marian Hossa, Jonathan Toews, and Corey Crawford all have the rings. That means something.
Players to Watch
Patrick Kane
Jonathan Toews
Filip Forsberg
Roman Josi
Breakout Star
The player I picked here was Bryan Bickell. For some reason, ugly, gritty series seem to suit him, and this could definitely get ugly. He will be a value play no question, but with tight spaces, you need a player that can perform in the trenches, and Bickell has the pedigree.
Prediction
Chicago will defeat Nashville in six games. I thought about going five games here but decided against it. The Blackhawks have a weird habit of sometimes giving games away in a series. That being said, the hockey playing shape of Patrick Kane will be an X-Factor here.
---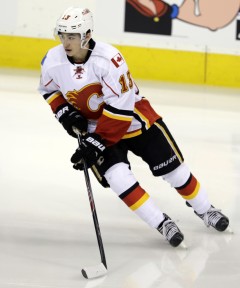 4. Vancouver Canucks vs. 5. Calgary Flames
Game Analysis
They said it could not be done, but the Calgary Flames found a way to make the playoffs. Also, the Flames got in without having to go the wildcard route. This series boils down to depth and to which first line gets the upper hand. Vancouver has the Sedin Twins and "insert left wing here" (probably Alex Burrows), and Calgary has Sean Monahan, Johnny Gaudreau, and Jiri Hudler. The defense, even without Mark Giordano, is still pretty good offensively with Kris Russell and Dennis Wideman. Goaltending is going to be a wildcard here, as both teams have pretty fluid goalie situations. Karri Ramo and Jonas Hiller have platooned, more or less, and Ryan Miller clearly was not quite ready after his start against Edmonton. When two Canadian teams meet like this, expect the unexpected!
Players to Watch
Johnny Gaudreau
Sean Monahan
Daniel Sedin
Henrik Sedin
Breakout Star
In a series expected to have a lot of twists and turns, I believe T.J. Brodie will be the breakout player here. Brodie had been kind of long forgotten after the Giordano injury. Yes, he has struggled, but in the playoffs, heroes can rise out of the ashes. Brodie is young enough to provide that spark from the blue line that could really cause Vancouver a lot of fits.
Prediction
The Calgary Flames will win in seven games over the Vancouver Canucks. Everything about this series seems a little bit crazy, so we are rolling with this. Consider that the Flames' goaltending may actually be slightly better than the Canucks, too.