The NHL Cheat Sheet is your quick-hit daily look into the top lines and line changes, fantasy studs, value picks and more to help you navigate your DFS Hockey lineups.
Top Lines of the Night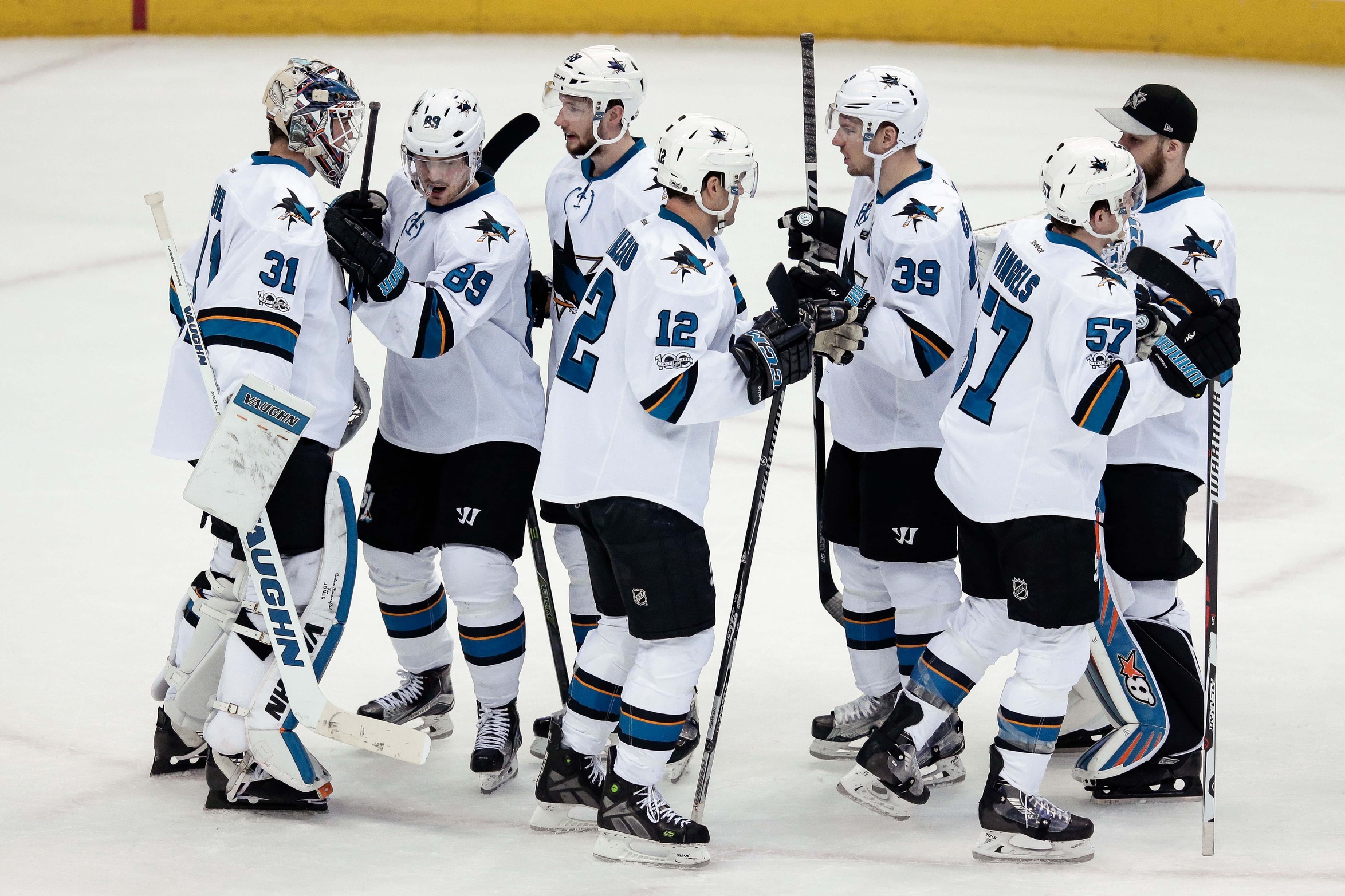 San Jose Sharks vs Edmonton Oilers
Joe Pavelski ($7,100) – Joe Thornton ($5,000) – Patrick Marleau ($5,000)
Marleau scored in both of the Sharks' back-to-back games on Monday and Tuesday, netting a four-goal game against Colorado and following that with a tally against the Jets. I'd say five goals and 10 shots on goal (SOG) in two games makes him worthy of consideration tonight. Thornton picked up an assist on Tuesday on the power play (PP) when Brent Burns buried his goal. That's points in four of his last six for Jumbo Joe. Pavelski has three points against Edmonton this season and picked up an assist on one of Marleau's goals on Monday, but he is slumping a bit with only that one point in his last four games. With a matchup looming against Edmonton, and potentially backup goalie Laurent Brossoit, this line could have a big night.
Pittsburgh Penguins @ Boston Bruins
Sidney Crosby ($8,300) – Conor Sheary ($6,000) – Bryan Rust ($5,100)
Crosby continues to lead the league in goal scoring with 28 on the season, despite only netting two goals in his last nine games. He has 12 points in his last nine games overall, including a three-point game against the Bruins last weekend. Sheary and Rust both had scoring streaks snapped on Tuesday against St. Louis as well. They too had three-point outings against the Bruins last weekend, and this line has combined for 13 points in two games against Boston this season.
---
Superstar to Build Around
Jack Eichel ($6,900) – In his last 10 games, Eichel is averaging almost five SOG per game (47 total), and has put up eight points. He is coming off a two-goal night against the Predators on Tuesday night. Eichel and the Sabres have a prime matchup against the Stars, who are allowing the most goals per game in the NHL this month. The superstar center is at a great price for a top player and he already had a multi-point game in his other outing against Dallas this season.
---
Value on Offense
Nikolay Kulemin ($3,200) – Kulemin has picked up points in four of his last five games despite playing primarily in a bottom-six role this season, but he is getting hot right now. He skated on the Isles' top line with John Tavares on Monday and scored his third goal in five games and could stick there if Anders Lee remains out of the lineup.
Miles Wood ($3,500) – Wood has increasingly been getting more playing time and exposure to the Devils' top offensive players, and it's paying off. He has six of his 11 points in his last 10 games, is riding a two-game point streak and has points in three of his last four. He has two goals, one assist and 10 SOG in his last two games, including a power play goal (PPG).
---
Stud Goalies
Braden Holtby ($8,200) – Holtby bounced back from back-to-back subpar outings with a great win against Carolina on Monday night. He stopped 25 of 26 shots to pick up his 23rd win of the season. Holtby will face the Devils tonight, and in his career against NJ he's 10-3-2 with a 1.91 goals against average (GAA). He's 8-0-0 in his last 10 starts, with two no-decisions and three shutouts.
Ryan Miller ($7,700) – Miller has been absolutely fantastic over the last month, winning seven of his last 10 starts and only losing once in regulation since December 28th. Over that span, Miller has posted a 1.67 GAA and .946 save percentage (SV%) with two shutouts, one against the Coyotes whom he faces tonight. Overall on the season, he has won both his starts against Arizona, allowing only a single goal on 58 shots.
---
Value on Defense
Cody Franson ($3,100) – Franson is enjoying a solid season for the Sabres, posting 13 points and a plus-3 rating in 44 games. He has points in three straight games collecting three assists, one goal and five SOG. He had two assists against Nashville on Tuesday night.
Jakob Chychrun ($3,200) – The rookie has struggled at times this season, but I think DFS players should look hard at him while he is producing. He has four points in his last four games, after only seven points in his first 34 games. He has two goals and two assists, with four blocks and five SOG. He had two assists on Monday against Florida.
---
Power Play Defensemen
Brent Burns ($8,200) – Not much more can be said about Burns this season. He netted a PPG on Tuesday against the Jets, his second PPG in his last 10 games, and he has three PP points overall in that span. Burns has 14 points and 34 SOG in his last 10 games, and if you can afford to put him in your lineup, I think he's more than worth a look.
Dougie Hamilton ($4,800) – Hamilton has continued his solid season for the Flames and is continuing to contribute on the PP. Hamilton has points in seven of his last 10 games, with four PP points. He has picked up points in three of his last four games and has a PP point in each of those three games. Hamilton had a three-point game against Ottawa earlier this season.
Make sure to check out the Cheat Sheet every day, and, as always, for any DFS Hockey questions or comments this season, find me on Twitter at: @JHarding_Hockey.
---
I am a promoter at DraftKings and am also an avid fan and user (my username is HardingJ2) and may sometimes play on my personal account in the games that I offer advice on. Although I have expressed my personal view on the games and strategies above, they do not necessarily reflect the view(s) of DraftKings and I may also deploy different players and strategies than what I recommend above.