The NHL Cheat Sheet is your quick-hit daily look into the top lines and line changes, fantasy studs, value picks and more to help you navigate your DFS Hockey lineups.
Top Lines of the Night
Edmonton Oilers @ Arizona Coyotes
Connor McDavid ($8,100) – Leon Draisaitl ($6,300) – Patrick Maroon ($5,600)
McDavid has two multi-point games in his last four outings, and he has four multi-point games in his last six games overall. He has a goal, an assist and nine shots on goal (SOG) in three games vs the Coyotes this season. Draisaitl had a three-point game on Thursday against the Devils before being kept in check by the Flames over the weekend. He also has two points on the season in three games vs the Coyotes. Maroon has 10 points in his last 10 games (nine goals) and is averaging more than three SOG per game during that span. He has goals in back-to-back games, including one on the power play (PP).
Los Angeles Kings vs Tampa Bay Lightning
Anze Kopitar ($5,400) – Marian Gaborik ($4,200) – Trevor Lewis ($4,000)
After an uncharacteristically slow start to his season, Kopitar is beginning to get hot and turn things around. The Kings' captain is riding a four-game point streak, with points in five of his last six games overall – one goal and six assists. Gaborik had a slow start to his season as well with only eight points in 21 games. However, he has points in back-to-back outings, and in three of his last four putting 11 SOG in that span. Lewis has solidly put up 14 points this season and has two points and 11 SOG in his last four games playing on this line.
---
Superstar to Build Around
Nicklas Backstrom ($6,600) – Backstrom notched two assists in the Capitals 5-0 blowout of the Flyers yesterday. The two helpers pushed his point streak to six games and his multi-point game streak to four. Backstrom has 13 points in nine games and 12 of those points have come on this current burner. It's safe to say he's dominated the Penguins this season with 11 points against Pittsburgh in three games already, including a four-point game against them last Wednesday.
---
Value on Offense
Mathieu Perreault ($4,100) – Perrault had a two-point game vs the Kings on Saturday when he collected a pair of PP assists. He has found the scoresheet in every other game over his last nine outings (six points, four PP points). He's skating on the formidable Jets' top line with Bryan Little and Blake Wheeler.
Valtteri Filppula ($4,100) – After a long scoring drought that lasted six games, Filppula has points in three straight. The Lightning center has an assist in each of his last three games, including one on the PP, and has added three SOG as well.
---
Stud Goalies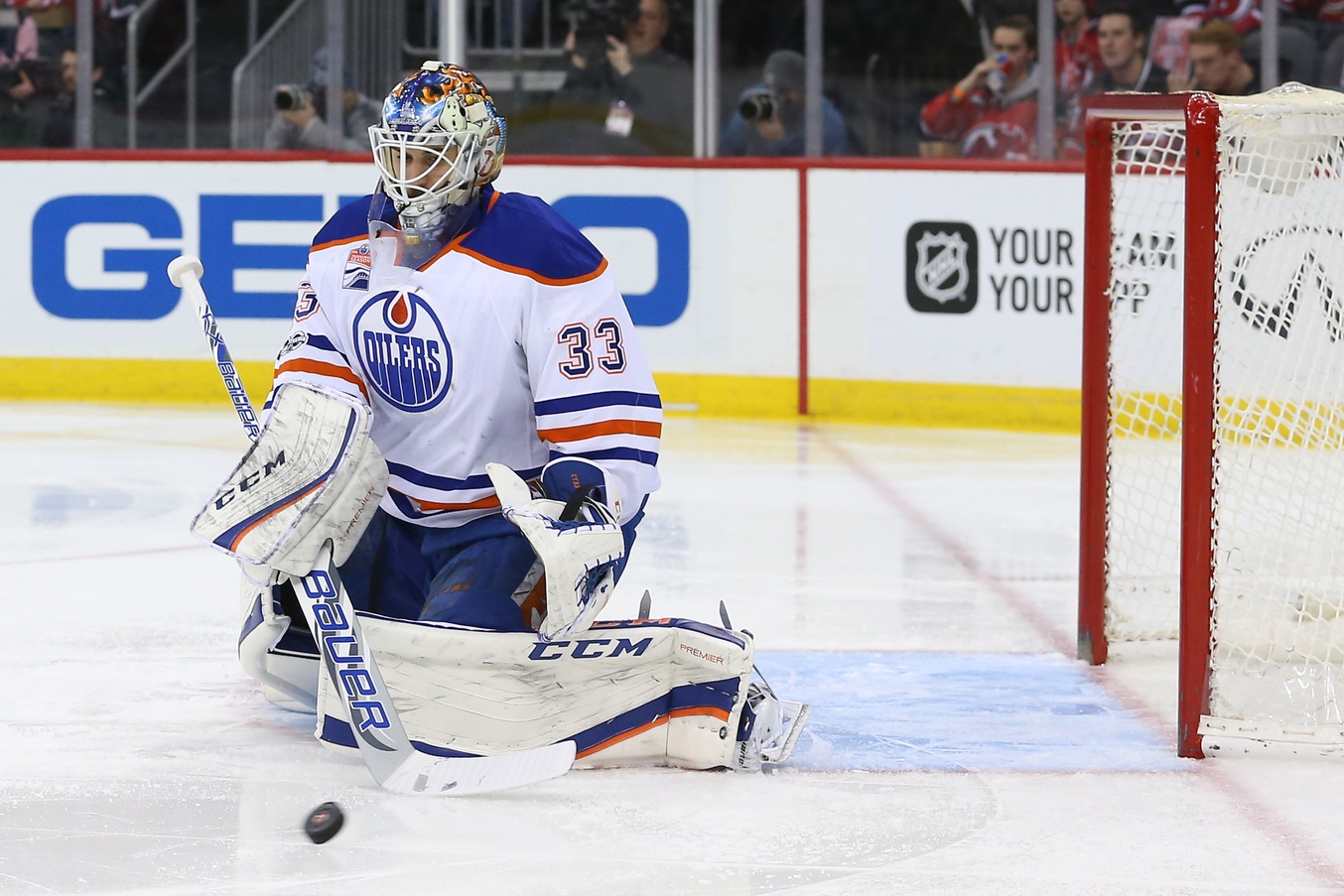 Cam Talbot ($8,200) – Talbot has been very solid as of late for the Oilers, winning four of his last five outings. He's won back-to-back games allowing only three goals against in total. He faces the Coyotes tonight, a team that he has a 1.96 goals against average (GAA) and .940 save percentage (SV%) against this season in three starts.
Braden Holtby ($7,500) – Holtby has arguably been the best goalie in the league the last two weeks. He's riding a five-game winning streak and has posted three shutouts over that span. He blanked the Blue Jackets, Senators and Blackhawks while also taking down the Pens and Habs. He gets the Penguins again tonight, this time on the road.
---
Value on Defense
Matt Niskanen ($4,200) – Niskanen collected a pair of goals yesterday against the Flyers and added five SOG and two blocked shots for 9.5 DKFP. He hasn't been putting up much offensively as of late, but the two goals might be a jump start for him. He's averaging two SOG and about two blocks per game over his last 10.
Oliver Ekman-Larsson ($4,800) – OEL had a three assist game on Friday against the Jets, one coming on the PP, before being shut out by the Ducks on Saturday. The puck-moving blue liner is one of the offensive bright spots for the Coyotes this season, joining Radim Vrbata as the only other player with over 20 points. His 23 points are second on the team and his 12 PP points lead Arizona. He has four points in three games vs the Oilers this season as well.
---
Power Play Defensemen
Brent Burns ($8,200) – Burns had a four-game, multi-point streak end on Saturday when the Sharks were blanked by St. Louis. It was a quiet night for Burns who only accounted for a single SOG. Burns is a point-per-game player in his career against the Jets with 14 points in 14 career meetings, and is the top point producer available tonight averaging 5.3 DKFP per game.
Victor Hedman ($5,900) – Hedman has the second-highest FPTS average for defensemen tonight at 3.7 points per game. Despite being kept off the scoresheet on Friday against the Blue Jackets, Hedman is still one of the more dangerous offensive defensemen in the league. He has nine points in his previous eight games and five of them have come on the PP. Despite a tough matchup tonight against L.A., I think Hedman is a solid play.
Make sure to check out the Cheat Sheet every day, and, as always, for any DFS Hockey questions or comments this season, find me on Twitter at: @JHarding_Hockey.
---
I am a promoter at DraftKings and am also an avid fan and user (my username is HardingJ2) and may sometimes play on my personal account in the games that I offer advice on. Although I have expressed my personal view on the games and strategies above, they do not necessarily reflect the view(s) of DraftKings and I may also deploy different players and strategies than what I recommend above.