The NHL Cheat Sheet is your quick-hit daily look into the top lines and line changes, fantasy studs, value picks and more to help you navigate your DFS Hockey lineups.
Top Lines of the Night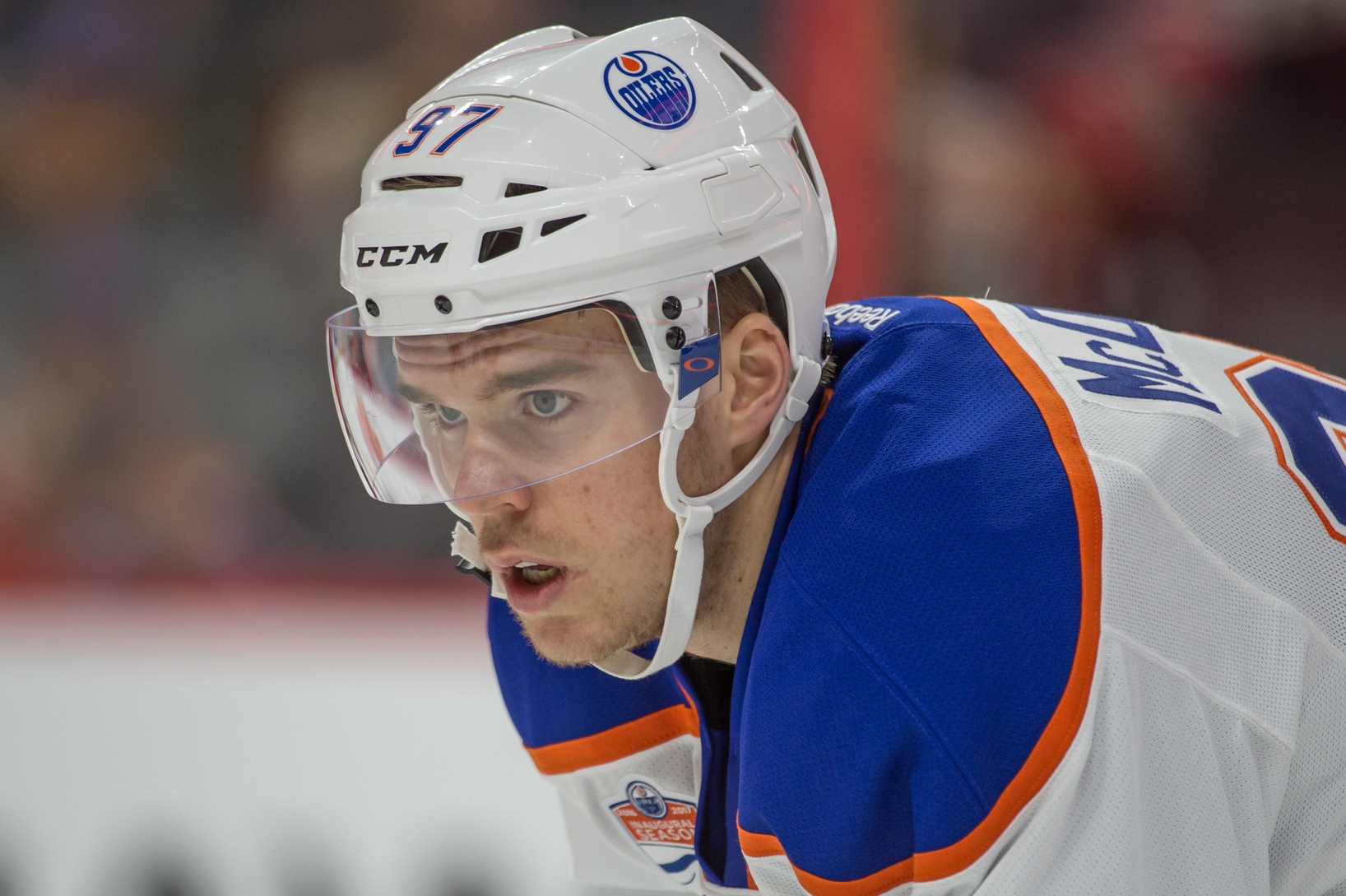 Edmonton Oilers vs New Jersey Devils
Connor McDavid ($8,100) – Leon Draisaitl ($6,000) – Patrick Maroon ($5,100)
This line was kept off the scoresheet on Tuesday against the Sharks, which snapped McDavid's three-game point streak, but they have a great matchup against the Devils tonight. McDavid continues to lead the league with 48 points in 43 games. Draisaitl has points in six of his last 10 games and has a goal and six shots on goal (SOG) in his last two outings. Maroon has five goals and 19 shots in his last four games and has nine points overall in his last 10. He has broken out this season with McDavid, and I think he is a solid value play tonight.
Boston Bruins @ Nashville Predators
David Pastrnak ($7,100) – Brad Marchand ($6,600) – Patrice Bergeron ($6,100)
Marchand has a three-game goal streak, a four-game point streak and at least a point in eight of his last 10 with 25 SOG and six special teams' points. Pastrnak has points in three of his last four games and equaled Marchand's three-point game on Tuesday with three points of his own, including a power play point (PPP) and five SOG. Bergeron is beginning to turn his very down season around. He has points in five of his last seven games, is riding a two-game point streak right now and has a goal and four assists in his last four games.
---
Superstar to Build Around
Sidney Crosby ($8,300) – Crosby picked up a power play (PP) assist last night in the Penguins 5-2 loss to the Capitals, and the assist gives him points in two straight games and in eight of his last nine. It was an off night for Sid, who did not record a single SOG. Crosby has 12 points in his last nine games, 25 points in 16 road games this season, and he faces an Ottawa team tonight that he has averaged better than a point-per-game against in his career.
---
Value on Offense
Artturi Lehkonen ($3,800) – The rookie winger is having a solid season for the Canadiens and is skating on very underrated, value line at the moment with Tomas Plekanec and Paul Byron. Lehkonen has a three-game point streak and put up a three-point outing last night against the Jets with two goals.
Andreas Athanasiou ($4,100) – Athanasiou potted a goal for the third-straight game on Tuesday. He had a goal and two SOG against the Blackhawks, and he now has three goals, three assists and 10 SOG on his three game run. He has a great matchup tonight against the porous Stars' defense.
---
Stud Goalies
John Gibson ($8,000) – After a rough start to his season, Gibson has turned things around in a big way lately. He has won four of his last five starts and has posted a 6-1-3 record, a 1.76 goals against average (GAA) and two shutouts in his last 10 games. Gibson has a prime matchup tonight against the Avs' 30-ranked offense.
Matt Murray ($7,700) – Murray returns to the Penguins net tonight for the first time in two weeks, after he left a game against the Hurricanes after two periods on December 28. He is 6-3-0 in nine road start this season and has already beaten the Senators in his only start against them on the year.
---
Value on Defense
Ivan Provorov ($4,500) – Provorov ran his point streak to three games with an assist on the PP against the Sabres on Tuesday night. He has one assist in each of the three games and has added 10 blocked shots and five SOG in those games as well. The rookie has 19 points in 43 games on the year.
Alexander Edler ($4,100) – There isn't much to write about this season for the Canucks, but Edler has been solid lately. Not much of an offensive threat on the season, with only eight points in 29 games, Edler has assists in three straight games and has points in five of his last seven games. He has added six SOG and 22 blocks in those seven games.
---
Power Play Defensemen
Victor Hedman ($5,900) – Hedman had an assist on Sunday against the Penguins and has 12 points in his last 10 games overall. The assist came at even strength, but Hedman does have points in seven of his last 10 games and in six of those outings he has had at least one of his points on the PP. Hedman is second in the league in PPP and leads all defensemen in the NHL in the category with 18.
Torey Krug ($4,700) – Krug had a multi-point game against the Blues on Tuesday night with both his goal and assist coming on the PP. It was only his second goal of the season. Krug has points in eight of his last 10 games, posting the PP goal and 10 assists. Five of his 11 points during that span came on the PP, and he leads the Bruins with 10 PPP on the season.
Make sure to check out the Cheat Sheet every day, and, as always, for any DFS Hockey questions or comments this season, find me on Twitter at: @JHarding_Hockey.
---
I am a promoter at DraftKings and am also an avid fan and user (my username is HardingJ2) and may sometimes play on my personal account in the games that I offer advice on. Although I have expressed my personal view on the games and strategies above, they do not necessarily reflect the view(s) of DraftKings and I may also deploy different players and strategies than what I recommend above.