The NHL Cheat Sheet is your quick-hit daily look into the top lines and line changes, fantasy studs, value picks and more to help you navigate your DFS Hockey lineups.
Top Lines of the Night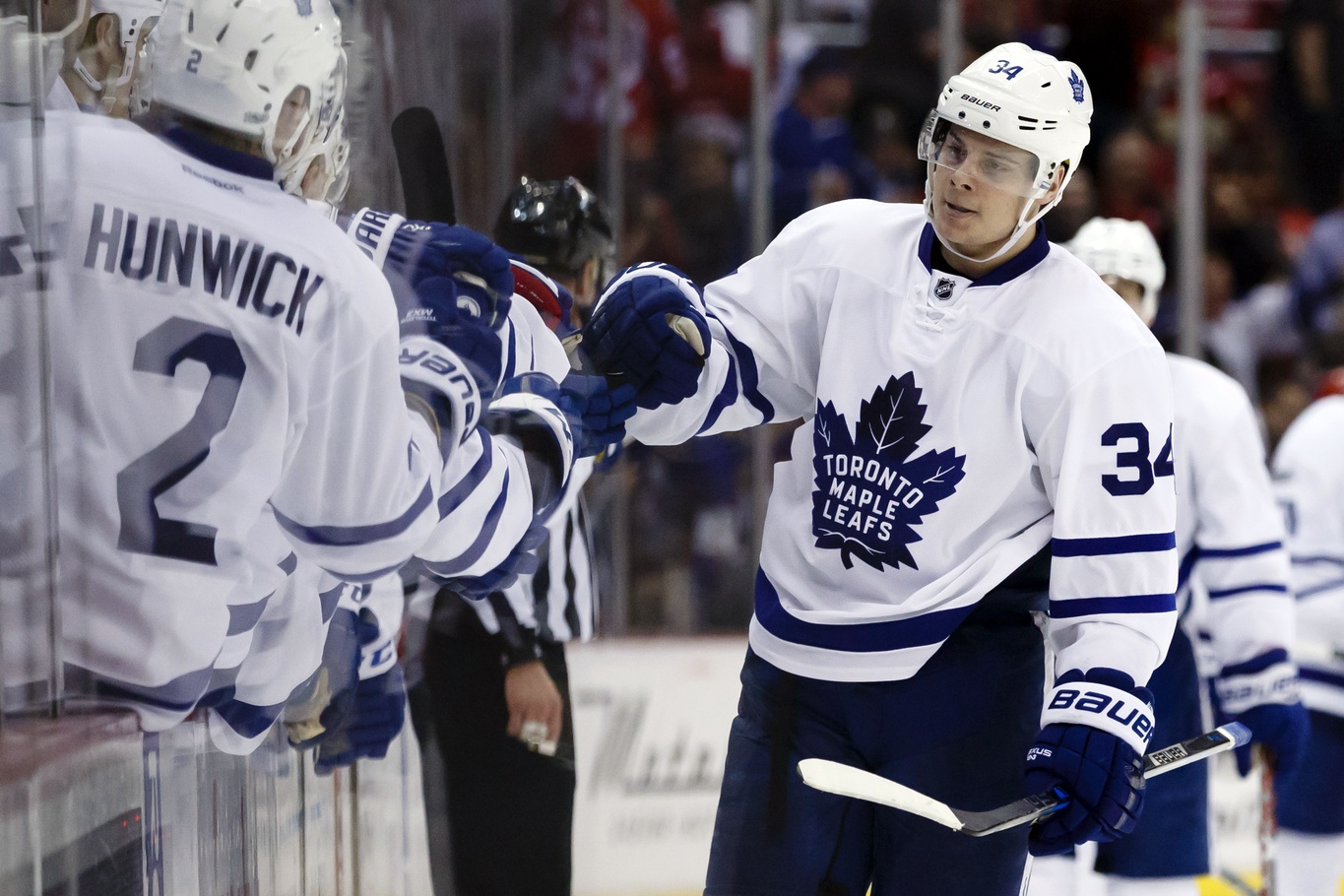 Toronto Maple Leafs
Auston Matthews ($7,800) – William Nylander ($6,300) – Zach Hyman ($4,000)
Matthews continues to dominate the competition down the stretch of the season and is on the cusp of setting the Leafs franchise record for points in a season by a rookie. He has an eight-game point streak, and a four-game goal scoring streak, with seven goals, 11 points, four power play points (PPP) and 27 shots on goal (SOG). Nylander netted his 22nd goal of the season and fired off two SOG, getting right back on the scoring sheet after his 12-game point streak was snapped last week against the Predators. Hyman continues to be the value play on this line who chips in a point here and there. I'd consider him if you're in need of a value player to take a flier on.
Montreal Canadiens @ Florida Panthers
Max Pacioretty ($7,000) – Alexander Radulov ($) – Phillip Danault ($4,400)
Pacioretty has been a beast the last week on the Habs four-game winning streak. He notched at least one point in each game posting two goals, four assists and 16 SOG. Radulov and Danault both enter tonight riding three-game point streaks. Each of Radulov and Danault has two goals and two assists on their three-game streak. These three players have combined for 10 points against the Panthers in three prior meetings this season.
---
Superstar to Build Around
Jack Eichel ($7,700) – Despite being shut out in his last two games, I think Eichel is a great pick tonight against the Leafs. Eichel had 10 points in his prior eight games before his two-game slide and he has fired off 41 SOG in his last 10 games, with 11 coming in his last two games. Eichel is averaging almost a point-per-game on the season in spite of missing about a quarter of the season with 55 points in 57 games. He's dominated the Leafs so far this season posting six points and three PPP in three games against Toronto on the year.
---
Value on Offense
Gustav Nyqvist ($4,700) – Nyqvist has been solid down the stretch for the Red Wings despite Detroit being out of playoff contention. He has nine points in his last nine games and is coming off an impressive outing against the Leafs over the weekend where he posted a goal, and assist and three SOG.
Mike Hoffman ($5,400) – Hoffman has more than outproduced his price tag as of late, posting 10 points in his last nine games. He has points in eight of those nine outings and he has scored a goal in each of his last two games. Hoffman had a two-goal game in the Senators loss over the weekend and fired off seven SOG to cap off his 9.5 FPTS outing.
---
Stud Goalies
Carey Price ($8,400) – Price pushed his win streak to four games win an impressive 2-1 OT victory over the Lightning on Saturday night. Price has allowed only five goals against on his four game winning streak and is 8-2-0 with a 1.69 goals against average (GAA) in his last 10 games. He's a solid option against the Panthers tonight.
Frederik Andersen ($8,200) – Andersen was shaky in his last outing allowing four goals against to the Red Wings but he picked up the win 5-4. He's now 7-1-1 in his last 10 games and he's posted a very solid 2.28 GAA in that span. He's been solid against the Sabres this season posting a 2-1-0 record in four prior starts.
---
Value on Defense
Dion Phaneuf ($4,300) – With Erik Karlsson injured and likely out tonight Phaneuf will take on a larger role for the second straight game. He has only one point in his last 10 games but he gets strong peripheral coverage and is manning the point on the Senators top power play (PP) unit at the moment.
Mike Green ($4,400) – Green has goals in back-to-back games with one coming on the PP. Green has four goals, seven points, two PPP and 19 SOG in his last 10 games. He's also contributed 13 blocked shots. He's averaging 3.4 FPTs per outing in his last 10 games, up from his 2.7 season average.
---
Power Play Defensemen
Nikita Zaitsev ($4,200) – With a contract extension being rumored on the horizon Zaitsev has picked up his game in a big way lately. He has assists in back-to-back games with both coming on the PP. He's added three blocks and three SOG in those games. He has six points in his last 10 games with three PPP. He's playing big minutes at both even strength and on the Leafs second PP unit.
Keith Yandle ($4,600) – Despite a tough matchup tonight against the red-hot Habs and Carey Price, Yandle has been very good on the PP as of late. He has points in four of his last five games and in five of his last seven overall. Four of his six points in that span have come on the PP, with great peripheral category coverage as well. He was shutout against the Habs late last week, but he has a PPP in three games vs Montreal this season.
Make sure to check out the Cheat Sheet every day, and, as always, for any DFS Hockey questions or comments this season, find me on Twitter at: @JHarding_Hockey.
---
I am a promoter at DraftKings and am also an avid fan and user (my username is HardingJ2) and may sometimes play on my personal account in the games that I offer advice on. Although I have expressed my personal view on the games and strategies above, they do not necessarily reflect the view(s) of DraftKings and I may also deploy different players and strategies than what I recommend above.