The NHL Cheat Sheet is your quick-hit daily look into the top lines and line changes, fantasy studs, value picks and more to help you navigate your DFS Hockey lineups.
Top Lines of the Night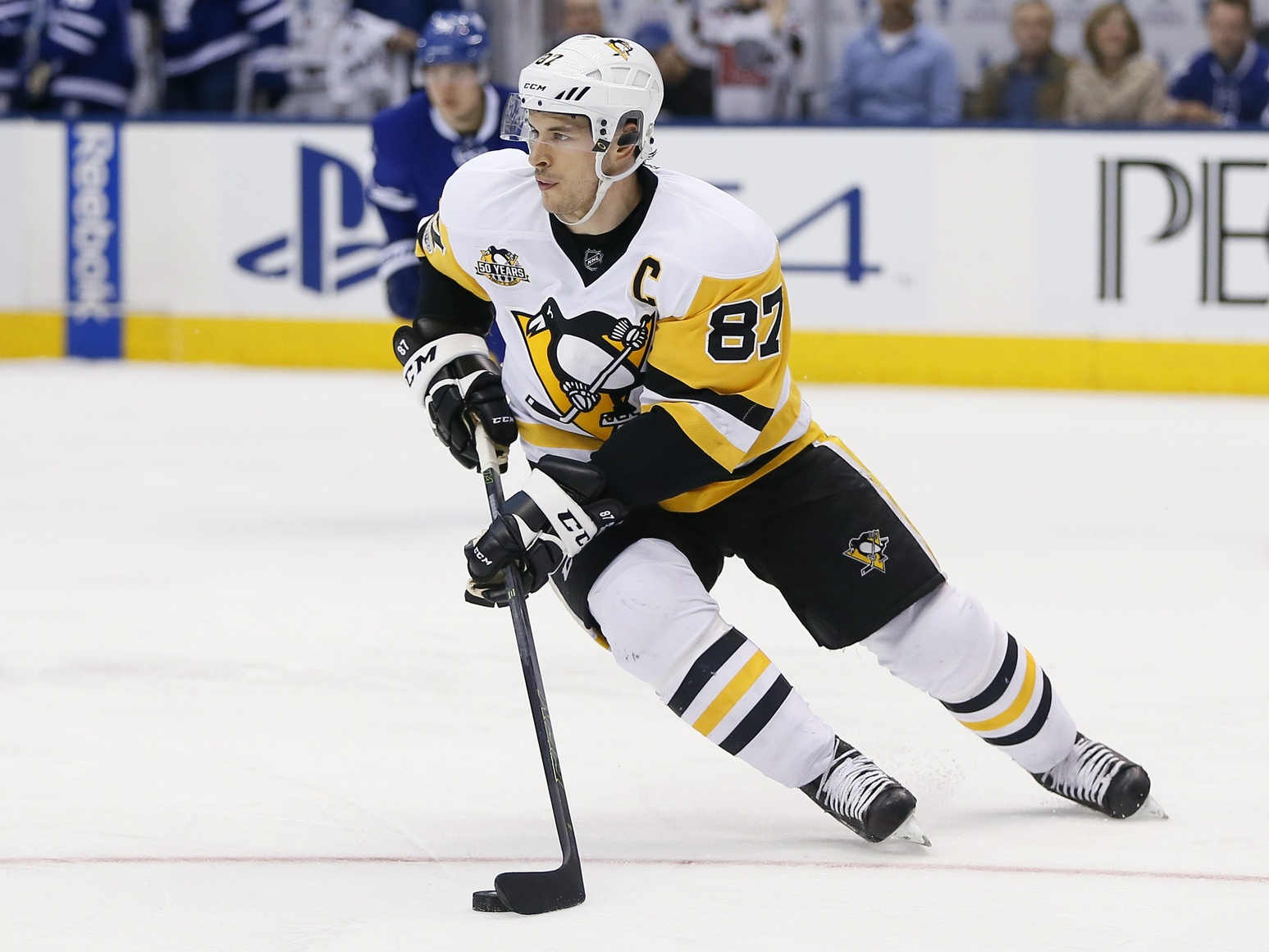 Pittsbugh Penguins @ Columbus Blue Jackets
Sidney Crosby ($8,200) – Conor Sheary ($6,400) – Jake Guentzel ($5,800)
This line really clicked in the second half of the season for the Penguins. Crosby led the NHL in goals scored with 44 this season and finished in a tie for second place in scoring with 89 points. Sheary had a very solid first full season posting 53 points in 61 games. Guentzel enjoyed a big finish to his rookie season, ending the year on a five-game point streak with three straight multi-point games to close it out. This will be a tough matchup for the Penguins, but this trio combined for seven points against Columbus this season.
Montreal Canadiens vs New York Rangers
Max Pacioretty ($7,000) – Alexander Radulov ($5,300) – Phillip Danault ($4,800)
Despite struggling down the stretch this is still one of the top lines to choose from in the first round of the playoffs, going into a favorable matchup against a team they have played well against. Pacioretty sat out the final game of the season but finished the year solidly with seven points and 30 shots on goal (SOG) in his last 10 games. He had five points in three games vs NY in the regular season. Radulov joined him with seven points in his last 10 games, including points in five of his last six. Danault gets a bump from the top line exposure and from his four points in three games against NY this year.
---
Superstar to Build Around
Connor McDavid ($8,500) – McDavid capped his incredible sophomore season by becoming the third-youngest player in NHL history to win the Art Ross for leading the NHL in scoring in the regular season, and probably wrapped up his bid for the Hart Memorial trophy as well, hitting the 100-point mark on the final day of the season. He finished the season on a 14-game point streak that saw him produce 25 points and eight multi-point games. He owned the Sharks this season to the tune of eight points and 15 SOG in five games.
---
Value on Offense
Tomas Hertl ($4,200) – Hertl finished the season centering the Sharks' second line thanks to injuries to Joe Thornton and Logan Couture. Depending on whether those two return will determine where he will play, but he finished the year strong. He had three points, 10 blocked shots and five SOG in his final three games and four points in his last six games overall.
Ivan Barbashev ($2,800) – Barbashev tore it up at the close of the season, riding a four-game point streak into the playoffs for the Blues. He posted 12 points in 30 games this season in limited action but could fill the role that Robby Fabbri filled last season and could out-perform his regular season play this postseason centering the Blues' top line.
---
Stud Goalies
Carey Price ($8,100) – Price posted a dud to close out his season on Friday against the Lightning but still finished the season strong with a 2.10 goals against average (GAA) and a .923 save (SV) in his last 10 games of the year. Price has owned the Rangers this season, going undefeated and allowing only seven goals against in three starts.
Craig Anderson ($7,800) – After the tumultuous season Anderson endured in his personal life, it's refreshing to see how well he played down the stretch to get the Senators in his position. Anderson posted the best full-season stats of his career this season and rides a three-game winning streak into the playoffs against the Bruins. He dominated Boston this season, going 4-0-0 and posting a 1.47 GAA and a .946 SV%.
---
Value on Defense
Matthew Dumba ($4,300) – Dumba had a huge game to close out his season on Saturday against the Coyotes posting a power play (PP) assist and six SOG. He had two points, two blocks and eight SOG in his last three games and solidly put up 34 points in 76 games on the year.
Charlie McAvoy ($2,800) – The Bruins' top defense prospect will make his NHL debut on Wednesday night and skate on a pair with Zdeno Chara. The Bruins' first-round pick in the NHL draft last June, McAvoy had 26 points in 38 games at Boston University this season and added two points in four games in the AHL over the last two weeks.
---
Power Play Defensemen
Erik Karlsson ($7,500) – Karlsson will head into the playoffs well rested after he missed five of the Senators' last seven games of the season. He finished the season in top form, however, posting eight points and 29 SOG in his final eight games he played. He also added four power play points (PPP) in that span. He had three points in three games against the Bruins this season, and 32 points in 40 games at home.
Justin Schultz ($5,800) – Schultz enjoyed the best season of his career and now Schultz will anchor the Penguins' defense in the playoffs. He finished the season with a three-game point streak with one PPP. He added six points and six SOG in those three games.
Make sure to check out the Cheat Sheet every day, and, as always, for any DFS Hockey questions or comments this season, find me on Twitter at: @JHarding_Hockey.
---
I am a promoter at DraftKings and am also an avid fan and user (my username is HardingJ2) and may sometimes play on my personal account in the games that I offer advice on. Although I have expressed my personal view on the games and strategies above, they do not necessarily reflect the view(s) of DraftKings and I may also deploy different players and strategies than what I recommend above.